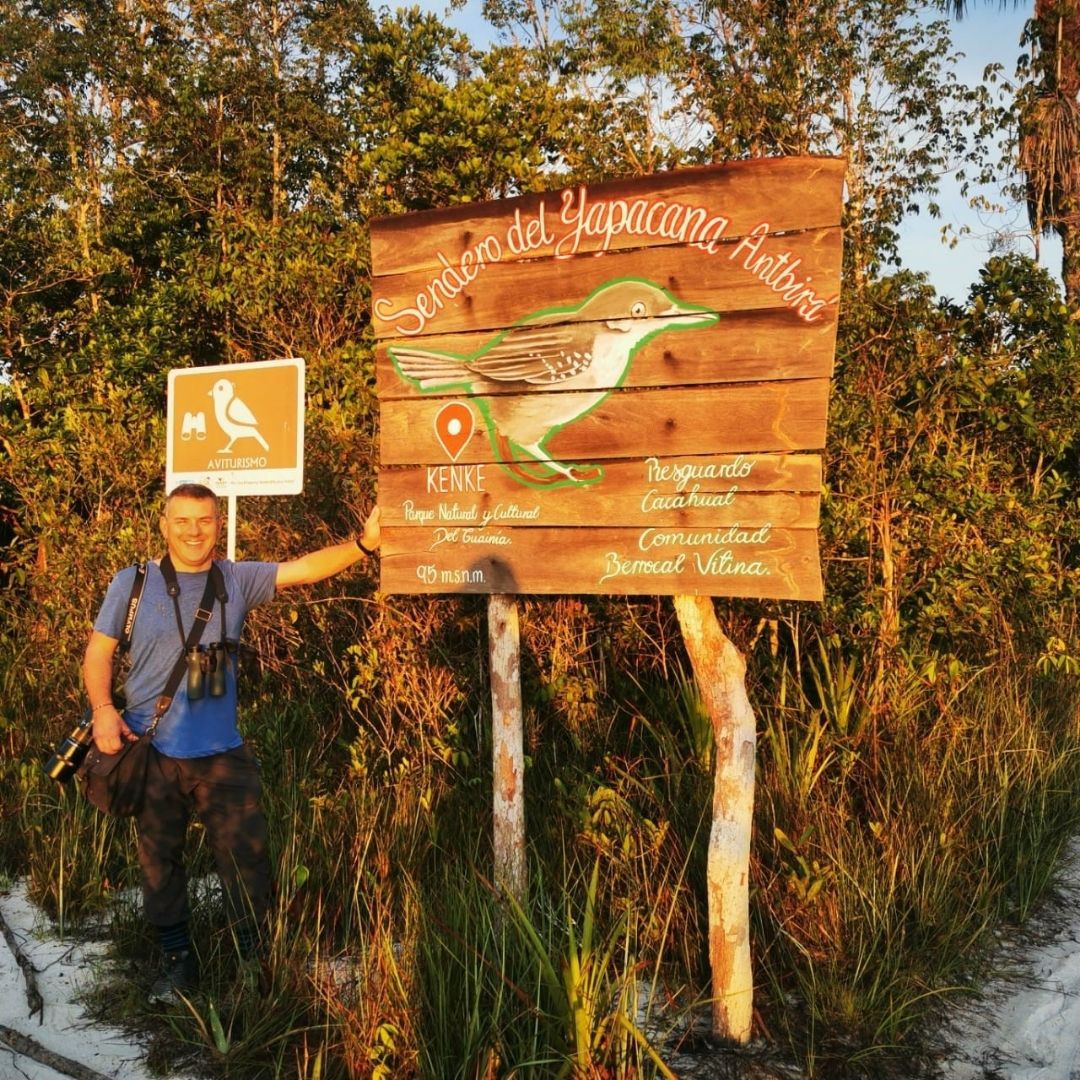 Operation Target Lifer List: Jonathan Newman
This tour was one of the highlights of my birding carrier, guiding Jonathan Newman 25 days through Colombia hunting for really specific targets for his long life list. Before the tour my knowledge about Newman was none. Some days before the tour, Luis Urueña, send me a target list and told me that Newman is a birding legend. I do a quick research, is true… Newman is one of the top's. I prepare my baggage and gear days prior the expedition. This trip will cover everything from the scorching sun of the white sand forest of Inirida to the freezing clear nights camping at 3800 meters in the Paramos of the Sierra Nevada de Santa Marta. I manage to pack everything from camping gear, recording equipment, first aid kit, mess kit, trekking poles….everything you can need to be self-sufficient for almost a month covering a pretty big part of the Colombia territory looking for birds without exceeding the airline baggage weight limits.
This was my first time guiding a birding superstar like Newman, with so much experience, skills, knowledge and about nature and birds. I was really nervous at the beginning until I meet Newman personally, He was really cool and relaxed from the start, sharing his knowledge and sharing his love for all the natural world.
During 25 days Newman and I travel and hunt for targets together, we enjoyed the natural history of all the places we visited. Looking for moths, mammals, frogs, aroids, carnivorous plants, orchids and everything in between. The trip was a total success and we had a blast of a good time! This trip report is a resume of this epic adventure.
The Trip
The 25 days trip was divided is specific regions and targets in Colombia, the first Part was the Perija Mountains and the Sierra Nevada de Santa Marta, Second Part was Antioquia, Third Part

Mitu

and

Inírida

, Forth and the cherry in the pot of the pie the Sierra Nevada de Santa Marta after the Blue-bearded Helmetcrest with William Orellana from Beaks and Peaks and the fifth and last part around Bogota.
For this trip, I pack smartly, only synthetic fabric clothing with rain gear for temperatures ranging from 40 C to 0 C, Fast and Light camping gear, one ultralight power bank, recorder with a shotgun microphone, 2 Bluetooth speakers, 2 headlamps, and 2 led torches, 2 water purifier kit's, First Aid Kit, Aeropress GO Kit(for good coffee on the way), 1 pair of breathable boots, 1 pair of outdoor Sandals, Swarovski 10×42, 2 green pointers, spare batteries, tons of chocolate, and small field guide, high-quality umbrella and my smartphone.
Newman only brings hand luggage, mostly birding and photography gear but also a moth trap, thermal scope, and the latest Steven Hilty Guide of Colombia.
Part I: Northern Colombia
Day 1: After a smooth arrival and a meeting of the team in a hotel in Bogota the hunting starts in the Mountains of Perija after an early flight and long transfer to the mountains, we focus the first day in one of the targets Klages's Antbird, our strategy was trying in every little patch of dwarf bamboo, we spend part of the morning and most of the afternoon after the antbird with no luck, we had some good birding in the way with great views of one of the targets Black-Fronted Brushfinch, Longuemare's Sunangel near the lodge is some beautiful flowers, Perija Tapaculo calling everywhere but no luck with views, Black Hooded Thrush almost in every cecropia with fruits. In the wait back to the hotel in Manaure as the Lodge was closed, we stop in the first patch of bamboo that we already tried. After some playback we see some moments close to us, klages's antbird was just 2 meters of distance, the birds approach in silence and without singing or calling and was a relief to finish our day with our main target.
Day 2: We start our day at 4:00 am, we only had that day to get all the Perija endemics. Our driver took us to the Paramo of Sabana Rubia in just in 2 hours, our first target was Perija Thistletail, after arriving at the Paramo and some searching without luck we decide to have eaten our pack breakfast, in that precise moment the Thistletail started to sing and call, after a quick and skillful recording and playback from Manuel not one but three Perija Thistletail cooperate with good views, we finish our breakfast in relief and focus our attention in Perija Metaltail, we found some Ericacea flowers and wait, after some Tyrian Metaltail we got our bins in the target. Time for the Antpitta, we try in every bamboo patch from the Paramo to the Lodge with no luck, after some snacking and rest we decide to get back to the Paramo and try again with the same strategy, after 2 patches of bamboo we spot our target, Perija Antpitta, in arriving in silence and give us really good views from close before going into cover in the thick bamboo. Perija Brushfinch was not calling or responding playback during the whole day until we found him having a bath in a poodle in the middle of the road, 5 pm and only 1 hour left to find the Perija Tapaculo, we use the same strategy as before, trying in little patches of dwarf bamboo in our way back to Manaure after some try's a tapaculos cross the road in front of our eyes a start singing just after disappearing in the thick bamboo. We get all our targets just in time.
Day 3: We leave the hotel at 4 am and travel to Isla de Salamanca, a National Park in the Atlantic coast, after a 4-hour ride we arrive and start searching our 2 targets, Chestnut Piculet and Bronzed Cowbird. After one hour of arrival we got the Chestnut piculet and focus on the Cowbird, we spend all the rest of the morning and most of the afternoon searching for the Cowbird with no luck but we don't get bored Sapphire-bellied hummingbird, Bicolored Conebill, Colden-Greenwoodpecker and 2 species of Snakes. We spend the rest of the afternoon driving to Minca.
Day 4: After some rest in Minca, we start at 6 am our drive to El Dorado Birding Lodge in the Santa Marta Mountains, first stop was the Gardens of Doña Sofia, a place full of Orange Browallia, a perfect plant for hummingbirds, after 1 hour we already had great views of Santa Marta Woodstart, Santa Marta Blossomcrown, Sierra Nevada Brushfinch and Coppery Emerald. We continue the drive to the Lodge for some lunch and rest. Jonathan spends the late afternoon and part of the night Mothing.
Day 5: 4:30 am, on our way to the San Lorenzo Ridge, our targets are Sierra Nevada Antpitta, Santa Marta Parakeet, Black-Back Thornbill and Hermit wood-wren. After some coffee and a field breakfast our first target the Santa Marta Parakeets just fly in and land on some branches really close to us, marvelous views mark our early start, after the parakeets left we focus the rest of the morning in the antpitta, Manuel Cardona a fellow guide was in the same area with the same target so we sum efforts and find the Sierra Nevada Antpitta, we start the descend from the ridge with a stop in San Lorenzo Biological Station, after some waiting in the parking lot we got another target, Black-back thornbills are feeding in the trees after getting tired of the marvelous and close distance views we get to the lodge for lunch and some resting.
We spend the afternoon enjoying Bang's Wood-wren, White-tailed starfrontled grey-throated leaftosser and Golden-breasted Fruiteaters.
The Night was for some more Mothing.
Day 6: late morning start breakfast in the lodge and check-out, we leave the lodge at 10 am and stop again at Doña Sofia Garden to enjoy again the Blossomcrown and try to photograph a male, after some birding we get to the airport ready to our flight to Medellin.
Day 7: Breakfast at 7 am in the hotel 10 minutes from la Romera, 7:30 am we are standing looking at a branch, the same branch for the last 5 years, and after 10 minutes our target Yellow-Headed Manakin is  perched, some great views and photos and them a flock of Red-Bellied Grackles land close to us and gifted us with wonderful views. Time to leave to San Pedro de los Milagros for the Antioquia Brushfinch, after 2 hours of transfer we arrive for lunch and meet our local guide for our target. We spend the afternoon hunting the brushfinch at 4:30 pm we get him with our binos and take some pictures. Time for a 6 hours drive to Victoria, after getting lost in off-road track and 12 hours after leaving San Pedro we arrive tired but safely to our hotel.
Day 8: We leave the hotel at 6:30 am and meet our local guide, Arturo Parra, after an introduction and a local breakfast we leave to the Bellavista Ridge, after just 30 minutes we got our first target White-Bibbed Manakin a short 10 minutes walk and we got our second target Beautiful Woodpecker. We tip Arturo and continue to our next destination Rio Claro.
Day 9: We spend all day from 3:30 until midday chasing our targets Blue-Lored Antbird and Choco Screech Owl, with the bad luck that Rio Claro was full with a filming crew of Fox, we leave Rio Claro with our target only heard, 3:30 hours to Bogota for some deserved rest.
Day 10: We leave the hotel at 5 am to get our flight to Mitu, after some delays we arrive at Mitu for late lunch and our first target Yellow-crowned manakin, for this leg of the trip Florencio a local indigenous guide will help us, our first highlight in the Sunbittern, after a long search we only find Dwarf manakin tyrants but not our targets, we change to a different patch of forest and bingo! Yellow-crowned manakin. Time for a deserved rest and a warm dinner.
Day 11: Leaving the Hotel at 5:00 am our next target is the Chestnut-crested Antbird, after recording his calls and some fine playback we got him. We continue in the trail searching for Butterflies when another target start calling from the forest Cinnamon manakin tyrant, record him and some playback and we got another target!
Day 12: Our target is Tawny-Tufted Toucanet and arriving at a time to the airport to catch a flight to Bogota. We start at 4:45 am and get into the forest for our target 10 am and we already got him with pictures, we get back to the hotel for a well-deserved shower and to catch our flight.
Day 13: Another early Flight, this time to Inirida, after delays in our flight we arrive late at Inirida, Jonathan and I decide to spend the afternoon not birding but searching for carnivorous plants, after lunch we head to the white sand savanna close to the airport and find what I call a "Garden Of Eden", we found maybe a dozen of species of carnivorous plants mostly Utricularias(Bladderworth) but also some beautiful sundews Drosera esmeraldae, after charing the pictures with a Colombian specialist we found that one of those bladderworts was a new report for Colombia, just Amazing!!!
Day 14: On this day our target is the Inirida Antshirke or Unamed Antshrike . We leave before sunrise for a 15-minute boat ride in the Guaviare River, after getting out of the boat we heard one of the targets Blackish-grey antshrike, after some work with the recorder we get great views and pictures of male and female, just after our celebration another target in calling from the bushes, Orinoco Softail, a job for the recorder and in 5 minutes we already got pictures and great views of our target. Boat trip to the antshrike territory, 15 minutes after we arrive we got our targets, we leave for the hotel for a free afternoon.
Day 16: we meet William Orellana from Beaks and Peaks, the new member of our team during the big hike to the Santa Marta Mountains, after breakfast we take our 4×4 transfer to San Javier de la Sierra a 3 hours ride with one stop to look for 2 targets Santa Marta Antbird and Santa Marta Foliage gleaner, a bird here is not overlapped so we get really good views fairly quick, we continue to our hostel for lunch and some afternoon birding during our stay in San Javier we score black-headed tanager and the mega Sooty Grassquit. Time to rest, more mothing and get ready for the big hike.
Day 17: we start the 11 km hike early in the morning, with some birding in the beginning with good results: White-tailed starfronlet, black-throated tody-tyrant, and another target the Spectacled Tyrannulet. After the birding and lunch, we focus our energy on finishing the hike and arriving at our campsite at 2600 meters.
Day 18: On the trail again, time to get to 3600 meters from our last campsite. We focus on the hike this time with little birding on the trail, after 6 hours we arrive at our campsite and start birding around: we found Red-rumped bush-tyrants, streak-neck bush-tyrant, stripe-back canastero, band-tailed seedeater, buff-breasted mountain tanager, plushcap, rufous-browed conebill, tyrian metaltail and the mega Santa Marta Wren, after an early dinner everybody gets into the tents for a good rest.
Day 19: After a freezing night with the temperature dropping to minus 4 C, a group, we decide to get the Helmetcrest and get down to the first campsite, a short hike to the next lagoon and we stop in a bush to stop for the helmetcrest, after some hours and no luck we decide to search for it actively, and after 1 hour we see 6 individuals of Blue-Bearded Helmetcrest. Time for a quick lunch and go back to our first campsite, 6 hours after we arrive just in time for the Santa Marta Screech Owl, William Orellana main target after great views of 3 different individuals and different colors was time to go to bed and get ready for the next hike.
Day 20: Walking again, we decide to finish the hike fast and head to Santa Marta, we stop in the hostel to pick up our stuff and lunch and we continue to our hotel in Santa Marta
Day 21: Free day with a lot of resting, good food, and the hotel pool.
Day 22: Flight Day to Bogota, after landing and meeting our driver we head to the Tabacal Lagoon, after a 3-hour ride we arrive in the rain, after walking for a half-hour we found a couple of Parker's antbirds and we realize there were ants around. Them some playback and we found our target Blue-lored antbird but also Jet Antbird and Barred Antshrike reward us with views, back to the hotel and get ready for our last day in the Paramo.
Day 23 Final Day: we start at 4:30 am to cross the whole city and get to the Sumapaz Paramo, we arrive to a wetland complex and start searching for our targets Green-bearded helmetcrest, Aponilar's Wren and Northern Tawny Antpitta after 2 hours we're fed up with good views and pictures and we leave to the airport, Time to say goodbye to Jonathan Newman and finish a great tour.
In Newman words: we had a Blast! Thanks my Friend for this Tour!