Ecological Groups and Environmental Education
Manakin Birding Club is an initiative of MANAKIN NATURE TOURS, born from our commitment to the environment and conservation. This project consists in recruiting new bird watchers in the country and supporting those who have limited resources to carry out the activity of bird watching as a hobby or as a job.
To achieve this goal, we have allocated some financial and physical resources to be donated each semester to different organizations or young bird watchers throughout the country. The money and equipment such as binoculars, spotting scopes, computers, speakers and books are used to support conservation, environmental and research projects or for rural ecological groups in places with a great ecological impact.
As part of our work, we have collected new and used equipment from different NGOs and our generous customers and friends. These resources have been donated to many local guides and members of birdwatching groups in remote areas of the country with serious conservation and birdwatching initiatives. We have also created a department in our company dedicated to the administration, collection and distribution of new and used equipment such as binoculars, spotting scopes, tripods, speakers, computers, bags, books, etc.
With this in mind, if you have any equipment you no longer use and are interested in helping a local guide or birding group with limited resources, please email info@manakinnaturetours.com and support this initiative. As a thank you, MANAKIN NATURE TOURS will cover the cost of shipping to Colombia and will send you a report explaining the distribution of your donation. Or if you want to donate directly to the campaign you can also do so.
Some of the results of our initiative include.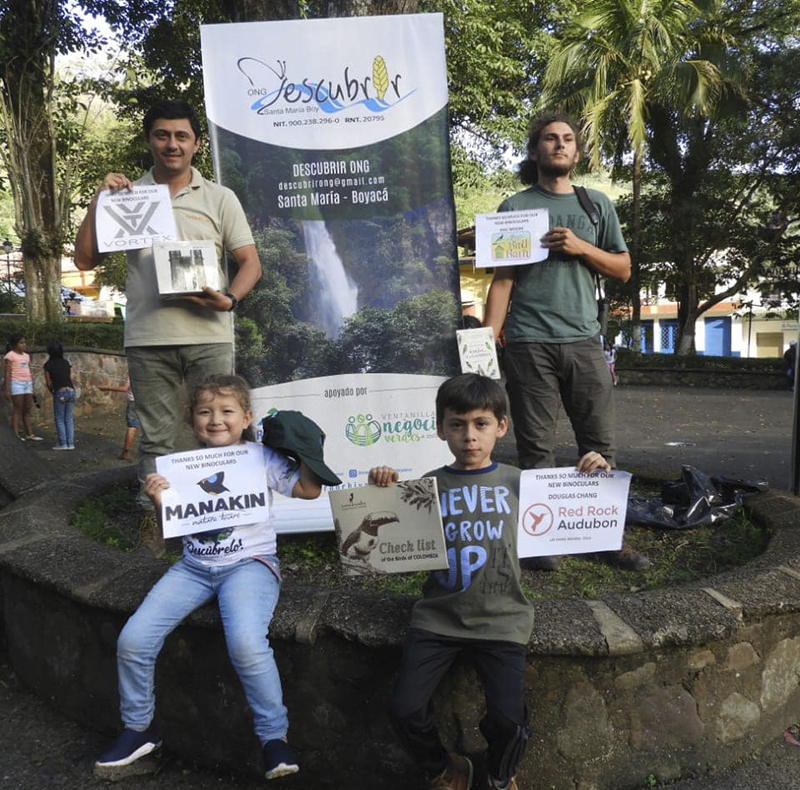 Laguna de la Cocha, La Cocha – Nariño, COLOMBIA
Thanks to the generous help of one of our clients from Ohio, USA, we delivered binoculars, books, harnesses, caps, check lists, among others, to the ecological group of the Laguna de la Cocha in the department of Nariño in southern Colombia.
Indigenous Communities of the Amazon, EtnoAves Vaupes, Mitu – Vaupes, COLOMBIA
Through a generous donation from the Chang family of Las Vegas, USA, we were able to provide binoculars, books, checklist, hats, among other things, to members of the EtnoAves Vaupes ecological group in the Colombian Amazon.
Colombian Congress of Ornithology 2019
From the Management of Manakin Nature Tours, we donated some binoculars to the Biology student of the Universidad de los Andes, Laura Maecha for her outstanding work in conservation and the environment.
Educational Institution of Puerto Arango, Florencia – Caquetá – COLOMBIA
A donation to the students of the Rural Educational Institution of Puerto Arango, in the municipality of Florencia, Caquetá – COLOMBIA, who received a part of the useful and beautiful donation by Eric Moore from the JAY'S BIRD BARM store in the United States, VORTEX Optics, Red Rock Audubon Society.
Group of Birdwatchers from Tumaco, Nariño – COLOMBIA
A valuable donation from our friend William Clark Heck and Manakin with his Manakin Wings program, for the donation of 3 binoculars to the local San Andrés de Tumaco Birding group of bird watchers in southern Colombia.
Andakies de Palestina, Huila Corporation and Santa Maria Bird Festival, Boyaca- COLOMBIA
Delivers 10 binoculars donated by friends of JAY'S Bird Barn and their owner Eric Moore, the VORTEX optics company and Douglas Chang of the Red Rock Audubon Society to the Andakies Corporation of the municipality of Palestine and the Santa Maria bird festival – Boyacá. A great contribution that we make from our Manakin Wings program of Manakin Nature Tours, for the conservation of nature and birds and the support of rural communities.
Mutar Ecoambiental Foundation – Sumapaz, Cundinamarca – COLOMBIA
A small donation of cameras and audio equipment for the ecological group of children of the Mutar Friends of the Sumapaz páramo Foundation in Usme, Cundinamarca.
Felca Foundation, Barbacoas, Nariño – COLOMBIA
Donation of hummingbird feeders by one of our friends from Chicago, USA, as part of the self-sustainability strategies of the Río Ñambi Nature Reserve and the Region's Bird and Flower Reserve.
Individual Donations for Local Bird Watching Guides
Donation of binoculars, field guides, cameras, computers, recording equipment, telescopes, to talented local guides in different parts of the country, so that they continue to do their work better and support the conservation of birds and nature.