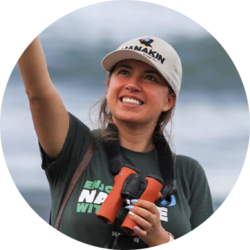 JOHANA ANDREA BORRAS
Founder and General Manager
Andrea is a biologist from the Universidad Pedagógica y Tecnológica de Colombia. She is the founder and co-owner of MANAKIN NATURE TOURS.  She loves birds, orchids and nature in general, having more than 5 years of experience in ornithology. Andrea has worked on scientific investigations of 4 species of important birds in danger of extinction; Blue-billed Curassow, Recurved-billed Bushbird, Perija Parakeet and the Yellow-eared Parrot, which have provided important information related to their biology and conservation. She also has experience in Managerial Management in Tourism.
LUIS EDUARDO URUEÑA
Founder and Product Manager
Luis is a biologist from the Universidad de Tolima with 19 years of experience in the observation of birds and scientific investigation of species at risk of extinction. He is the co-owner and founder of MANAKIN NATURE TOURS.  For 12 years, Luis has worked intensively in the area of birdwatching tourism for foreigners as a co-leader and local guide for ornithology tours for the most recognized companies in the world.  He has worked as a guide with famous leaders such as Steven Hilty (author of the book "Field Guide to the Birds of Colombia – 1986), Barry Walker, Nick Athanas, Richard Webster and Frank Lambert, from whom he has received experiences and skills. Additionally, he won an "observer's prize" from the BP Conservation Program when working as director of an important project with the enigmatic Blue-billed Curassow in 2004.  Luis holds a Master's degree in Marketing from the University of Barcelona. He is an expert in the logistics of birding tours in Colombia and is able to organize, direct and carry out birding tours in any of the destinations or routes operated by MANAKIN NATURE TOURS.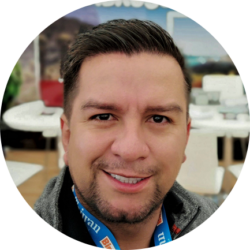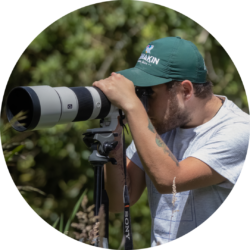 IVÁN ROCHA
Sales Manager
Iván was born in 1991 in Bogotá, D.C.. He is a Tourism and hospitality manager and a Chef. Iván is passionate about nature, local communities and photography. He has traveled to many Colombian regions knowing, learning, working and falling in love with all the natural and cultural diversity of the country. His curiosity for birds began in 2019 when he saw a couple of torrent ducks swimming against the currents of the Otún River, since then he has wanted to learn and photograph the birds that can be found in Colombia "the country of the birds".
SINDY LAVACUDE
Logistics Director
I am Sindy Lavacude, born in the municipality of Chita, Boyacá. I am a tourism and hotel management professional, and I earned my degree with pride from the renowned Juan de Castellanos University Foundation, located in the charming city of Tunja, Boyacá. I've forged my experience in the public sector, being part of the team at the Ministry of Commerce, Industry, and Tourism, and contributing to the dynamic Boyacá Tourism Department, where I've focused on the exciting task of planning and developing tourism. But this is more than just a job, it's my passion! I'm passionate about all aspects of this profession, especially those that have a social and sustainable impact. I'm ready to continue creating wonderful tourism experiences!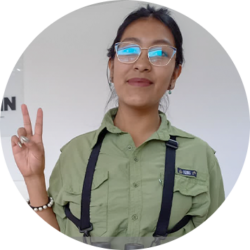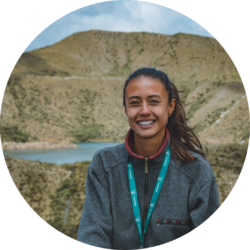 JESSICA AMORTEGUI
Marketing Manager
Jessica is a "caleruna," hailing from the welcoming hamlet of Frailejonal, located in La Calera, Cundinamarca. She is an adventurous, outgoing, and nature-loving person. Since the age of 12, her love for the countryside led her to explore and interact with mountains, fostering a heightened sensitivity and deep appreciation for understanding all aspects of a landscape.
As she ventured forth, her curiosity grew, driving her to seek closer connections with communities and individuals from diverse cultures, aiming to comprehend how they perceived their surroundings. This curiosity led her to focus her studies on Modern Languages with an emphasis on digital communication at the EAN University, where she discovered the importance of interculturality within her profession.
Over the past two and a half years, Jessica has directed her personal and professional knowledge towards the environmental and tourism sector. She has worked with Suasie and Andareguiando, community agencies dedicated to ecotourism and environmental education in the Chingaza National Natural Park and its surrounding areas. In this capacity, she has served as a guide and interpreter, advocating for the conservation of natural and cultural values in the region. Through her active involvement, she has contributed to strengthening the corporate identity of the companies involved, integrating all the knowledge she has gained throughout her journey.
LILIANA TAVERA
Operations Coordinator
Angela Liliana Tavera is a professional in tourism and hotel management, graduated from the Pedagogical and Technological University of Colombia. She has over 8 years of experience in the hotel industry and travel agencies. She loves walks, connecting with nature, and spending time with herself; she enjoys the company of friends and family, accompanied by the sound of a guitar, the warmth of a campfire, and a delicious glass of wine.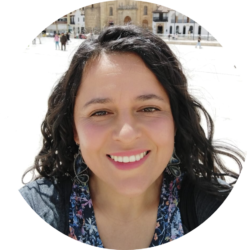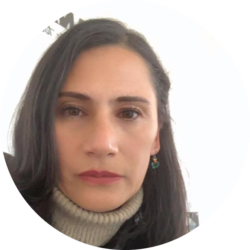 ANA BARAJAS
Accounting and Administrative Assistant
I am Ana Barajas, I live in Tunja-Boyacá for several years, I am an accounting and administrative technician, with experience for more than 18 years, providing support in legalizing accounting and financial documentation that allows control of the overall management of the Company, based on in accounting principles generally accepted in Colombia and in accordance with current tax regulations.
SANTIAGO ANGEL
Graphic Designer
Santiago Angel is a graphic designer from the Fundación Universitaria del Area Andina in Pereira, focused on audiovisual production and digital content layout. His natural ability for photography is also his main tool to develop content and marketing for different natural reserves in the country. With more than 7 years of experience focused on tourism of nature, he has been part of the work team in different community associations like Yarumo Blanco and Soledad de Montaña (among others) dedicated to ecotourism in National Protected Areas like the Santuario de Fauna y Flora del Otún, el Parque Regional Natural Ucumari y el Parque Nacional Natural los Nevados.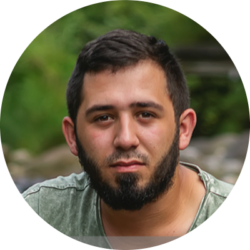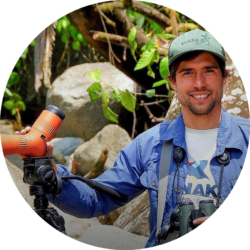 ALEJANDRO PINTO
Birding and Wildlife Guide
Biologist from the National University, member of the ornithology group of the same university since 2011 and coordinator between 2012 and 2013. Developed a research project: implications of seed dispersal by birds and its implication in natural restoration in the Colombian eastern plain to get his BSc. Worked during a year developing a database of morphology of birds of high Andean and Paramo ecosystems for Alexander von Humboldt research institute, also one year collecting information of birds of the upper Bogotá river basin for international conservation NGO, has worked in different project proposing new areas for conservation in the transitional area between the eastern plains and the Amazon forest, developed two projects to obtain information of two migratory warblers (Cerulean Wabler and Golden-winged Warbler), and have collaborate in books: "Colibries en Colombia" (Cap. Orinoquia and Amazonia)  and "Aves de Casanare" (ed. Villegas) and co-author of the book "Tesoros alados" (ed. Alas de Cristal), Scientific articles published: "Aves de la Orinoquia Colombiana" (Birds of the Colombian Orinoquia – Diversidad Biótica) and "a morphological database for 606 species of birds of Colombia "(Ecogology). part of the coordination committee for the Ornithology national meeting in 2013 (Guaviare – Colombia) and 2017 (Mocoa – Colombia) Freelance guide since 2012. Since 2017 full-time guide and Chief operations officer for Manakin Nature Tours.
CRISTIAN DAZA
Birding and Wildlife Guide
Cristian was born in 1990 and grew-up in Pereira, specifically in the Otún river basin.  He studied in a school for agricultural tourism in a rural area. Between 2001 and 2013 he was introduced to the birding world as part of the "Aguilas" birding group.  He has been a birding guide in the Otún area for 4 years and has worked as a guide of nature and mountains in the Parque Nacional de Nevados and in the Otún-Quimbaya Wildlife Sanctuary. He has participated as an assistant investigator on behalf of the Yarumo Blanco Community Association of which he is a member, helping to strengthen community initiatives to offer ecotourism and birding.  Currently he is studying a diploma in Tourist Guidance to obtain his professional license.  He is one of the most experienced members of the birding guide team at MANAKIN and one of the best in Colombia.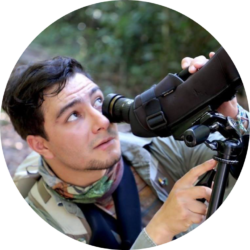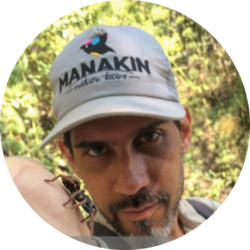 ALEJANDRO NAGI
Birding and Wildlife Guide
Alejandro is a French-Venezuelan empiric ornithologist since 8 years old when his fascination for nature and wildlife began at El Parque Nacional Ávila, in Caracas (Venezuela), his hometown. Currently, he has acquired 18-years of experience in ornithology. It all started in 2001 when he participated as a field assistant on a survey about the ethnobiological knowledge of a Yanomami ethnic subgroup called the Shirian. After this experience, he worked for many years as a bird guide and natural historian within the worldwide acclaimed "Hato El Cedral" and "Hato Piñero" in the Venezuelan Plains. Alejandro also performed guided visits for bird watching companies from America, the United Kingdom, and Europe with Chris Sharpe at Birding Venezuela, and Ascanio Birding Tours (David Ascanio). His research fieldwork and birding training, have taken him all across Venezuela. For decades, he spent time at the Parque Nacional Tama, which is shared with Colombia at the last trail from the Eastern range on the Andes, searching for unregistered species such as the Tachira Antpitta and having the privilege to be among the pioneers who rediscovered the locally restricted Orinoco Softtail. After birdwatching at the six largest avifauna places on the planet and being overwhelmed by the massive diversity of his neighboring country, Alejandro arrived in Colombia in 2016 and is now part of the guide's team at MANAKIN NATURE TOURS.
MANUEL ESPEJO
Birding and Wildlife Guide
Manuel is a certified guide with 13 years of experience in trekking and self-supported expeditions. He has great expertise in logistics and planning expeditions into remote and wild places. His playgrounds are the high Andes. 7 years ago a domestic accident fractured his heel and took him out of the mountains, anxiety and depression took over. So as therapy he started birding and learning about the cloud forest. Now he's a fully certified birding guide with the Colombia Technical Institute SENA. Two Surgeries with a bone transplant later Manuel is again tackling mountains a become an avid cyclist and bike-packer, with a passion for birds, plants and wildlife he is becoming a recognized naturalist, discovering a new population of Yellow-eared parrots during a bicycle ride in the Central Andean Range. In the last years Covid-19 and Death seriously impact his life forcing him to take a job as park ranger, as response he become a Zen Buddhist and forge a stronger relationship with the forest, now is back in birding practicing compassion as a way of life. His heart and soul is always looking for the wild spirit of nature.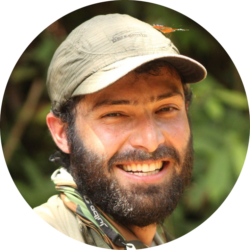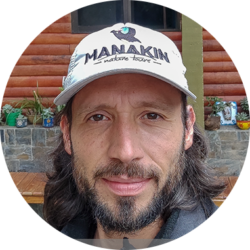 LUIS GÁRCIA
Birding and Wildlife Guide
Luis is a Bogotá resident for most of his life, he moved to the countryside of the city back in 2019 trying to find peace in the mountain and with one of his siblings started their own nature touristic company Mutar, in fact, that is the company that provides solutions for Manakin once we are on the route to Sumapaz paramo birding spot. Luis has started bird watching as an enthusiast showing a great passion about it after working in the field with many birding agencies interpreting the experience at Mutar´s Chiguaza Reserve by being host of the place since 2019, hiking and learning the diversity from the paramos of Usme and the Tunjuelo river basin running bird watching science and citizen participation programs with his company, AJAC, local environmental actors and national authorities and then, he became a local birding support guide at Sumapaz paramo and nearby Bogota birdwatching spots for Manakin as freelancer. Now he is part of the team from 2022 after one of those super nice birding sessions at Sumapaz paramo, around Bogotá and central Andes birding spots. Luis and his company have also worked with the local communities of Usme, supporting and making possible AJAC Foundation, a group of youth conservationists that also we at Manakin helps with our donation program.
DANIEL FERNANDO LOPEZ
Birding and Wildlife Guide
Daniel was born in 1987 in Manizales and is still living there. He got an Electronic Engineer degree in 2011, but some years ago, he found his passion for birdwatching and began to work on bird's conservation at the SCO (Sociedad Caldense de Ornitología). There he was on charge of the coordination of some programs like, The Counts that are carried out during the year, and other programs in which we seek to publicize the wonderful world of birds to different actors in the community. Now, He is working as a Birdwatching Guide in Tinamú Birding Nature Reserve and Río Blanco Protected Forest Reserve since 2016, when he started studying Touristic Guidance, and now he is part of our team as the main guide for the Andean area.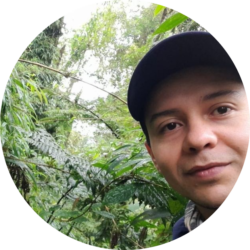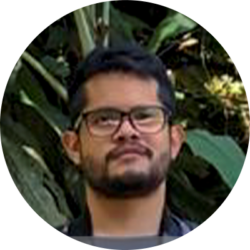 DIEGO CUEVA
Birding and Wildlife Guide
Diego is a biologist from the Universidad Nacional of Colombia with a master's degree in sciences from the Universidad de São Paulo, Brazil. He was the coordinator of the GOUN (Ornithology Group of the Universidad Nacional) and taught ornithology at the university where he visited many different areas of Colombia, such as Villavicencio, San José del Guaviare, and Tumaco among others developing a great experience in bird research since 2013. His research focused on the plumage, molting, taxonomy, and systematics of Neotropical songbirds. He has been working as a professional tour guide since 2014 after acquiring his degree in Biology and his primary research focused on areas surrounding Bogotá, the Andes, and the Plains. Currently, He is our main tour guide for the groups at Field Guides Inc, and Victor Emanuel Nature Tours in the Mid-Magdalena, Llanos and the Colombian Andes.
LUZ AIDE OSORIO
Birding and Wildlife Guide
Luz Aide is 27 years old and was born in the beautiful city of Manizales. She is a Psychologist graduated from the Corporación Universitaria Minuto de Dios and has a license in Clinical and Organizational Psychology. However, Luz Aide always worked as a professional tour guide for the SENA academic institution. She has ample experience managing groups of young people as an environmental group coordinator and for 15 years, she has been a birdwatcher and an environmental interpreter, especially on the Coffee Belt in the south of Colombia, the Eastern Llanos, and the Pacific Coast. Luz is certified in local tourism awareness, management of regional touristic information, evaluation of the environmental impact of productive activities, management on bird observation tours, and first aid. In addition to bird-related activities, Luz enjoys reading, exercising, traveling to new places, food, walking (better in a natural space), and share time with her family.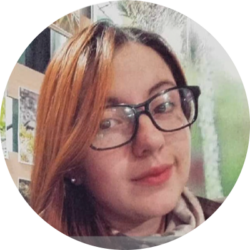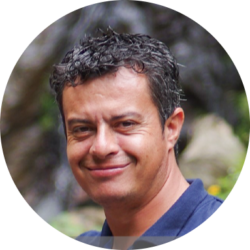 FREDY MONTERO
Butterflying Guide
Thanks to his passion for knowledge of Colombian daytime butterflies, Fredy has traveled along the country (Caribbean coast, Sierra Nevada de Santa Marta, Magdalena Valley, Orinoquía, Amazonia, and the Bogotá Savannah) to carry out different research on ecosystems conservation and the populations of rare and endemic species. He studied Biology at the Universidad del Atlántico where he wrote his first scientific article and by now, more than 10 of his articles have been published in different specialized journals. He has participated in many library publications, where the most relevant books have been published, offering photographs and video footage of Lepidoptera species in their natural habitat. He is a founding member of ACOLEP (Colombian Lepidopterology Association) and ACZ (Colombian Zoological Association). Over the last few years, he has carried out research in the south of the country, especially in the Putumayo forest, a zone that contains perhaps the most diverse fauna in Colombia. He has produced photography catalogs at different altitudes in the country and managed to photograph more than 900 species in this area of the country alone. Since 2012, he has been in charge of different butterfly's research and photography trips in different national ecosystems. Fredy is probably one of the most important experts in butterflies in the country and is the new specialized guide for MANAKIN NATURE TOURS.
JOVANI FLOREZ
Transport Coordinator
Jovani was born in La Calera, Cundinamarca, and he is one of the most experienced drivers in the field of birding in Colombia. He has been involved in this line of work for more than 10 years and is in charge of transport logistics throughout Colombia. He's a very kind, friendly person who always tries to innovate with his service. He has a large fleet of automobiles that include Mercedes Benz, Volkswagen SUVs, and 4×4 vehicles across the country. In Jovani we place all of our trust with the transport because he is considered the best transport coordinator for birding excursions in the country.