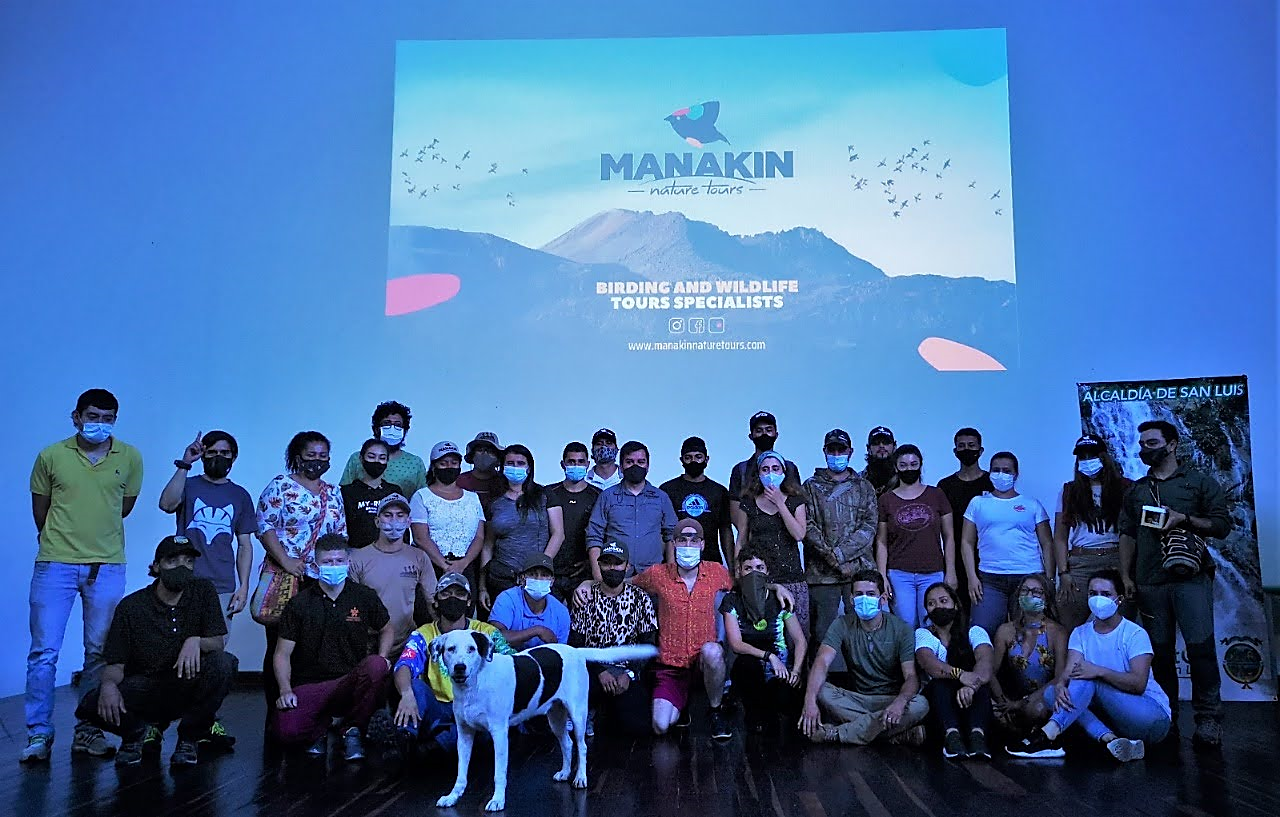 Delightful Piece
As usual: sorry again for all my mistakes in English, but write is still a good way to learn for me.
We just came back from a one week trip to the Eastern slope of the central cordillera, to the town of San Luis, right above the mid Magdalena valley – if you have done the Magdalena valley trip with us before, we were close by Rio Claro reserve area, you should remember: hot and humid!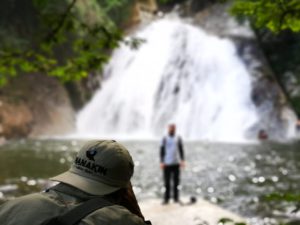 But before to talk about the trip why we went there?
Last year before the covid time, part of our crew (Luis, Cristian and Alejo) start to study at SENA ( Sistema nacional de aprendizaje / National apprenticeship system) to get our license as a professional tourism guides, since few years became in a mandatory process to be able to guide in Colombia and is a process to put the bar higher and offer a better quality standard, since Colombia is living a boom in eco-tourism and tourism in general, long story short, our class took place in the virtually world and we only met other students through a laptop screen. Anyway we have been focus the last year and a half to get our license, taking advantage of this bizarre times. On the other hand, since about three years ago we have been giving a training course focus on birding for different groups including Audubon in Colombia and our professors at SENA thought that was a good opportunity to give this training course to our classmates, as usual we said yes! – not sure if someday I´ll say not to travel…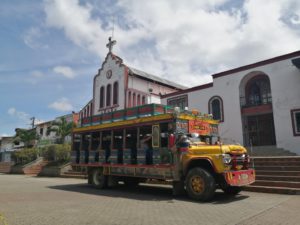 We did an 8 hours ground trip to San Luis, and small town in Antioquia department, the town itself is immerse into the mountains, not far from the main road that connects Bogotá and Medellin, is surrounded by patches of tropical humid forest and loaded with a water streams and waterfalls if you ask to me: beautiful!… a bit of the story of San Luis, we must said this area was extremely dangerous in the 80s, 90s and until 2004 the people here lived in between a terrible war, Guerrilla vs Paramilitary vs National Army, you even couldn't move from town to town and mostly of our classmates were displaced by violence during some years or even worse lost part of their family in the conflict, some of them (or all of them) have terrible memories of their childhood…no matter what, we and our classmates were there to learn each other.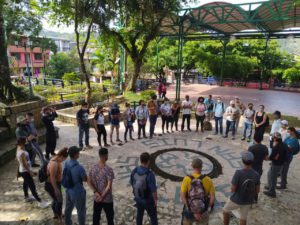 Starting the training course, a lot of time in the classroom – I´ll always prefer the field! But we had some good speeches about the origin of ornithology and birding tourism in Colombia, the growing of eco-tourism in Colombia and the opportunities for all of us, how to design itineraries, e-bird, xeno-canto, how to be a good tour leader, field equipment among others.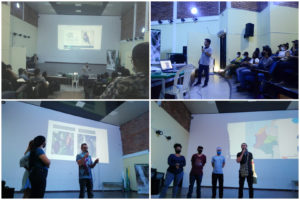 3 days later we finally had a field session, real birding! Despite this particular area had not been explore before, we knew it in advance the chances for good birding were really high and yes it was. During our sessions in the field we got: Magdalena Antbird (endemic), Sooty Ant-Tanager (endemic), Beautiful Woodpecker (endemic), Black-faced Dacnis, Golden-hooded Tanager among others. Also White-fooded Tamarin (endemic) and Yellow-striped Poison Frog (endemic), it was a great time in the field and we are sure everyone enjoys watching trough the binoculars and scopes…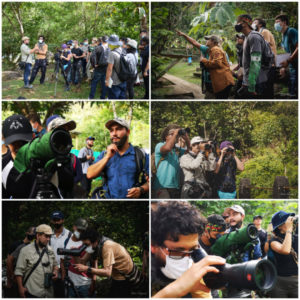 … but the greatest learning was yet to come…one of the activities is something that we call: delightful piece and consist of creating a memorable experience, so the task for the students was: make a group, you have 5 minutes to think about a memorable experience and the next hour we will walk on the town´s central plaza and each group have 5 minutes to give us this experience! Some minutes later we were with the whole group (35 personas in total!) walking in the town during the activity, we met: Mr Pipito, a local billar pool legend, Mrs Ofelia, she has been selling Arepas (Corn bread) the last 20 years+ to help her children succeed and other stories.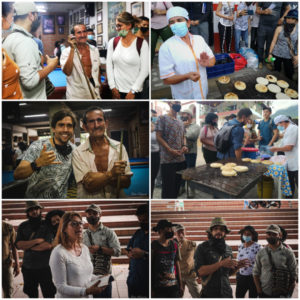 … and then in the classroom again we talked about the activity and I wanted to give them another good example of a memorable moment…
I started to interview one of our classmates – she was in the row behind me –
Alejo: Evelyn, did you born at El Prodigio? – a small municipality 1hour away from San Luis –
Evelyn: no! (she started laughing) there is not hospital! I born at San Francisco but I have been living at el Prodigio since I was a baby.
Alejo: so, yo have been living at el Prodigio all your life!
Evelyn: no! I had to move from one place to another
Alejo: how was that?
Evelyn: well, war started when I was a child, I was about 5 or 6 years old, my mom, grandma, my little brothers and me we had to move from one place to another during many years, escaping from the conflict, we ate a lot of lentils because that was the food the government sent those days, I worked as a waiter during my childhood and finally with a sponsorship I could finish my school and now I am half way to get my license as tourism guide, I wanted to be a tourism guide because I think in my town we have good things to show. We could come back to el Prodigio few years ago with the end of the conflict, grandma recovered her farmhouse and we live there with my little kids.
Alejo: why came back to el Prodigio if there happened many terrible situations for you and your family?
At that point the auditorium was in silence after listens Evelyn´s story…Evelyn with a broken voice answer my question and I was clenching my teeths to hold on…
Evelyn: I have roots (she was crying and I kept clenching my teeths trying not to cry, I looked at Cristian and Luis and her faces reflected a moment of deep reflection, clenching their teeths also) and my roots are at el Prodigio, "la tierra llama"…I want to show to my kids how rich is my territory and despite the hard times how beautiful is…I would like to show the good things and change the perspective that people outside have about el Prodigio, that's why I am there.
Silent in the auditorium, I only could say thank you  –  Evelyn gave us the most precious learning of those days. She and our students are the best example of resilience, forgiveness and love of what they do, despite the hard lives and hard moments, and after see the worse face of the civil war they keep stand and working to have a better country, they everyday build a territory in peace, they have create ecology, food safety, music, agro-tourism, hiking and now birders groups to help each other, to create opportunities and to teach specially to kids the importance of their territory, they are the delightful piece with no doubt. We as Manakin Nature Tours team could see how important is our job we can also touch those lives through our tours, with the support of our partnerships and most important the support of our clients and participants, in every tour in one way or another we help many persons like Evelyn and our classmates, we are sure we are also helping to build a better country, even if is only a small grain of sand in the middle of this beautiful beach called Colombia. Evelyn works as a field guide at El Prodigio, the area is surrounded by karstic landscapes (limestone caves created by the action of water) and the ancient inhabitants of this region leave behind some rock art and petroglyphs in some limestone caves, she is an interpreter of this culture, and last but not least that day was my birthday, what else could I ask for?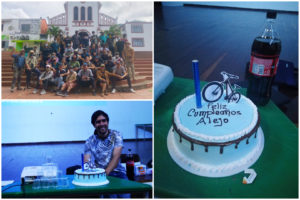 Now since our arrival back to home I have at least 5 birds photos a day to ID in my celphone, looks like the birding is contagious, and one of the local group is going to apply to the Manakin Nature tours "ecological groups and environmental education" program to have access in the near future to donations of field equipment, Manakin Nature tours gave them a couple of field guides and we hope we could help with more!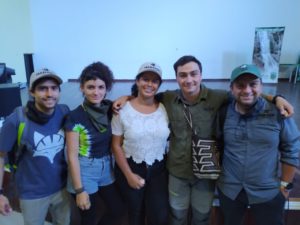 Check this link for more info about the conservation programs that we have been supporting through donations:
https://www.manakinnaturetours.com/ecological-groups-and-enviromental-education/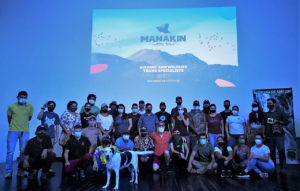 What we are doing now? yes, we are planning a trip to el Prodigio and Doradal with our new friends!
Thanks to our professor at SENA, Luis Higuera for taking us to San Luis, to our classmates for literally open their doors and lives and for the great memories we share during the last week, we went to teach but we learned way more.