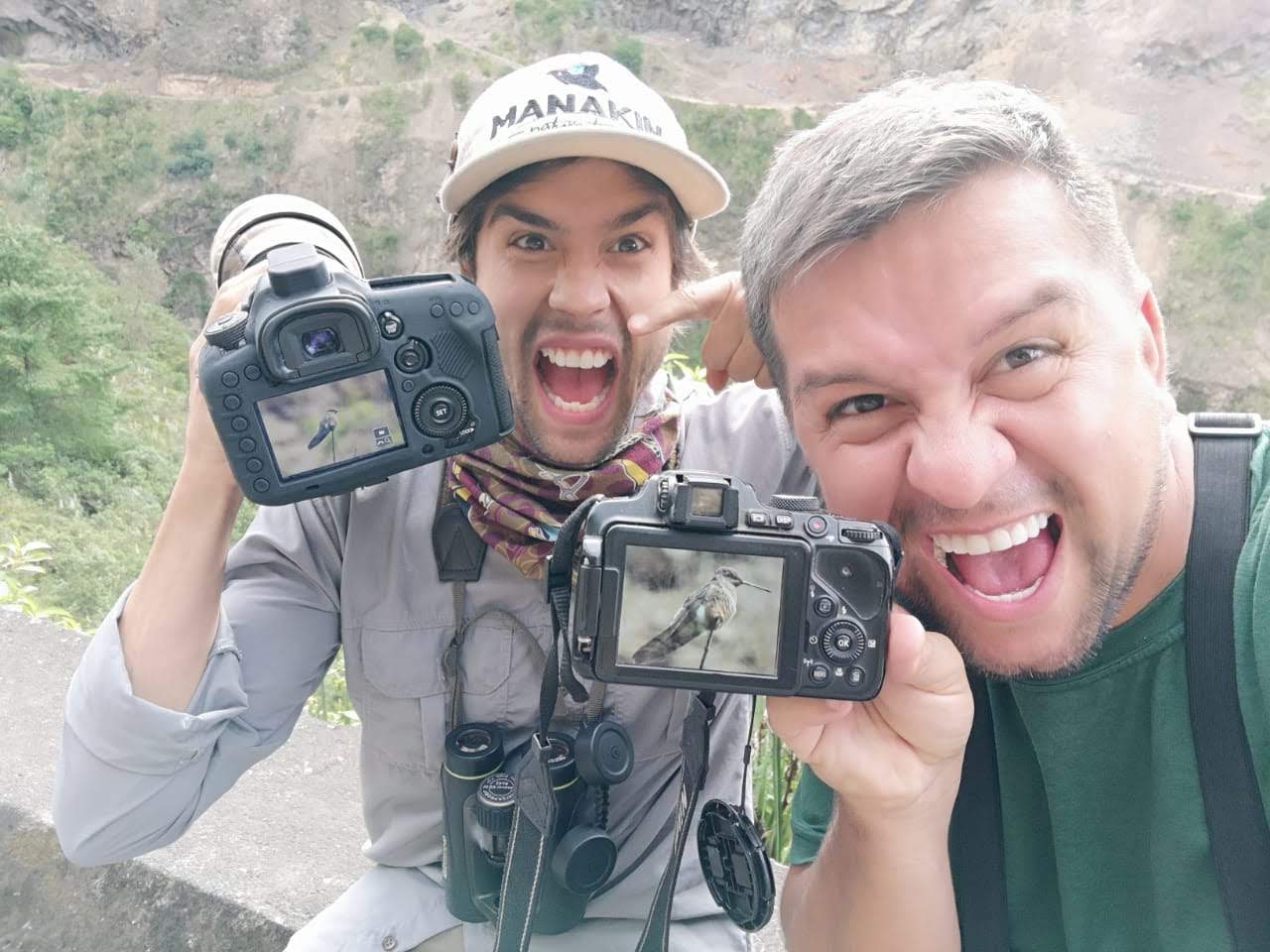 Alejo Pinto – Birding and Wildlife Professional Guide
I started my career in biology at the National University of Colombia. With Manakin Nature Tours, my hobby became in a real job.
I was born in Cali, a city located in the Cauca river valley very close to the western mountain range – a very good place for birdwatching by the way! – When I was 7 we moved to a town near Bogotá and I have lived here since that time. I always enjoyed outdoor activities, school, cycling and soccer was what I dedicated my time as a child, a normal and quiet life in a rural area of a town called Chia.
When I was 12 years old, my stepfather Felipe, a fisherman who dedicated his life to visiting many corners of Colombia while fishing, took me on my first fishing trip in a highland lagoon, we spent long periods in the boat waiting for some rainbow Trout to take the bait, to be honest, somewhat monotonous for me, but at the same time the landscape, the tranquility and the fact of being in nature were comforting.
At some point he began to show me the birds that flew around the lagoon and taught me their common names: Ducks, Teals, Herons … and he showed me a pair of small binoculars – Tasco 8×25- and a book about the birds of Colombia written by Rodolphe Meyer from Schauensse, that he used to bring in his fishing backpack, my first time birding!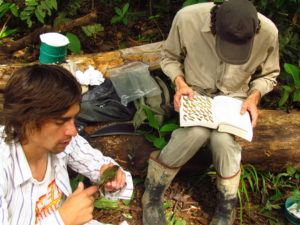 I started my career in biology at the National University of Colombia, being in the second year I took classes in animal taxonomy and I was part of the ornithology group for a 2-week field trip in a natural national park of the eastern cordillera in Colombia, the director of my bird group: Gary Stiles, a renowned neotropical birds ornithologist and hummingbird lover from whom I learned a lot during  the days out in the field, that trip was my first time of real birding, starting at 4am, working with mist nets, and identifying birds by sight and sing, I was overwhelmed with the big amount of birds that we saw, especially because all of them were new for me and between the Latin names and the thousands of songs I was completely lost and confused!
Anyway birds became my real serious new hobby those days, after that I joined the ornithology group full time at the university and later I coordinated the group for a couple of years. I spent a lot of time with my college friends doing trips everywhere for birdwatching, spending nights into tents and traveling with a very low budget, but such a fun and educational time! I got my first camera and start to shot like crazy to every single bird!
To finish my career, I did an investigation on seed dispersal by birds in forests of the eastern plains of Colombia, which I dedicated a year and a half, between birdwatching, studying their behavior and collecting fecal samples to analyze, and found seeds in there, during the development of my research project two north American NGOs (EFTA and Birders Exchange) supported me with equipment and therefore I already had new binoculars, books, gps and mist nets, I was already a birder!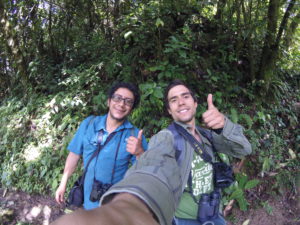 Last year of my of university, Oswaldo Cortés, a friend of mine and a well-known birder in Colombia, invited me to join him on a bird watching tour for 3 days, so that I could learn from his work and in the future be able to help him in birdwatching tours as a freelance, which meant for me some extra money and also the best way to travel along Colombia watching birds without spent the night into a tent. The first thing was to learn English – I apologize for all the mistakes you find in this text! -Something that took me at least two years and the first thing I learned were the bird's common names – I wrote the latin name and in front the English name in my field notebooks – so basically I could identify the birds, say its name and end of the story! Eventually I got more flawless with my conversations skills and quickly I learned what it means: bumpy road, chilly weather and I'm soggy. It was a fun and educational journey.
| | |
| --- | --- |
| | |
From there I worked as a freelance guide, meanwhile I got involved in various projects as a biologist and birder including: elaboration of a database based on morphometric features of birds from the páramo and high Andean forest (more than ten thousand specimens from collections!); habitat loss assessment of: Golden-winged Warbler, Cerulean warbler and Canada Warbler, project in which I had the opportunity to teach many local bird watchers about sampling techniques; first assessment to stablish new areas for conservation in the Amazon forest of the Guaviare area  – a great Job in which I had to move during 4 months to the field and learn not only of birds – I also published some papers of birds from the Colombian Orinoquia and collaborated with some books of birds (Colibríes en Colombia, Aves del Casanare and Tesoros Alados), and of course I can tell you other jobs like: bar tender, waiter and Caddie!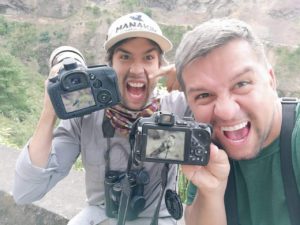 In 2016 I stopped being a freelancer and dedicated myself full time to being a bird guide in Colombia, was a huge change, every single day from November to March –our high season – I was in the field watching and photographing birds with participants from all over the world, that open my mind in many ways. Back in those days Manakin Nature Tours offered me a position within the company, my hobby became in a real job. This gave me the opportunity to travel all over my country guiding and watching birds, meeting incredible places and people and have a lot of fun with the tours participants. Today I am the head of logistics in the company and during the season I am a tour leader.