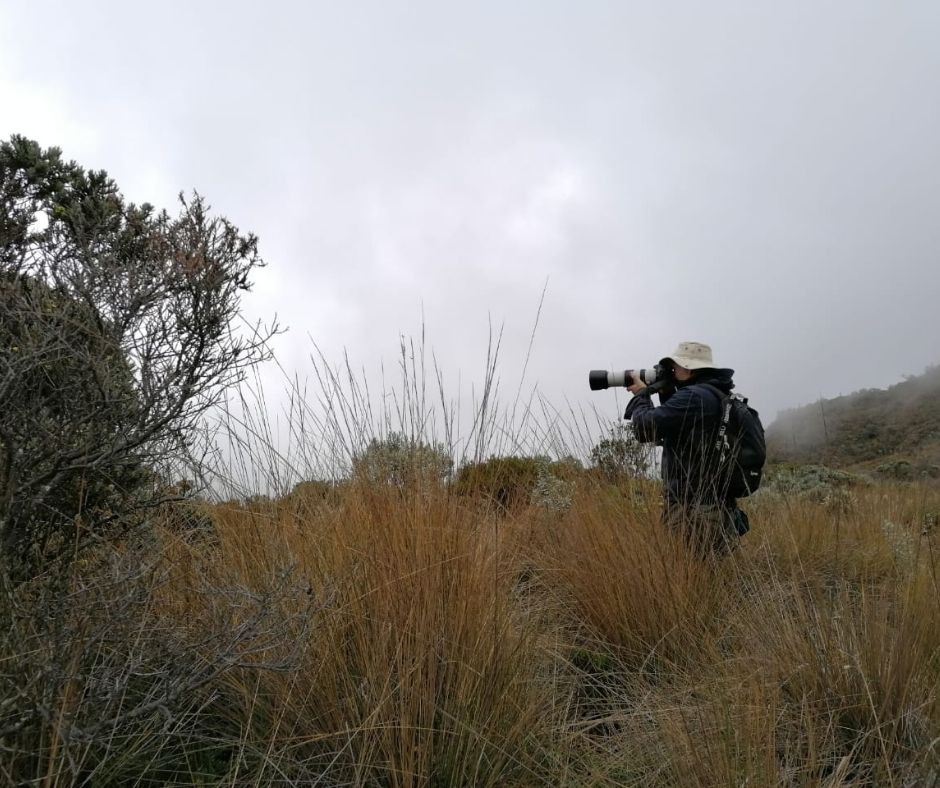 A private trip: classic on the Andes, October 2021
A private trip: classic on the Andes, October 2021
By. Alejandro Pinto
This time the mission is enjoy birds on a quick 11 days private trip on the 3 branches of the Andes and clean the target list for our guest Jonathan Meyer, the dream team is together: Cristian Daza and Alejo are ready for this mission, which include visit some of the most iconic places for birding on the Colombian Andes, loaded with many endemics and range restricted birds from the mid lands to the beautiful sceneries above 12.000 feet in the paramos!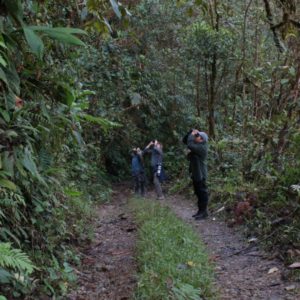 Chingaza area
First morning of the trip at Chingaza, a renowed national natural park and the areas around, early wake up call and we hitted the road, short stop on the way for arepas (corn bread filled with cheese) campesino coffee and chocolate made on a wood fire grill. During the morning we got some good birds, despite the sunny day!  a couple of White-capped Deeper foraging on the stony river and a very cooperative Slaty-backed Chat-Tyrant, Ling-tailed Weasel crossed the road right in front of us and disappear in the forest! A good way to kick off the morning! We also had great views of many flocking birds: Superciliared Hemispingus, Hooded Mountain Tanager, Scarlet-bellied Mountain Tanager, Blue-capped Tanager. Once in the forest we had incredible views of the Muisca Antpitta (recently splitted from Rufous Antpitta complex) a couple of them were waling inside the vegetation and gave us a good show, also many hummingbirds:  Blue-throated Starfronlet, Sword-billed Hummingbird, Mountain Velvetbreast,  Glowing Puffleg, Tyrian Metaltail and others…we finished in the right way, watching the endemic: Silvery-throated Spinetail.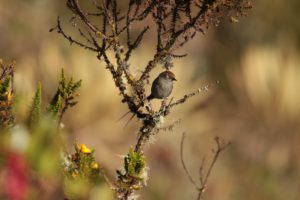 Epic drive to Medellin
The original plan: start to drive early morning to reach by 9:30 the mid Magdalena Valley, birding on a couple of spots and keep driving to Medellin…a big landslide block the road from the Magdalena valley to Medellin, so we did one stop on the way looking for the Northern Screamer, but did not happens, anyway we saw other good birds like: Pied Puffbird, Russet-throated Puffbird, Yellow Oriole, Spectacled Parrotlet, Bicolored Wren, Orange-chinned Parakeet, Savannah Hawk and others. Because of the landslide we were forced to drive north into the valley and take a narrow windy road to cross the central cordillera, and guess what? We spotted the Northern Screamer on the way beside the road while it was walking on a wetland, we did it! It was a really long drive with many traffic jams due to all the heavy traffic were using a narrow and windy road to reach bogota r Medellin..the day finally ends almost at midnight, nothing to do about it, we saved our beacon with the Screamer!
La Romera park, Medellin.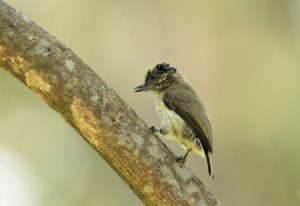 15 min transfer to La Romera above Medellin, to spend a couple of hours, after leave the car we immediately started to search the beautiful Yellow-headed Manakin, and we got it after few minutes, it was perch on a branch into the forest and stay for a while at the same spot, giving us the chance to enjoy, 5 minutes later appears other target bird: Red-bellied Grackle, not only an endemic but also a nice looking one! And few minutes later: Colombian Chachalaca and Stile´s Tapaculo, the last of our main targets in the area, we also watched other birds like: Andean Motmot, Slate-throated Redstar, Golden Tanager, Emerald Toucanet and others. we quickly went back to the road on the way to the little and charming town of Jardin, with another stop for some of the endemics to the Cauca river valley –in between the central and the western cordillera –  and we got: Antioquia Wren and Greyish Piculet! But also other ones like: Black-crowned Antshrike, Tropical Gnatcatcher, Streak-headed Woodcreeper.
Alto ventanas and Andean Cock of the Rock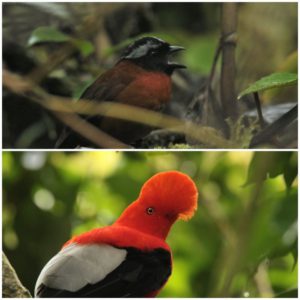 Early morning start to drive to the top of the mountain we have some Yellow-eared Parrot groups flying by atop of the mountain but not the clear and close views we were expecting, but anyway we had other great birds on the road like: Tanager Finch,  Ocellated Tapaculo,  Golden-fronted Redstart, Rufous-headed Pygmy Tyrant. We ended the morning with a campesino lunch and started to drive back to the town looking for a rare cotinga. Chestnut-crested Cotinga, we scan the trees all the morning and part of the afternoon with no succcesful, so we decided to visit a very well-known Andean Cock-of-the Rock lek to make the day! Watch this beautiful bird leking is such an experience!  But also around the yard we saw other good birds including some Tanager, Hummingbirds and Owls!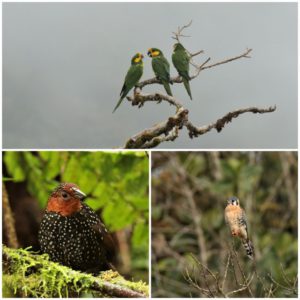 Alto Ventanas & Lucia feeders and los Nevados
So far one of the best days ever! We climbed again the mountains behind the town of Jardin, making a stop on the ridge looking for owls, we saw Rufous-banded Owl and Rufous-bellied Nighthawk, we move at sunshine to Peñas Blancas, for a campesino breakfast and to try to have a better view of the Yellow-eared Parrot and we got it! After some minutes a small group of them  flew out of the misty right above us and perch on a tree, eye level 5 meters in front of us! Such a moment! We saw about 20 of them early morning but some of the best views and experience watching them flying around us.after the parrots we did a short but very productive walk into the mountain with the local guide Martin, just few second after we start to walk, an  Ocellated Tapaculo were spotted while forraging next to the single track and later perch for a while on a branch to made our morning, all of us were enjoying the Tapaculo when we heard the Chestnut-crested Cotinga, the 3 guides – Martin, Cristian and Alejo – at the same time: La cotinga! We saw it while was feeding, other good birds: Quindio Jay, Strong-billed Woodcreeper, Grey-hooded Bush Tanager, Hooded Mountain Tanager, Tourmaline Sunangel, Striped Treehunter. late afternoon a drive to los nevados, we decided to go at the end of the afternoon at 12.000 ft and do some quick birding… and we saw an incredible male of Buffy Helmetcrest! what a way to end the day.
Hacienda el Bosque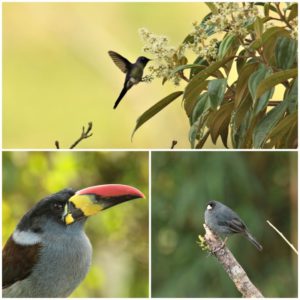 We spent the night above the city of Manizales at Hacienda el Bosque, early morning we visit the patches of forest near the lodge
 and we saw incredible birds like: Equatorial Antpitta, Purple-backed Thornbill, Grey-browed Brush-Finch, Paramo Seedeater, Shinning Sunbeam, Collared Inca, Buff-winged Starfronlet, Mountain Velvetbreast among others!   And then we moved to a feeding station to watch its rock star "Lunita" a super beauty Crescent-faced Antpitta, we enjoy this superb moment drinking hot chocolate the Antpitta gave us a beautiful show, is so amazing have this hard to see bird coming right in front of us. By the end of the morning we got Grey-breasted Mountain-Toucan, and we were ready to climb again to the top of the central Cordillera heading to los Nevados. Night at the hotsprings to relax a bit and be ready for a morning in a high elevation on the Andes
.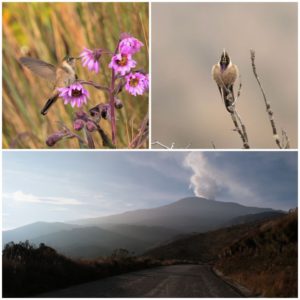 Los Nevados National natural park.
A morning at 12.000+ feet. Despite we saw the Buffy Helmetcrest before, we wanted to do it again, and we did it! We enjoy this morning at the high elevation with spectacular views of the Volcano, the breathtaking landscape and wonderfull birds like: Great Sapphirewing, Golden-breasted Puffleg Black-thoged Puffleg, Rainbow-bearded Tornbill,  Shinning Sunbean, Andean Tit-Spinetail, Black-chested Buzzard Eagle, Stout-billed Cinclodes among others. We were in a stunning paramo scenery and enjoyed visiting the alpine type paramo habitats and seeing the flowering plants and rocky landscape.  After lunch we drove all the way down to Montezuma but before we spent a couple of hours on the old road to Manizales, we saw a at least 6 mix flock during the late morning and we counted about 50 species! A lot of Hemispingus, Mountain Tanager, Woodpeckers, Woodcreepers, Hummingbirds and many more!
Montezuma 3 full days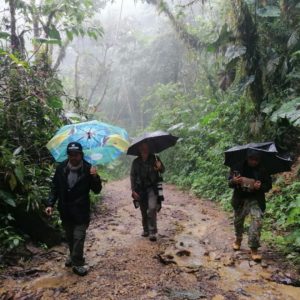 We spent 3 full days at Montezuma, inside Tatamá National natural park, with a 13 km road and altitudinal gain of aprox 1200 meters (4000 ft) Montezuma has a high birds biodiversity –also orchids, mammals, frogs etc – that means, with the change of elevation you also change the set of birds… our first morning we climbed to the ridge, and we had a breakfast with a view, right in from of some of the most beautiful peaks of the western Andes facing the pacific, and we started to walk, that day we watched: Chesnut-bellied Flowerpiercer, Munchique Woodwren, Brown Inca, Velvet-purple Coronet, Gold-ringed Tanager, Rufous-gaped Hillstar, Empress Brilliant, Orange-breasted Fruiteater, Bicolored Antvireo, Pacific Tuftedcheek, Fulvous-dotted Treeruner, Black Solitaire, Indigo Flowerpiercer, Purplish-mantled Tanager, Glistening-green Tanager and many many orchids in flower!
For the second morning we climbed until mid-elevations, this time our breakfast was in the middle of the forest, while we were taking the breakfast we heard Unicolor Antshrike and we saw male and females foraging into the forest, Ochre-breasted Antpitta gave us a show,we also got:, Club-winged Manakin, Bronze-olive Pygmy-Tyrant, Chestnut-breasted Cholorphonia, Black and Gold Tanager, Gold-ringed Tanager,  among others! What a day! A midday rain interrupted the birding session, welcome to the Rainforest! After the rain, everything was in silence, we saw a Tatamá Tapaculo skulking into the forest and decided to drive back to the house to watch some hummingbirds around the feeders: Green Thorntail, Empress Brilliant, Purple-throated Woodstar, Western Emerald, Rufous-gaped Hillstar and others!
On our third morning we climbed just few kilometers, we were completely focus on clean the target list, despite the quite morning – we are on breeding season! – we saw some beauties, including a lifer for Alejo: Pavonine Cuckoo! We tried hard for Olive Finch but did not happen, other birds for this morning: Rufous-rumped Antwren, Yellow-breasted Antwren, Rufous-browed Tyrannulet, Choco Vireo, Rufous-breasted Flatbill, Crested Ant Tanager, Silvery-throated Tanager, Rufous-throated Tanager, Lemon-browed Flycatcher and others.
Last day in Colombia
A rainy morning at Montezuma! We decided to go on the search of our last target: Parker´s Antbird! Some minutes later we heard the voice of this bird and we saw a couple while they were foraging in the bushes beside the road, due to the rain we move out of Montezuma on the way to Pereira –a night flight was waiting for Jonathan there – but with some free time we did a quick un expected visit to the road of Otun above Pereira, with 4 targets and about 1.5 hours the stop was a complete success: 4 out of 4: Red-ruffed Fruitcrow, Cauca Guan, Plumbeous-crowned Tyrannulet and last but not least Multicolored Tanager!
After lunch a mandatory stop for Covid Test – Negative! – and guess what….we had some more minutes we decide to drive 5 minutes from the laboratory to a secret birding spot: Colombian Wren (Speckled-breasted), Turqouise Dacnis and 24 more species in about 10 minutes to say goodbye to this wonderful trip!
We hope to have Jonathan again in Colombia in the near future birding again with Manakin Nature Tours.
Top birds of the trip: Yellow-eared Parrot, Crescent-faced Antpitta , Gold-ringed Tanager , Yellow-headed Manakin, Buffy Helmetcrest, Turquoise Dacnis, Red-bellied Grackle, Multicolored Tanager, Bicolored Antvireo, Pavonine Cuckoo.
About this Trip

"I recently had the great good fortune to do a short trip in the central Andes with Alejandro Pinto and Cristian Daza; quite simply, they are two of the best guides I've ever travelled with (and that is saying something!). The logistics were perfectly handled (even in the face of crippling roadworks/landslides) and they both had an uncanny ability to immediately home-in on the important birds in any location or mixed flock with laser-guided precision. They are fun and very companionable people too! Couldn't recommend them (and Manakin in general) highly enough. I'll be back soon!"
Thanks again for everything, Jonathan