Kay and Bob have joined me in this journey through the Magdalena Valley, Perijá, the Caribe and the Santa Marta mountains
By Alejandro Pinto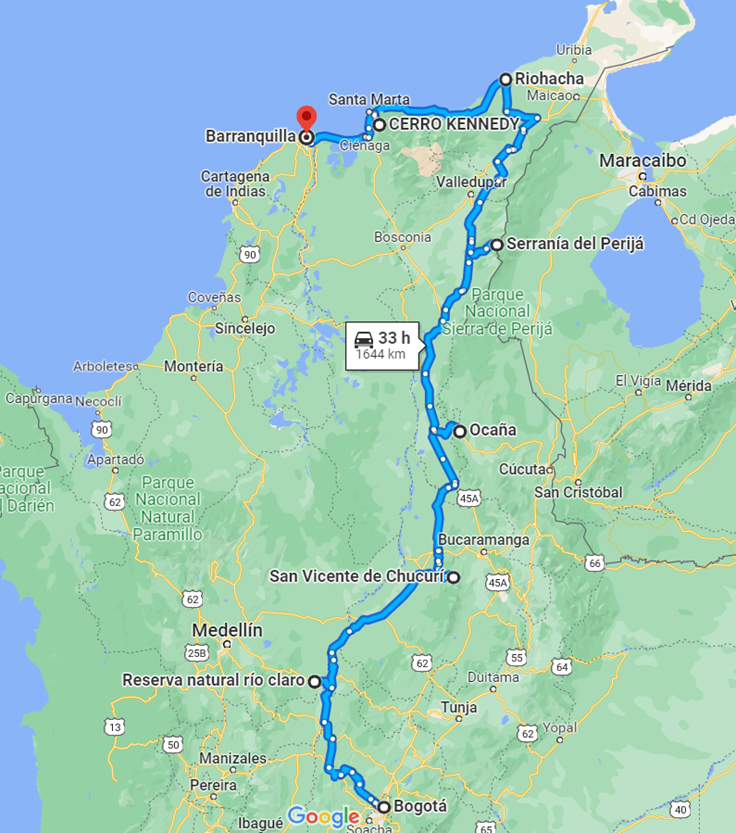 A quick map about our road trip, +1644 km!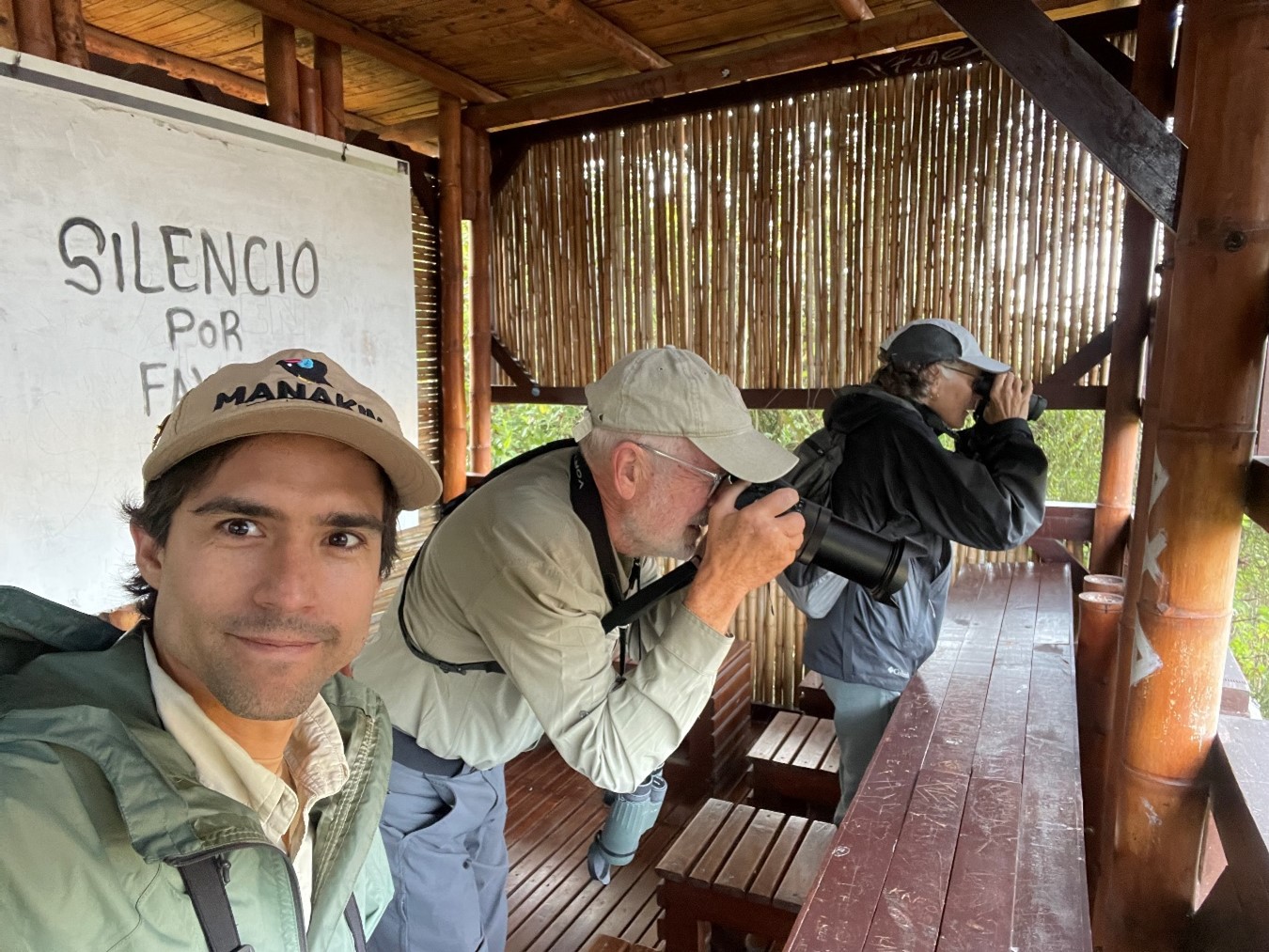 Waiting for the Bogotá Rail
Our trip started in Bogotá, the capital city. Despite being a huge city, Bogotá has very good birding spots, our first one, la Florida, is a wetland in the western side of urban area, we enjoyed our fantastic time there loaded with birds! Plenty of Bare-faced Ibis, Yellow-hooded Blackbirds and Barn Swallows (the first ones of the season) were a good stat to warming up. while we walked along the wetland we spotted the Bogotá Rail, a very range restricted bird and critical endangered species due to the habitat loosing, also the Spot-flanked Gallinule and even those two birds in the same frame for a while.
At mid-morning, we visited a garden with hummingbird feeders and we saw at least 10 species in less than 10 minutes, including the endemic Indigo-capped Hummingbird and later in the morning we were able to enjoy fantastic views of the Squirrel Cuckoo and the Red-billed Scytebill.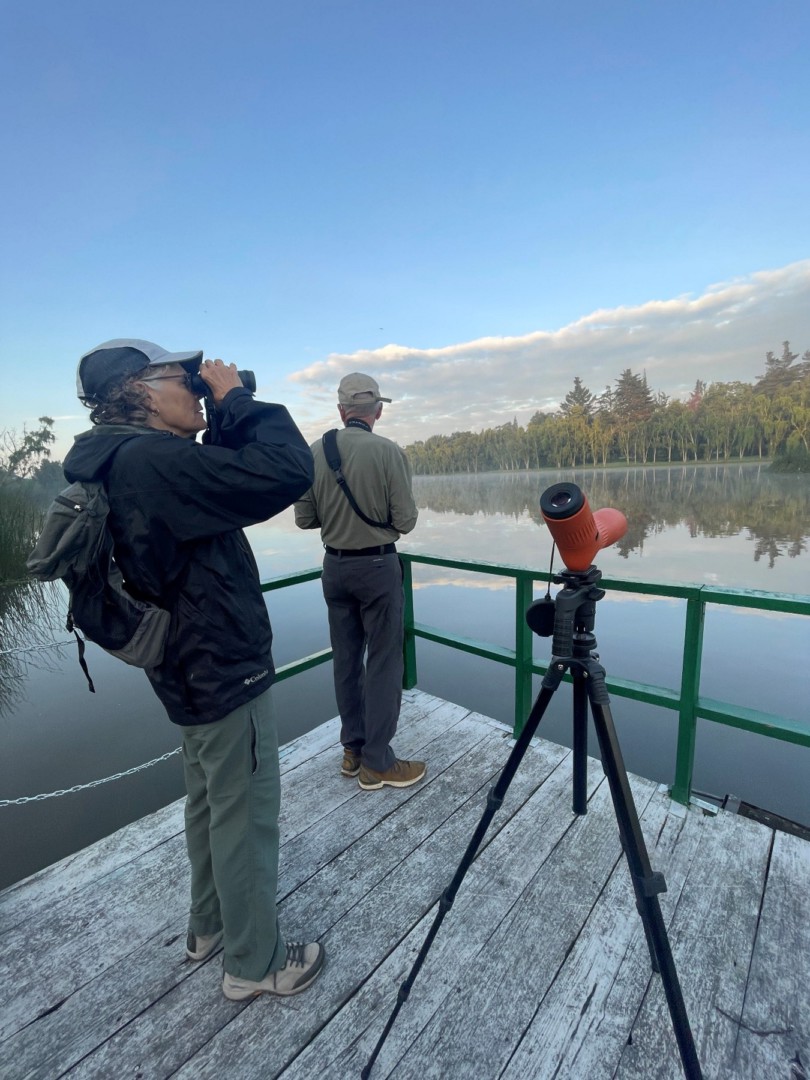 Watching birds at La Florida Wetland
During the ground transfer we crosses the Magdalena River and the next couple of days we must be ready for the lowlands.
Mid Magdalena river valley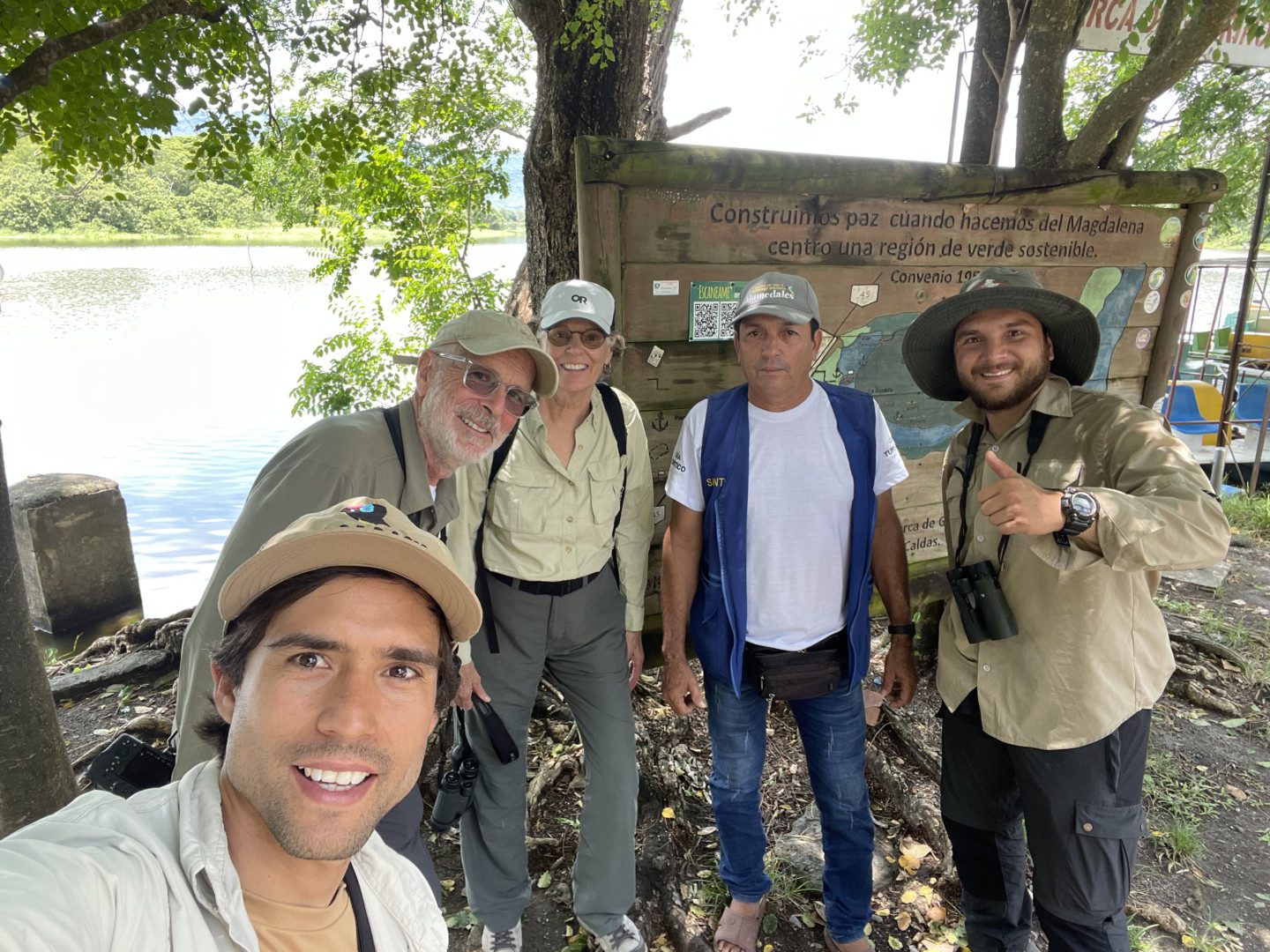 The A-team after a fantastic morning in the oxbow of the Magdalena River
Our first morning at the Magdalena river valley took place in an incredible oxbow of the river, the morning was loaded with birds and in few hours we saw more than 60 species. the highlights: Least Bittern, despite it is a common bird in other places and it has a large range of distribution it is not common in Colombia and is only possible in few places, other highlight birds during the session: the endemic Velvet-fronted Euphonia, Northern Screamer, Barred Puffbird, Whooping Motmot, White-eared Conebill, Boat-billed Heron among others.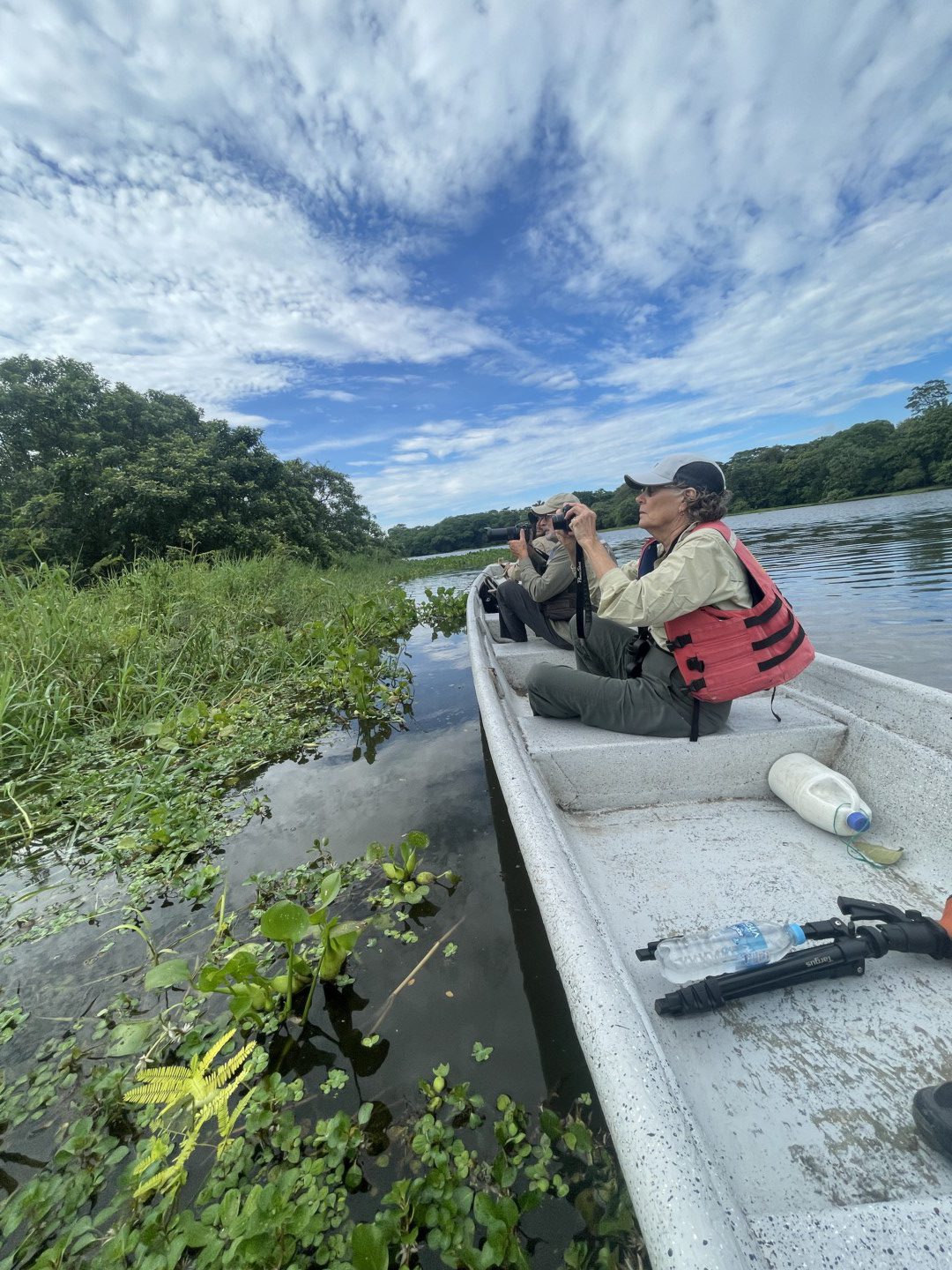 Boat birding in the oxbow
Our next 3 days in Rio Claro reserve were amazing, once again, a great quality of birds! here some highlights: Antioquia Bristle-Tyrant, Broad-billed Motmot, Gartered and White-tailed Trogon, Velvety Manakin, White-whiskered Puffbird, Olivaceous Flatbill, Dusky-faced Tanager. Our first night we spotted a juvenile Spectacled Owl, near our cabins, but the second night was adorned with hundreds of Oilbirds coming out from a limestone cave, this show was really unique.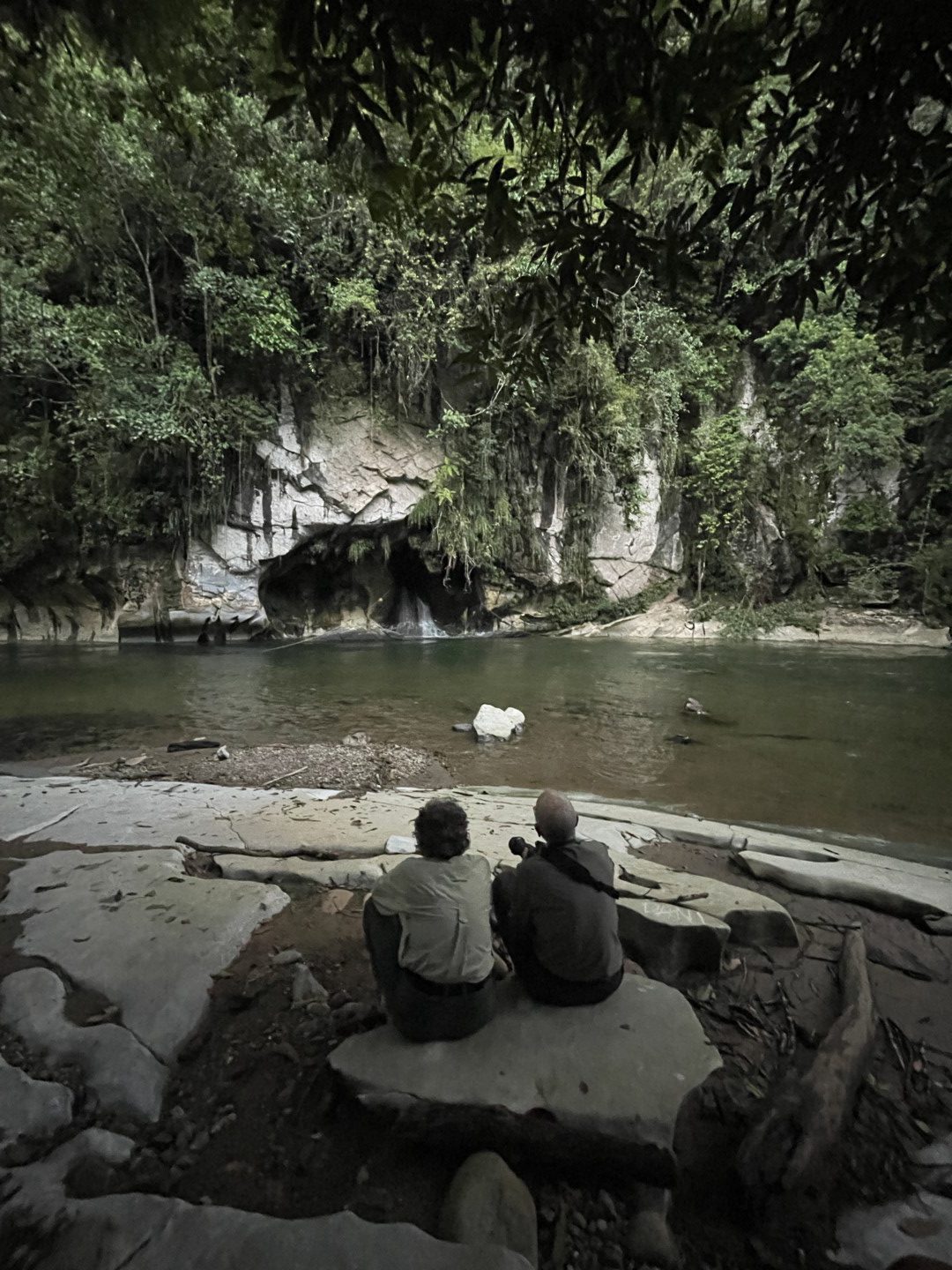 Waiting for the Oilbirds at dusk
During the last morning we crossed a hanging bridge over the river, the primary forest gave us the last gift of the area, we saw a small group of Grey-handed Titi Monkeys, at the same time, the Gartered Trogon was giving us a show!
We also reach a 140 species during or days in the mid-Magdalena valley and we only were birding for 4 days in total! after this we are heading north, our next couple of stops, on the slopes of the eastern cordillera.
The Slopes of the Eastern Andes
Our first stop, San Vicente de Chucuri,  above the town, the buffer area of Serrania de Yariguies natural park offers an incredible spot for birding, is an agricultural landscape, mainly cacao and shade ground coffee, but also a lot of fruit trees: Avocado, Mango, Soursop, citric, guaba… the morning started with a short drive through the rural roads in order to clmbn the mountain and once in place, we took as 30 min to spot 30 species: Turquoise Dacnis, Colombian Chachalaca, Indigo-capped Hummingbird, Blue-necked Tanager, Bay-headed Tanager, Scrub Tanager among others. our charmy local guide Hugo took us to his home for an amazing campesino lunch with a delicious coffee dessert and a short class of coffee and cacao we learned a lot about the local products but also, we saw many good birds in his yard, including the endemics Niceforo´s Wren and Indigo-capped Hummingbird.

Our second stops located in Ocaña, above the city, the Recurve-billed Bushbird reserve provides good opportunity for birding -including top birds- first thing in the morning, a good coffee and a campesino breakfast at Don Carmito's house, he and his family live next to the protected area and they always welcomed the guest plus the banana feeders are amazing. Don Carmito joined us for the morning birding and our main target cooperates a lot, we saw the Bushbird at least 3 times and other birds including: Grey-throated Warbler, Stripe-breasted Spinetail, Black-headed Tanager, Speckled Tanager, Black-headed Tanager, Black Hawk Eagle among others adorned our morning.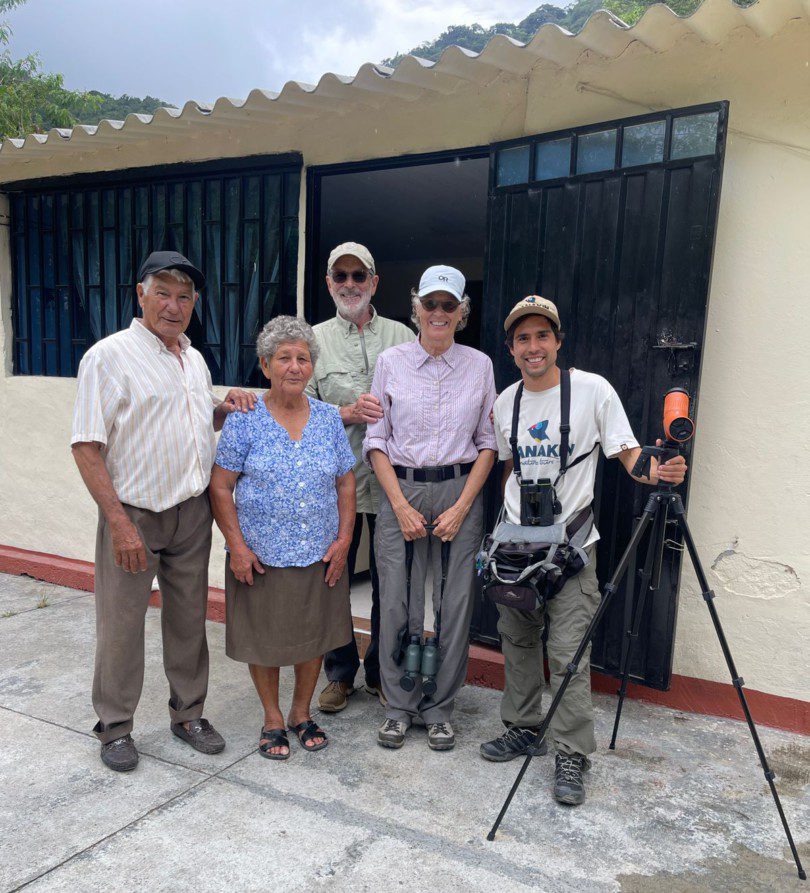 With Carmito and Sol Angel
Last stop on the Andes took place in the northermost extreme of this cordillera, the area of Perija is home of several range restricted birds, especially in the high part. on the way to the top we bird along the road and we wera able to spot many good birds, including: Perijá Tapaculo, Coppery-bellied Emerald, the local sub specie of the Yellow-breasted Brush Finch, Black-headed Tanager among others. the views of the back part of the Santa Marta mountains are quite amazing here. next morning in the top of Perija we were focus on the Paramo and we had beautiful sights of Perijá Metaltail and Perija Thistletail, other birds during the morning includes: Paramo Seedeater, Southern Emerald Toucanet, Hooded Mountain-Tanager, Lacrimose Mountain Tanager.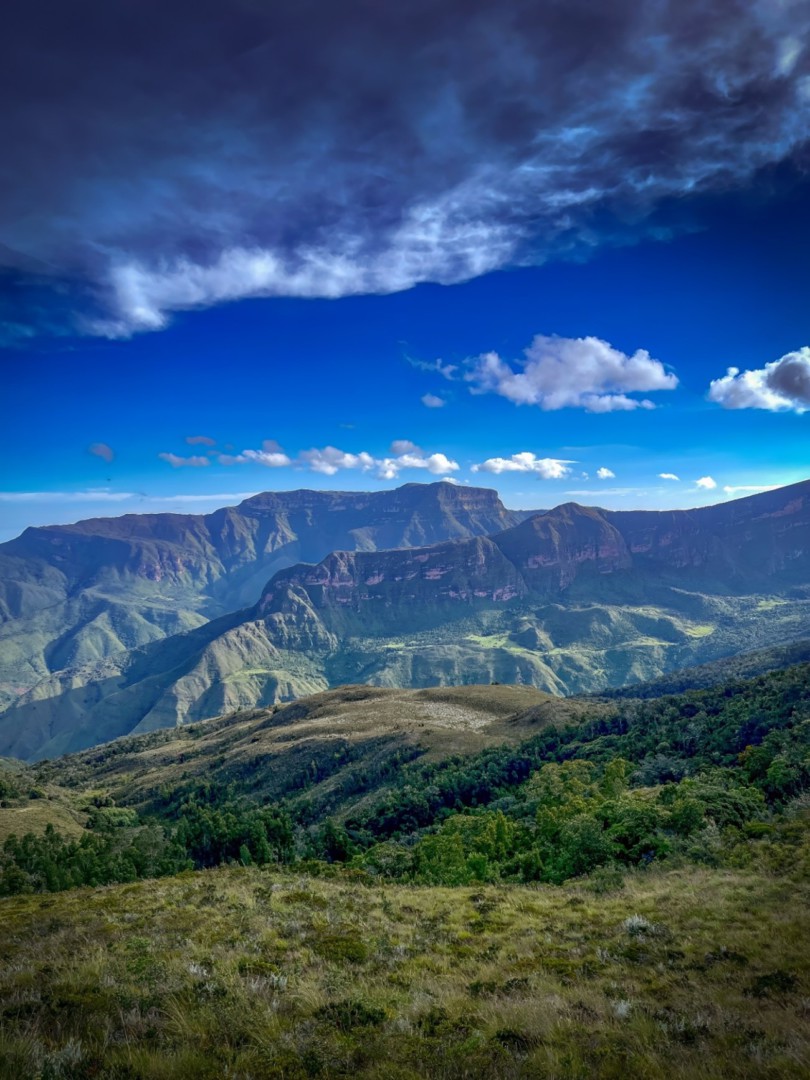 Perija views, cerro Pintado
Now heading to the Caribe and Santa Marta
Our first morning in Caribe area, at Camarones village – near Riohacha – the dry forest gave us a very productive morning: Chestnut Piculet, White-whiskered Spinetail, Tocuyo Sparrow, Shining-green Hummingbird, Buffy Hummingbird, Vermilion Cardinal, Red-billed Emerald, Orinocan Saltator, Russet-throated Puffbird and more. later in the morning we did a boat trip to have a closer view of the American Flamingoes population, about 1000 birds or even more adorned the shallow salty water lagoons and many others species: Sandwich Tern, Short-billed Dowitcher, Whimbrel, Sandpipers, Egretts, Herons… a really spectacular day.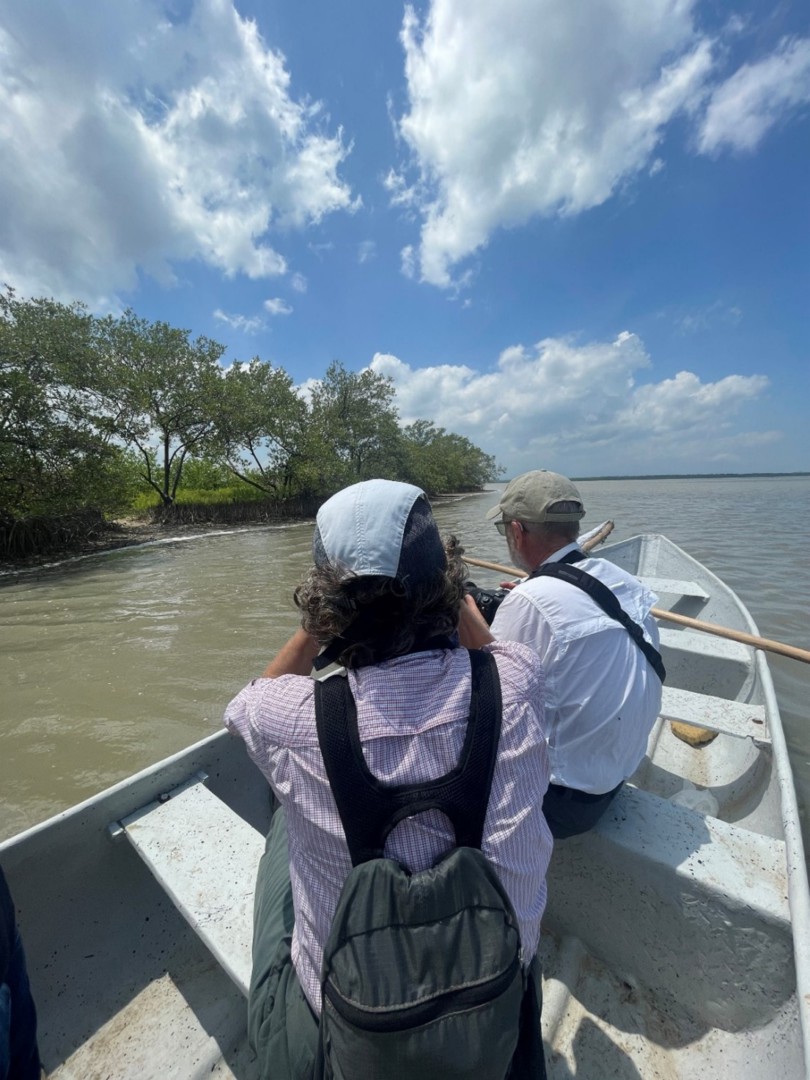 Boat birding in Camarones
Second morning at Tayrona natural park, despite this is a birdwatching trips, today was a mammals day! we spotted two families of Red-howler Monkeys during the morning, then the Brown Capuchinchs feeding into the forest and last but no least, a beautiful Three-toed Sloth, comming down from the canopy for a toliet stop in the forest floor, what a show! also we saw many good birds, including: Lance-tailed Manakin, Rufous and White Wren, Crested Guan, White-necked Puffbird, Gray-headed Tanager and migrants are here: Protonotary Warbler, now heading towards Santa Marta Mountains.
Three full days in the Santa Marta mountains, loaded with spectacular views of the mountains and many endemic birds of this isolated mountain range. during those days we splitted our time exploring different elevations in order to achieve as many birds as possible, some of the top birds includes: Santa Marta Brush-Finch, Santa Marta Warbler, White-lored Warbler, Yellow-crowned Redstar, Streak-capped Spinetail, Black-backed Thornbill, White-tailed Starfronlet, Santa Marta Woodstar and a glimps of Brown-rumped Tapaculo and Sierra Nevada Antpitta, among many other bird species.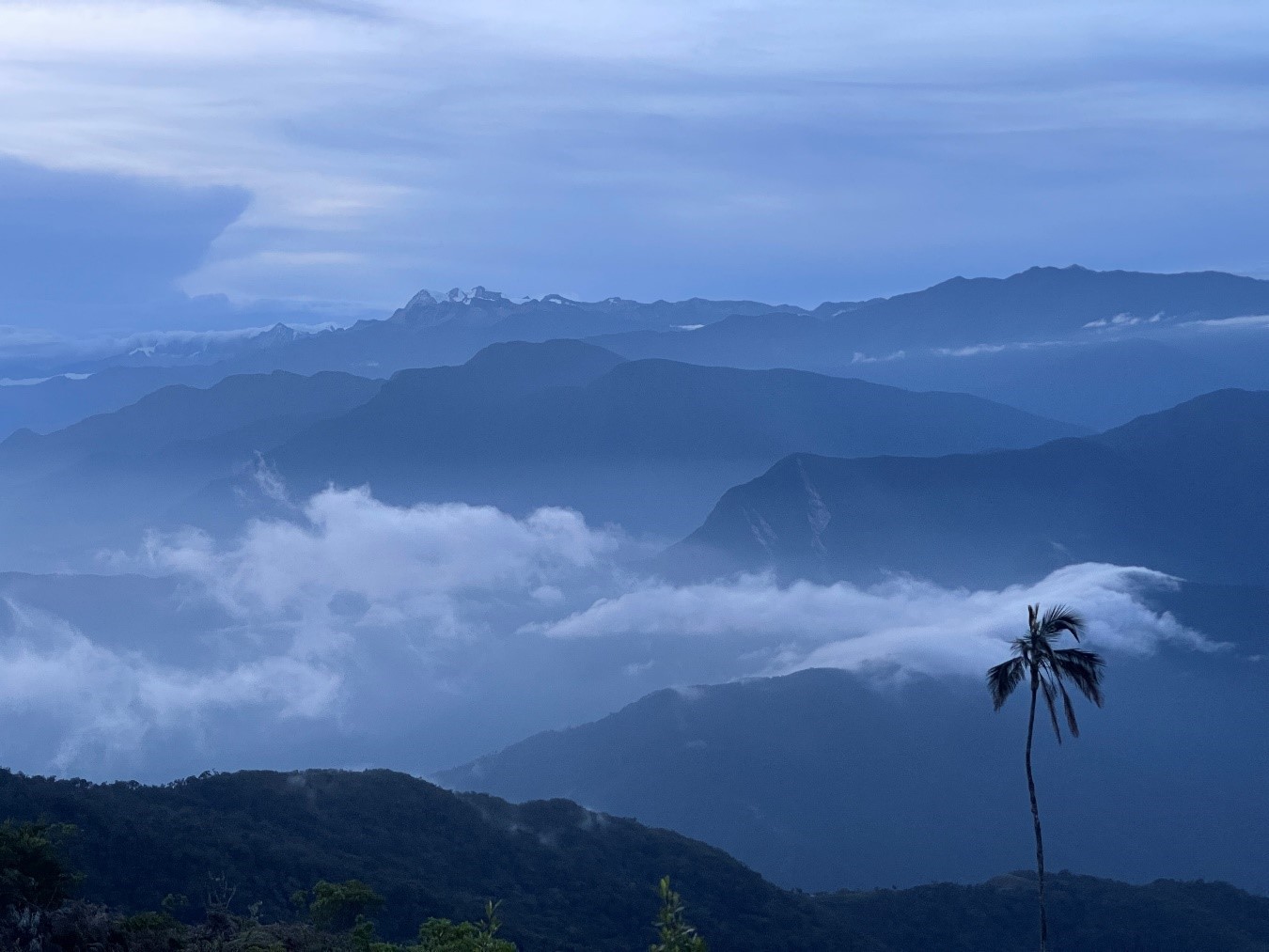 Views of the Santa Marta snowy peaks – highest coastal mountain in the world
Last morning in the field, the mangrove forest of the Salamanca flora and fauna sanctuary gave us a really good time in the field. right after we leave the car, we spotted the Golden-green Woodpecker, spectacular views of a male, plenty of Protonotary Warblers were flying and catching insects all over. the pied Puffbird was spotted at least 4 times during the morning, including a juvenile. Bicolored Conebill, Sapphire-bellied Hummingbird, Chestnut Piculet, American Pygmy Kingfisher, Limpkin and many more adorned our visit to this park. later in the morning we did a short stop on the way back to Barranquilla, the km 4 rural road, was very productive and gave us the last birds of this trip: Turquoise-winged Parakeet, Shapphire-throated Hummingbird, Stripe-backed Wren and Ferruginous Pygmy Owl!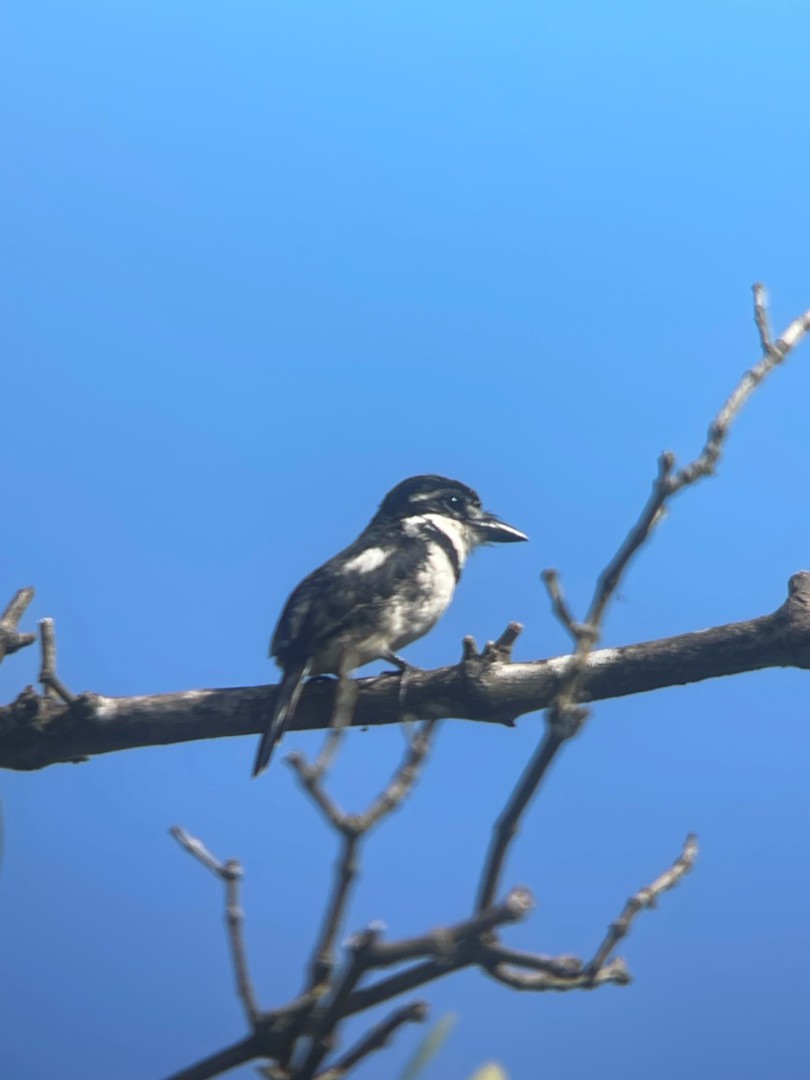 A terrible shot of a terrific bird, the Pied Puffbird
List of the best travel records
Northern Screamer
Crested Guan
Great Potoo 
Oilbird
Perijá Metaltail
Santa Marta Woodstar
White-tailed Starfronlet
Bogota Rail
Black Hawk-Eagle
Broad-billed Motmot
Pied Puffbird
Turquoise-winged Parrotlet
Recurve-billed Bushbird
Rusty-breasted Antpitta
Vermilion Cardinal
Chestnut Piculet
Golden-green Woodpecker
Speckled Tanager 
Turquoise Dacnis