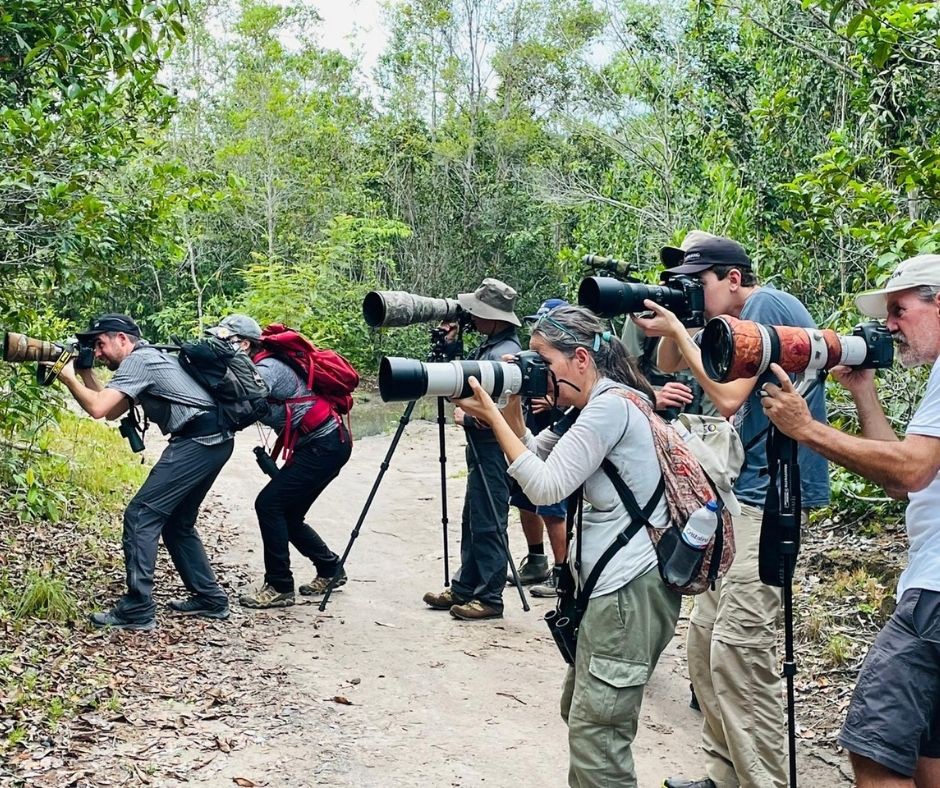 Inírida – This is one of the newest world-class birding destinations in Colombia – FAM TRIP
Discovering new areas and birding in amazing places are always part of every birdwatcher's dream! The Amazon rainforest is usually on that wish list, because of its incredible biodiversity!
The Amazon forest is made up of 9 countries, Brazil with the largest totality of 60%, followed by Peru with 13% and Colombia with almost 7%, which comprises 42% of the national territory. Here in Colombia, the Amazon rainforest is made up of 5 departments Amazonas, Caquetá, Guaviare, Putumayo, Vaupés and finally Guainía being the capital INÍRIDA, a unknown region for many birdwatchers!
The municipality of Inírida is located in the Estrella Fluvial de Inírida, a place where three great rivers converge: the Guaviare river, the Atabapo river and the Inírida river, which flows to the great Orinoco river.
A land of innumerable indigenous communities such as Curripaco, Puinave, Piapoco and many others that make this experience much more particular! The area is especially important for Manakin Nature Tours Staff. In 2020 Manakin NT acquired around 200 hectares of an area to establish an environmental reserve! A super beautiful project that involves the entire indigenous community for the conservation of the species! We will soon share more about our first project "Building the Biological Scientific Research Station".
For all this wealth, Manakin, together with Procolombia, is promoting this destination, and this was a great step for this fam trip, with 14 participants (operators, photographers, journalists) from 8 countries, to experience the birds and magic of INÍRIDA! We would like to thank our sponsors for helping to promote this great wildlife destination. What are they Spirit Airlines, Air Europa, Aerolinea SATENA and Hilton Garden Inn Bogota Airport.
An important detail is the logistics for INÍRIDA, with regular flights leaving Bogota, which are operated by Satena

Airlines

, one of our sponsors of this fam trip, in which in less than 1:30 you are already in Inírida.
That first afternoon, after lunch and a short rest, we went to Caño Culebra to do a short bird watching with our local guide

Camilo Orjuela

, It was only a few hours however with excellent targets like Spotted Puffbird, Black Manakin, Chestnut-fronted Macaw, Black Caracara
and many others! But another special moment was to see the
Yellow-handed Titi monkey
that can be found in lowland forests around the Amazon, Orinoco, Rio Maranon, and Guianas rivers in the northern part of their range, and south to the Rio Puru.
Day 2
A new day, with new expectations! We schedule to have breakfast at 5 am, the day has dawned very early here! Today the objective was to observe and photograph the
Caphuchinbird
, one of the HIGHLIGHTS of the trip! Everyone prepared, so let's go!
For Manakin NT it is always important to promote communities for sustainable tourism, since we started operating in Inirida, we have identified the Sabanitas community as an excellent spot for birds and cultural exchange!
Sabanitas is an indigenous community with an average of 250 people living (60 families), they are an indigenous people of the Curripaco ethnic group!
And the day was really amazing! On our walk to record the Capuchinbird, we saw countless birds and one of the most spectacular behaviors recorded by
Poumpador Cotinga
, a lek with over 15 individuals who literally did a great ballet for us! It was exciting! But after this great show, we had a mission: to register the birds of the day! Along the trail we got excellent Targets like
Amazonian Trogon, Amazon Kingfisher, Swallow-winged Puffbird, Brown Jacamar, Gilded Barbet, Yellow-crowned Manakin, White-crowned Manakin, Golden-headed Manakin, Bare-necked Fruitcrow, Screaming Piha,
until we heard the
Capuchinbird
singing in the middle of the Amazon jungle! It was right in front of our eyes, can you imagine the emotion? Joy, happiness, a mix of feelings that sometimes cannot be described! Lots of shots, great photos and the feeling of our mission accomplished.
After a long walk we return for lunch, the menu of the day!
Pescado moqueado
, a typical dish of the community, a fish (cooked by steam from a clay stove) what an incredible, delicious lunch! After lunch, we took the opportunity to rest, some taking a nap, others taking a bath in the river and recovering energy!
And to end the afternoon, we went in search of another Cotinga! The
Spangled Cotinga
, and succeeded, was a little more discreet but gave time for all the team! Today was amazing and very productive:
Black-faced Tanager, Burnished-buff Tanager, White-throated Toucan, Yellow-tufted Woodpecker, Jacamar Paradise
, everyone happy and impressed with the experience and cultural exchange with the Sabanitas Community, it was an unforgettable day!
Day 3 
After a good night's sleep to regain strength, it's time to discover the Matraca Trail, an incredible hotspot on the other side of the Inirida River, 15 minutes from the river port! In Matraca there are many important Targets, and so we started looking for these species, with each walk new surprises were revealed to us! Like
Chestnut-capped Puffbird, Collared Puffbird, Black-fronted Nunbird, Cream-colored Woodpecker, Long-billed Woodcreeper, Orinoco Softtail, Amazonian Umbrellabird
. In just a few hours we had 100 sp in our list! It was amazing to be on Matraca Trail.
In the afternoon, the objective was to walk through some areas of the Inirida River, and it was amazing, not only for the birds we could see such as
Hoatzin, Capped Heron, Mealy Parrot, Drab Water Tyrant, Scarlet Macaw, Amazonian Tyrannulet, Sand-colored Nighthawk, Green-tailed Jacamar
, more for the show that a small group of
Pink River Dolphins
did for us! It was a surprise for everyone, seeing that scene of them coming out to breathe, it was an incredible moment, we spent about 20 minutes watching and enjoying this group after everyone was happy it's time to go back to the hotel and rest!
Photo:
Sylvain Paul Maury
Day 4
Every day starts early here, we leave before 6 am from the hotel, to Sendero El Paujíl, an indigenous reserve, in less than 20 minutes on the boat we reach our observation point!
On our trail we started to search for birds, and of course, we were surprised by the fact that nature provides countless opportunities for birding and photographing birds such as
American Pygmy Kingfisher, Lettered Aracari, Many-banded Aracari, Masked Crimson Tanager, Rose-breasted Chat, Wire- tailed Manakin
, it was another amazing morning, as we were returning we heard a vocalization, we managed to position ourselves and in front of us the incredible
Black-spotted Bare-eye
landing in the clean and for countless photos! We could already burst the champagne and celebrate a super lifer for everyone, another one of the amazing lifers that we are having here!
During the afternoon we had one more big goal, to register the new species of Antshrike to Colombia! An important record as studies indicate that it may be a new species, yet to be confirmed!
With only a few birder records, it's definitely one of the main Targets of the trip!
After this super day, it's time to rest
Day 5
Today is a day of birding and relax, we left the hotel a little later and headed to the Cerros de Mavecure, an average of 1:30h in a speedboat! The landscape on the Inírida River is impressive, when arriving at Cerros we can see the dimension, a magical place. The set consists of three hills: Pajarito, Mono and Mavicure (170, 480 and 712 meters high, respectively), a day to contemplate the nature of this magical place! And of course we took the opportunity to do some birding and increase our bird list for the trip, with some targets like
Orinoco Piculet, Orange-breasted Falcon, Black-collared Swallow, Great-billed Hermit, Green-tailed Goldenthroat, Glittering-throated Emerald.
And to end the day and the great experience in Inírida, the city hall prepared a cultural presentation of the indigenous community, it was very fun and joyful! A little bit of the spirit that was this fam trip! 
We thank everyone who agreed to participate in this trip! Special thanks to Orbán Gábor, Andrea Katona, Clifton Kincaid, Tyler Robert, Nicole Sullivan, Barbara De Groot, Amanda Talpas, Steven Ogle, Dragan Simic, Dusten Cheo, Juan Carlos Ramirez, Sylvain Paul Maury and all of our ProColombia, Spirit Airlines sponsors , Air Europa, Aerolinea SATENA and Hilton Garden Inn Bogota Airport.
ABOUT THIS TRIP
The tour consisted of 5 full days instead of the planned 6, and I totally understand the Satena flights problem ( A vulture crashed into an engine in Villavicencio so they had to do maintenance on a plane- not on our plane! 😅😅).
I think 5 full days is ideal for a group like Eagle-Eye but when I was there, I could have stayed another day for sure! The Fuente de Guiania hotel was more than satisfactory – everything you need and fine for EET guests. Daniel and yourself were expert guides. The locations were great: river or van trips to warm and dry destinations. Lots of boat access is really fun and easy for the guests. The Bogota hotel; Hilton Garden, is perfect. If we don't use it for our main tour I will recommend it highly.
Oh, how I dreamed of exploring Amazonia as a little boy. And, as a part of growing up and getting "serious", I forgot my childhood dreams. They were too childish, right?
To my utter surprise, thanks to Luis Urueña and Edson Moroni, one of those dreams came true: I have just returned to Belgrade from an absolutely incredible trip to the Colombian Amazonia as part of Manakin Nature Tours and ProColombia FAM trip. Dubbed the Escape to the Orinoco River Basin of Colombia, this one-week and 250-species long trip uses the riverside city of Inírida as a comfortable single-base to explore the unique mix of birds that occur in the Estrella Fluvial Ramsar site.
Thanks again for everything, Dragan Simic
See some photos to make! Click to enlarge the image.