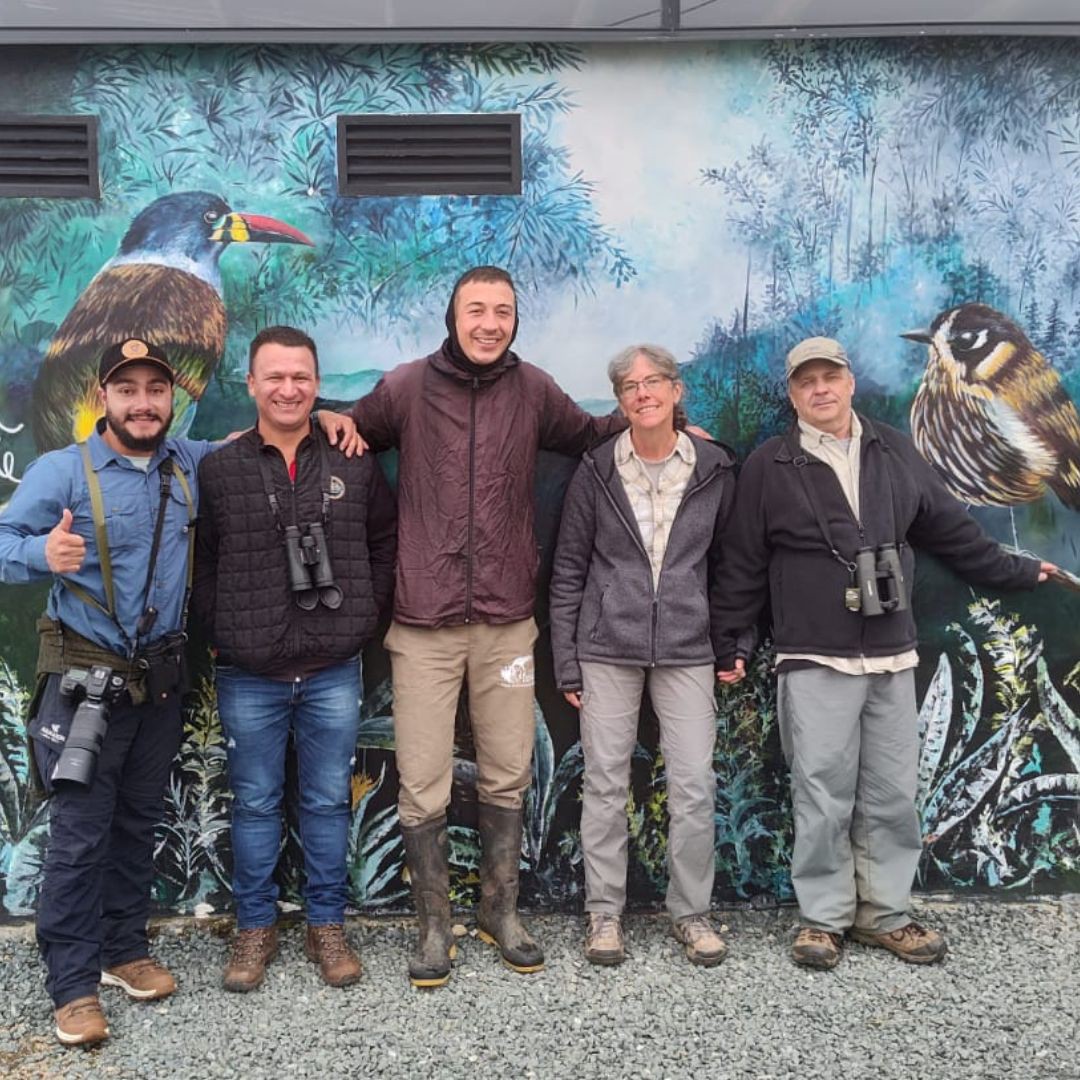 Colombians Endemics and Near-Endemics Birding Tour
Wade and Karen Harris are a Canadian birdwatching couple who live on their 40-acre farm in Ontario. Although Wade says he is not hardcore, his more than 4,300 species and around 40 countries visited say otherwise. The pandemic prevented Wade and Karen from being able to travel to Colombia two years ago, however, Manakin Nature Tours kept their word to hold the tour until it was possible and finally on June 20 we met at the Hilton Garden Inn hotel. from Bogotá to meet us and start an adventure through the Colombian Andes.
Hummingbirds Day
Our journey began at 5:00 am when we arrived at Bosque Guajira, where our journey began with very good species, in Bosque Guajira, it is one of the reserves that remain in the borders zone of the Chingaza National Natural Park, it is a place that It has high Andean forest. There is the presence of spectacled bears and good species of this ecosystem. And we started with a lot of good species like; Black-billed Mountain-Toucan, Speckle-faced Parrot, Brown-breasted Parakeet, Muisca Antpitta, Pale-bellied Tapaculo, Cinnamon Flycatcher, White-throated Tyrannulet, White-banded Tyrannulet, Slaty-backed Chat-Tyrant, Golden-fronted Redstart, Scarlet-bellied Mountain-Tanager, Blue-backed Conebill, White-sided Flowerpiercer, Bluish Flowerpiercer, Masked Flowerpiercer and many more!
After lunch, we continue to Observatorio de Colibríes, a nice place to photograph many important species of hummingbirds! In that incredible place we managed to photograph excellent spices such as; Amethyst-throated Sunangel, Black-tailed Trainbearer, Green-tailed Trainbearer, Tyrian Metaltail, Glowing Puffleg, Coppery-bellied Puffleg, Blue-throated Starfrontlet, Sword-billed Hummingbird, Great Sapphirewing, White-bellied Woodstar, Silvery-throated Spinetail, Blue-throated Starfrontlet and Sparkling Violetear.
Cundinamarca Antpitta
Today our day has a great goal, you can watch and photograph Cundinamarca Antpitta! One of the important targets of the group!
The Cundinamarca Antpitta was described a little more than a decade ago and is known from only a few locations on the east slope of the East Andes in Colombia, all of them reasonably close to the country's capital, Bogotá. Given its small range and the degree of deforestation this region has suffered, the conservation status of Cundinamarca Antpitta originally was evaluated as Vulnerable, but continued threats to habitat and apparently declining populations have led its threat status to be revised to Endangered.
It was a great joy for everyone to be able to photograph this species! One of the great lifers expected of this trip! Of course, after a long time observing Antpitta, we walked along some trails and observed other species such as; Southern Emerald-Toucanet, more two species of Antpitta Chestnut-crowned Antpitta and Slate-crowned Antpitta, Green-and-black Fruiteater, Slaty Brushfinch and many more!
Mountain Grackle
Also known as the Colombian Mountain Grackle, this species is currently treated as Endangered by BirdLife International on accounts of its tiny range and heavily fragmented habitat. The Mountain Grackle is a slim-bodied and exceptionally long-tailed icterid, entirely black with a purple-blue iridescence, except for the dark chestnut axillaries and epaulets, which are only likely to be obvious in very good views. It occurs mainly along the western slope of the East Andes, where the species inhabits subtropical and temperate forests (especially of oak) at elevations of 2400–2900 m. This species is usually found in small groups, and it is suspected to be a cooperative breeder.
Otún Quimbaya Flora and Fauna Sanctuary
Otún-Quimbaya, which is located about 1 hour away from the city of Pereira, on the western slope of the Central Cordillera, is a flora and fauna sanctuary created to protect the watershed of the Otún river, the Andean and high-Andean forests and its surroundings. The place has been going through a reforestation process for more than 40 years now, providing connectivity with the properly conserved forests of the higher section of Los Nevados National Park, hence becoming a biological corridor of great importance on the Central Andes. It is common to spot some great species of Andean mammals such as the Mountain Tapir and on occasions the Spectacled Bear. The Otún-Quimbaya Fauna & Flora Sanctuary is currently managed by the Yarumo Blanco Foundation, which is a national staple of communal tourism because all of its members are local farmers who have been performing remarkable efforts to transform Otun into one of the best fauna & flora sanctuaries in the country.
Montezuna Rainflorest
Montezuma Rainforest Ecolodge is a farm located on the western slope of the western mountain range, in the Department of Risaralda, on the border with Chocó, in Colombia. There we found the Tatamá National Natural Park. It is home to over 550 species of birds, 450 species of orchids and 700 species of butterflies. The biodiversity across other taxa is equally impressive. Many Colombian endemic and near-endemic species are found here. This region is definitely incredible for bird watching. In this incredible site we observed more than 130 birds, many of them endemic and important targets for our group! Some of the birds were; Tourmaline Sunangel, Empress Brilliant, Collared Inca, Buff-tailed Coronet, Velvet-purple Coronet, Rufous-gaped Hillstar, Streak-headed Antbird, Chami Antpitta, Yellow-breasted Antpitta, Ocellated Tapaculo, Nariño Tapaculo, Green-and-black Fruiteater, Barred Fruiteater, Chestnut-breasted Chlorophonia, Tricolored Brushfinch, Gold-ringed Tanager, Hooded Mountain Tanager, Grass-green Tanager, Black-chinned Mountain Tanager, Glistening-green Tanager, Tanager Finch, Buffy Tuftedcheek, Uniform Treehunter, Dusky Chlorospingus, Golden-fronted Redstart, White-sided Flowerpiercer, Indigo Flowerpiercer, Bluish Flowerpiercer, Chestnut-bellied Flowerpiercer, Munchique Wood-Wren.
Rio Blanco Reserve
The Rio Blanco Reserve is one of the most diverse areas in the world. The reserve encompasses 4,932 hectares or 12,187 acres,  is home to nearly 400 species of birds. The reserve actually supplies 35% of the drinking water for the whole department of Caldas, of which the nearby city of Manizales is the capital. Because of this, the reserve is managed by a water company called Aguas de Manizales and not the Colombian government.
The main attraction of this reserve are the feeders of Grallarias (Antpittas) and hummingbirds, this place is one of the most famous in the world to see antpittas. The reserve has good quality accommodation which also fits perfectly for the observation of owls. Rio Blanco is one of the most popular bird-watching reserves in the country, it is not uncommon for it to be one of the most studied reserves also by birdwatchers.
And in this amazing place today we saw a lot important targets like; Chestnut-naped Antpitta, Bicolored Antpitta, Brown-banded Antpitta (we got ours mains targets here), Collared Inca, Fawn-breasted Brilliant, Purple-backed Thornbill, Speckled Hummingbird, Southern Emerald-Toucanet, Golden-plumed Parakeet (only heard), Green-and-black Fruiteater, Cinnamon Flycatcher, Gray-breasted Wood-Wren, Golden-faced Tyrannulet, Blackish Tapaculo.
Hacienda el Bosque
The Hacienda El Bosque is a new place for birdwatching, located about 1 hour away from the city of Manizales, it is characterized for having large patches of high-Andean forest that blend with the meadow fields used for livestock and potato crops. The Hacienda El Bosque has recently become even more popular due to the incredible feeders made for antpittas, tanagers and hummingbirds, and also because many species of mountain-tangers and mountain-toucans tend to arrive on the surroundings of the main house. The Hacienda provides great meal services, which primarily includes traditional regional cuisine. The reserve also has great trails that are pleasant for walking and observing birds with ease. It currently has a bird list of over 120 species. With great targets Crescent-faced Antpitta, Grey-bellied Mountain Toucan, Chami Antpitta, Hooded Mountain-Tanager.
Andean Cock-of-the-rock
The spectacularly bizarre

Andean Cock-of-the-rock

is perhaps the most popularly recognized bird of the cloud forests of the Andes Mountains.
TOP 3 BIRDS IN THIS TRIP
Black-and Chestnut Eagle, Green-bearded Helmetcrest and Sharp-tailed Streamcreeper
More than 380 species seen, of which 154 between endemic and almost endemic added numbers of new species to the great list of Wade and Karen. Some days were difficult due to the rain, but we still managed to get our target species. Our couple, with a lot of experience in the field, enjoyed not only the birds, but also the gastronomy and the contact with the local communities who on different occasions enriched the adventure of visiting Colombia. Finally, our Canadian friends return home with the expectation of making their second endemic trip through the Middle Magdalena and the Caribbean Coast.
Check our set departures for 2023

Click on the image
Enjoy the Bird Gallery on this tour