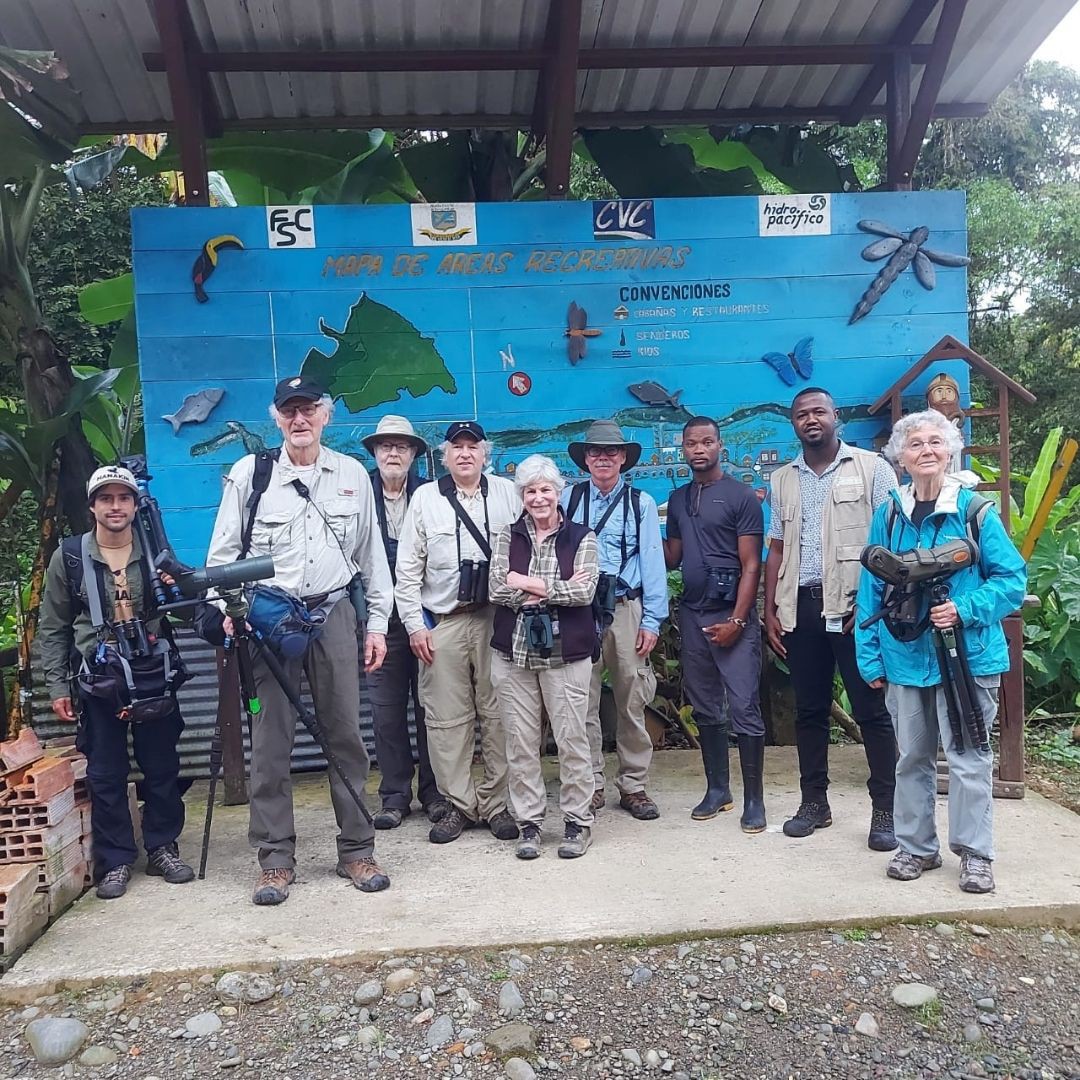 Birding tour with Steven Hilty
During the last years I´ve have the pleasure to co-lead trips with great birders and ornithologist, including Steven L. Hilty, author of one of the most iconic books of the Birds of Colombia –the one that I personally used during several years back in college – and  several papers a publications about birds in the tropics. If I am not wrong this is my fourth trip with him and my previous trips included: Eastern, Central and Western Andes, the llanos foothills, the Magdalena valley, the north of Colombia and the Santa Marta mountains, all of them very enriching experiences for me, with a lot to learn from. This time we took a small 5 person group around the central and the western cordilleras.
La Romera park
After the breakfast and morning transfer to this local park above Medellin, we jumped off of the van and the first bird was the elusive Yellow-headed Manakin! Which was flipping right above our car! This morning was focused on 3 endemics and a couple rarities, so we checked one! After a short walk on the park we heard the Red-bellied Grackle and finally the came to foraging in front of us at eye level, this is an endemic beautiful bird. We kept working on other birds: Tanagers, Redstarts, Warblers, Red-headed Barbet and Southern Emerald Toucanet were part of the morning, finally we heard the Stile´s Tapaculo and as any other Scytalopus genera this one could be a nightmare, anyway I putted my speaker on the forest ground and cover it with leaves, play the song and the Tapaculo came straight away! With all the targets we drove on the way to Jardin with a short afternoon stop in the Cauca valley, despite our enforces we missed the main target of the area: Antioquia Wren, which was calling but never showed off.
Around Jardin – Antioquia
And the easy soft day before the high mountain. At the morning we visited a local farmhouse with banana and hummingbird feeders, we enjoyed our breakfast in front of: Scrub Tanager, Bay-headed tanager, Blue-necked Tanager, Red-headed Barbet, Andean Motmot, Black-chested Jay and others.
After a couple of our we did a short walk in the rural area, 2 minutes after we started we spotted a Moustached Puffbird and then a couple of Chestnut-capped Brush-Finch. Some minutes later we work on one of the main targets: Parker´s Antbird and we saw a couple (male and female) skulking in front of us. Colombian Chachalacas and Black-chested Jays were around the morning and the song of the Yellow-backed Oriole with excellent views – was heard several times! And Inga tree near the road was one of the main attractions, this fluffy flowers attract several bird species: Purple-throated Woodstar, Steely-vented Hummingbird, Tennessee Warbler, Yellow-backed Oriole, Sooty-headed Tyrannulet, Golden-faced Tyrannulet, Mourning Warbler, Yellow-faced Grassquit and others!
At the afternoon we visited a renowed Andean Cock of the Rock lek to enjoy the beautiful show of this iconic Andean bird, but also we add to the list the Scarlet-fronted Parakeets, Andean Emerald and a nice Western Emerald Male.
Alto Ventanas and Peñas Blancas.
A rainy morning, made the day really hard but somehow productive! Before the sunrise we saw at least 2 Rufous-bellied Nighthawk flying very close to us , and we heard in the distance the Rufous-banded Owl, with the first light: Sickle-winged Guan, Golden-fronted Redstar, Slaty Brush-finch and Lacrimose Mountain Tanager. We got our breakfast in a local farmhouse in the mountain and wait for the rain. After that a walk into a single track towards Antpittas feeding station, despite the rainy: Chestnut-naped Antpitta and Chami Antpitta were waiting for us!
Also at the forest edge: Rufous-crowned Tody-Flycatcher, Green and Black Fruiteater and Beryl-spangled Tanager. When the rain calm down we did a short walk: Metallic-green Tanager, Saffron-crowned Tanager, Blue and Black Tanager, Blue-capped Tanager, Bare Becard, Oleaginous Hemispingus, Grey-headed Bush-Tanager and more! For lunch, we visited a farmhouse with hummingbirds feeders in the middle of the mountain: Fawn-breasted Brilliant, Long-tailed Sylph, Bronzy Inca, Collared Inca, Tourmaline Sunangel, Mountain Velvetbreast, Speckled Hummingbird but also other birds like: Green Jay and Acorn Woodpecker were around! Another succesfull day!
Rio Blanco reserve, a rainy day.
All night and all morning rain, we had to bird under our umbrellas for the whole morning! We visited a couple of Antpittas feeding stations and we saw the Chstenut-crowned Antpitta, Grey-browed Brush-Finch and Green-and-black Fruiteater. We worked hard during the morning specially because of the weather but it works: Bery-spangled Tanager, Blue-and-black Tanager, Grass-green Tanager, Blue-winged Mountain-Tanager, Southern Emerald Toucanet, Streak-headed Antbird, Grey-hooded Bush-Tanager and a beautiful Slate-crowned Antpitta! During the midday we enjoyed the hummingbirds feeders: Long-tailed Sylph, Tourmaline Sunangel, Speckled Hummingbird, Bronzy Inca and others…after midday the rain did not stop, we decided to walk under the drizzle and surprisingly we saw a group of Golden-plumed Parakeets feeding near the main road of the reserve! On the way back a short stop near the river gave us excellent views of the White-capped Deeper (male, female and juvenile!) and also we spotted in a roosting area a female: Lyre-tailed Nightjar!
At the Paramo
After a local breakfast, we spotted some birds on a near lagoon: Andean Duck and Andean Teal, also a Chestnut-winged Cinclodes, but we quickly move high into the paramo where our main target was waiting. After a short walk at 4130 masl we saw a male Buffy Helmetcrest working into a flowering bush and we enjoy the bird for a while! After that we walk at the high elevation of the central cordillera getting little by little bird species: Andean Tit-Spinetail, White-chinned Thistletail, Grass Wren, Plumbeous Sierra Finch. We got the lunch at a local hotel with hummingbird feeders so we enjoy some highlands birds like: Shining Sunbeam, Golden-breasted Pufflegs, Great Sapphirewing, Scarlet-bellied Mountain Tanager and Lacrimose Mountain Tanager. For the afternoon we decided to go lower on the main road that goes to the snowy peaks, after a very slowly start, we finally caught a mix flock! The rush hour produced some very good birds: Rainbow-bearded Thornbill, Black-backed Bush-Tanager and Golden-crowned Tanager and feew minutes later a second small flock: Blue-backed Conebill, Black-backed Bush-Tanager, Golden-fronted Redstar, White-throated Tyrannulet and some mountain tanagers. We forgot the cold and breeze day after these beautiful birds!
Hacienda el Bosque
We visited a dairy farmhouse with patches of forest, hacienda el bosque, there, the ain attraction are the Antpittas and hummingbird feeders, but also there are some good birds at the forest to look for. After breakfast in the top of the mountain, we visited the first station: Equatorial Antpitta, Grey-browed Brush-Finch and an unexpected White-browed Spinetail gave us a show! Also nice hummingbirds around: Black-thighed Puffleg, Sword-billed Hummingbird, Tourmaline Sunangel. Later on we waited for a while the Crescent-faced Antpitta, but since the breeding season started haven't been coming, anyway, we enjoy other birds: Masked, Glossy and White-sided Flowerpiercers, Shining Sunbeam, Buff-winged Starfronlet, Andean Guan, Slaty Brush-Finch and more! On the walk to the third feeding station we spotted the male and female Barred Fruiteater and also superb views of the Grey-breasted Mountain-Toucan. At the end on the morning on a short walk we add some species for the trip: Rufous-headed Pygmy-Tyrant, Paramo Seedeater and Black-headed Hemispingus. After lunch an afternoon transfer to Otun, Flora and Fauna Sanctuary.
Otun
A beautiful morning above Pereira, birding at the Otun river basin área, after our breakfast, we quickly moved to do some birding into the forest! After the drive and once we leave the car the first bird was a beautiful Red-ruffed Fruitcrow and a Sickle-winged Guan, followed by Three-striped Warbler and Russet-crowned Warbler. A short walk into the area gave us nice views of the Slaty-backed Chat-Tyrant and around the river a nice White-capped Deeper and a couple of Torrent Duck! We did a nice walk into the forest and we saw good mix flocks loaded with birds: Variegated Bristle-tyrant, Rufous-breasted Flycatcher, Marble-faced Bristle-tyrant, Montane Woodcreeper. Also we spotted a family of Red Howler Monkeys on our walk! By mid-morning we saw other targets like: Cauca Guan (endemic) and Red-ruffed Fruitcrow!
Montezuma, Rainforest
First morning we climb all the way to the top of the mountain, the view was beyond amazing! We saw the Tatamá mountain very clear for a while and we enjoy spectacular birds like: Chestnut-bellied Flowerpiercer, Empress Brilliant, Velvet-purple Coronet, Collared Inca. Our breakfast took place in this spectacular mountain scenery and then time work into the forest for more birds – and also plenty orchids in flower!
Munchique Woodwren was one of the first ones, a nice cool song but also incredible good views of: Tanager Finch, Dusky Chlorospingus, Purplish-mantled Tanager, Handsome Flycatcher, Bicolored Antvireo and Nariño Tapaculo. before lunch the queen of the day: Gold-ringed Tanager was posing several times during the morning.
Our second morning, we drove halfway to the top, after our breakfast at the tower, we decided to start walking and birding we had a successful morning:  Orange-breasted Fruiteater, Black Solitaire, Gold-ringed Tanager, Black and Gold Tanager, Indigo Flowerpiercer, Pacific Tuftedcheek, Glistening-green Tanager, Handsome Flycatcher, Dusky Chlorospingus, some mix flock loaded with good birds: Glistening-green Tanager, Scaly-throated Foliage Gleaner, Pacific Tuftedcheek, Uniform Treehunter, Scaly-throated Foliage-gleaner, Yellow-vented Woodpecker, Marble-faced Bristle-tyrant, Yellow-breasted Antwren and many other birds including; bronze-olive Pygmy Tyrant and Sooty-headed Wren, on the way back to the lodge a Beautiful Barred Hawk was perched beside the road!
Last morning up here, after breakfast and a short drive we started to pick up a lot of birds! Specially because we were lucky with the mix flocks! Fulvous-breasted Flatbill, Choco Warbler, Black and Gold Tanager, Golden-winged Manakin, Multicolored Tanager, Ochre-breasted Tanager, Yellow-collared Chlorophonia, Rufous-throated Tanager, Silver-throated Tanager. On the way back to the lodge a short stop to enjoy the Club-winged Manakin but also super views of the Sooty-headed Wren!
Doña Dora
After our breakfast, we started down on the old road to Buenaventura, our first stop on the km 53 aprox near a old cars to look for the Lyre-tailed Nightjar and the Torrent Duck, despite we didn't found the Lyre-tailed we saw some good birds on the road, including: Green Thorntail, Yellow-collared Chlorophonia, Silver-throated Tanager, Golden Tanager, Bay-headed Tanager, Andean Solitaire, Flame-rumped Tanager.  We continued on to Dona Dora´s El Descanso inn for lunch. We got several Hummingbirds and tanagers as well as the Toucan Barbet and Red-headed barbet! Crimson-rumped Toucanet, Silver-throated Tanager, Rufous-throated Tanager, Black-chinned Mountain Tanager, Purple-bibbed Whitetip. The lunch at Dora´s was fantastic and we had time to relax and get more birds. We left and found the Lyre-tailed Nightjar! It was a fantastic day all around.
San Cipriano
San Cipriano is an adventure like no other, after a car drive you swith to a "brujita" rail road little platform attached to a motorcycle, to ride 6km and reach the village of San Cipriano next to Escalarete and Cipriano rivers, both clear blue water. The area has a secondary and primary very humid tropical forest of the bio-geographical Chocó, breakfast at town and birding on the pipeline gravel road our local guide Yamir was very helpful and we spotted several birds during the morning including a couple of good flocks and range restricted ones: Five-colored Barbet, Esmeraldas Antbird, Stub-tailed Antbird, Zeledon´s Antbird, Choco Toucan, Black-breasted Puffbird, Blue-whiskered Tanager, Rufous-winged Tanager, Pacifi Flatbill and many more! By the end of the morning we visit an active nest of the Choco Screech Owl! Lunch at village and time to go back riding the brujita.
Finca La Florida
Easy last morning above the city of Cali, at the edge of the western cordillera, we visited la Florida farmhouse, there they have incredible banana and hummingbird feeders! A super attention and a beautiful breakfast in the mountain! One of the first birds in the morning was the incredible Multicolored Tanager, male and female visited the feeding area and gave us a show! Other colorful birds were around: Golden-naped Tanager, Golden Tanager, Saffron-crowned Tanager, Red-headed Barbet, Crimson-rumped Toucanet, Colombian Chachalaca, Sickle-winged Guan. The forest feeding station gave us other birds: Chestnut Wood-Quail, White-throated Quail Dove and Chestnut-capped Brush-Finch! By mid-morning we decided to do a short walk in the gravel road nearby, we were lucky and caught a mix flock! White-throated Spadebill, Yellow-vented Woodpecker, Streak Xenops.
We had a great time in the field, we enjoyed many birds but also good stories and all the knowledgment from a highly recognized neotropical ornithologist like Steven.
SUPER PROMO – SET DEPARTURE
COLOMBIAN ANDES 01 – 15 July 2022
⚠️ FIVE SPACES REMAIN ⚠️
A magical birding adventure in the Colombian mountains of the Eastern, Central and Western Andes that includes the incredible geographic region of Choco in the middle and lower lands of the Montezuma Reserve.
Enjoying incredible bird groups such as hummingbirds, Antpittas, Tapaculos, Tanagers and Fruiteaters and more than 450 species that can be seen on this route, we will visit unbelievable hummingbird feeders and the famous antpitta feeders of Rio Blanco.
Would like to receive more information? Write to us or click on the link below and let's birding!