Daniel López – Birding and Wildlife Professional Guide
I've never really enjoyed the routine, so I've always been interested in learning new things, practicing different activities and having the fortune of sharing the majority of my pastimes with my younger brother.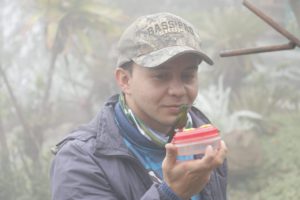 This is how one day my brother got a reflex camera since he was recently starting his studies in visual design, and wanted to learn how to take photos. We started to think about what we could do to take advantage of it, I remember that we were at the Manizales citi birdfair, about 7 or 8 years ago, and in the program of the fair we found a bird enlistment activity. We decided, I bought a Celestron 10×25 binoculars and we attended the activity … that day many people attended and being our first time, we did not see a single bird. But we were piqued by curiosity and asked the guide, when can we try again? Then he mentioned the Caldense Ornithology Society to us and some outings that they had once a month … then we called and signed up at the exit, with the luck that the activity took place in Río Blanco Reserve in my hometown, Manizales. We saw many birds and we were amazed, not only by the birds, but also by the knowledge that these people had about the avifauna.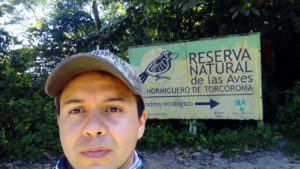 That was how we started to watch birds every weekend, to meet many people from the guild and all the possibilities and bifurcations that this world of sighting had, I was falling more and more in love with the birds. I became a member of the Caldense Ornithology Society and after a while I began to manage their program "Vamos Todos a Pajarear", where we shared with everyone who wanted a good day of sighting, once a month, in different locations close to Manizales. From there I began to acquire a taste for going out with new people every time and sharing the little knowledge I acquired, as well as getting to know new locations, new corners of my region.
So I decided to study as a tourist guide and that's how I have evolved and I think I really found what I wanted to do in life.
Until now I have birded, above all, around the central and eastern mountain ranges, the inter-Andean valleys up to the Caribbean Coast and also some of the southern part of the country; Putumayo and Nariño. Right there I have developed my guiding activities, but I could say that my comfort zone is between 1000 and 4000 meters above sea level. In Colombia there are many great places to birdwatch, but if I have to talk about my favorite places, La Guajira is indisputably one of them and I could say that San Vicente de Chucurí is another one of those places that I want to return to frequently. Talking about a more complex subject, I could say that my favorite bird is the Scarlet-and-white Tanager, but perhaps in every place I have visited I have a favorite, or several. I am only sure that the family of birds that I like the most is the Hirundinidae (Swallows).
This is a little bit of my journey as a Bird Watching guide, I have a lot to learn, develop further. I feel proud to be part of the Manakin Nature Tour guide team. Soon we will all meet again.