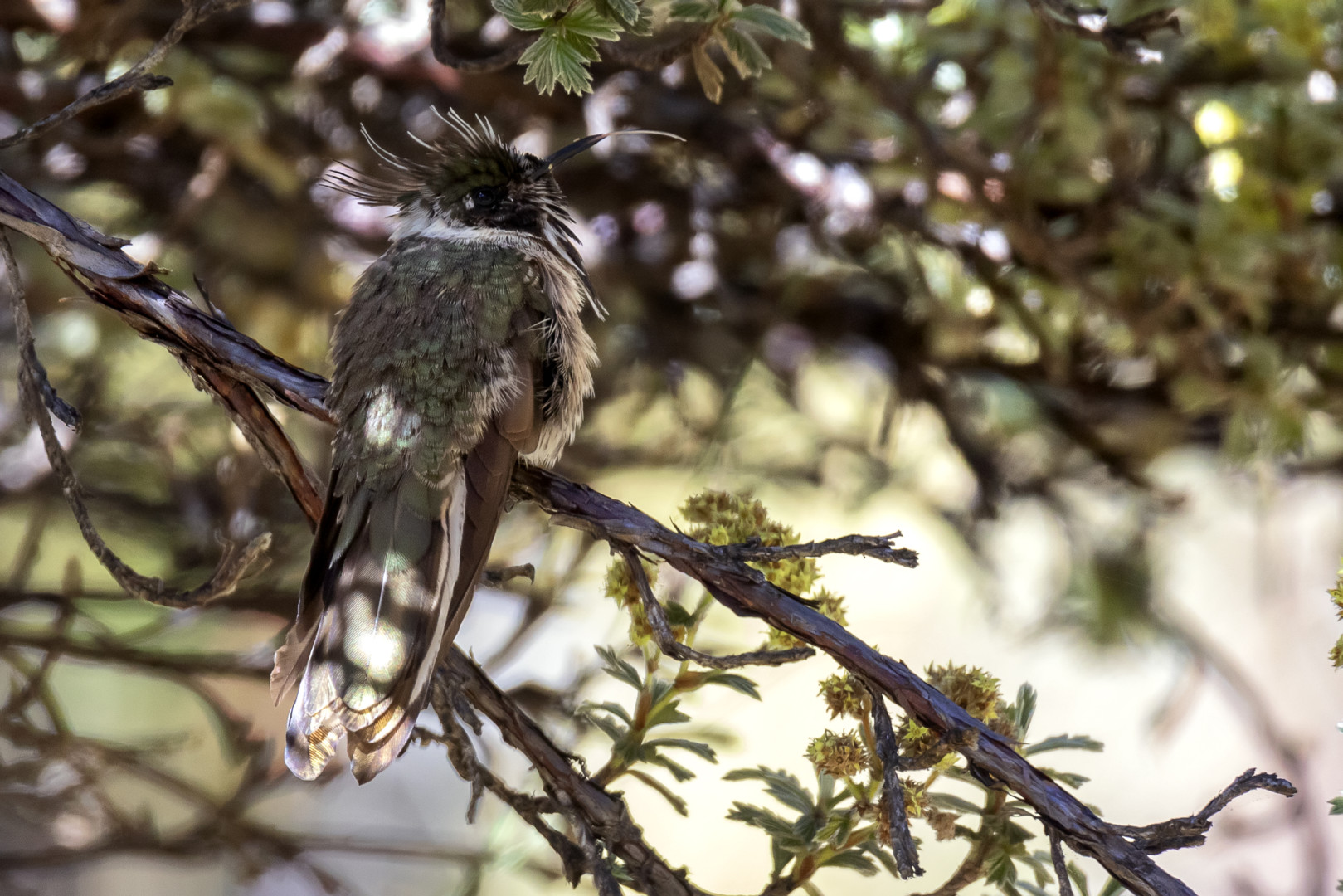 The story of the expedition of the Blue-bearded Helmetcrest!
By. Alejandro Pinto
Rule #1. As always please forgive and forget my terrible English!
I can imagine there are a lot of birds around the world that need an expedition – and all an expedition implies – to be sight or found and some of them are in Colombia as you can imagine. After some years as a birdwatcher and biologist I've have the opportunity to visit isolated and remote places and also some of the most beautiful corners of my country in search of birds, wildlife of just to simply enjoy nature and finally I had the great chance to climb deep for few days with one guest the mountains of the Sierra Nevada de Santa Marta – out of the regular route – … a place that always stay in the mind of any birdwatcher as one of holy grial of endemics and isolated evolution, this trip report is the story behind the expedition of the Blue-bearded Helmetcrest! – and others like the very rare Santa Marta Wren or Black-backed Thornbill!
Before start the adventure…
The Blue-bearded Helmetcrest is a hummingbird species, endemic to high elevations of the Santa Marta mountains in Colombia – Sierra Nevada de Santa Marta, SNSM- It was last recorded last time in 1946 a skin collected by Melbourne Carriker who carried out ornithology expeditions to several areas in Colombia including the SNSM and despite some recent expeditions deep into the mountains was rediscover only back in 2015 – almost lost for 70 years –
Despite the highest elevations of Sierra Nevada de Santa Marta were declared a National Park in 1964 and also declared as UNESCO Biosphere Reserve in 1979, and last but not least this mountain ranges has been considered the world's most irreplaceable nature reserve! several indigenous villages cover the mountain range, principally of the ethnic groups the Kogis and Arhuacos, because indigenous peoples living in Colombia's national parks are afforded special rights to carry on their livelihoods, some rules are not followed by them and that reflects in degradation of the páramo by fires for livestock production or running pigs, cattle or sheeps across the higher parts of the mountains.
The lower areas – and the more accessible ones – have been colonized since centuries by Colombians from the interior – Andes, Magdalena, etc – for agriculture development, also related with forest loosing at big scale.
The fragile and very unique paramo and forest of the SNSM – and also its inhabits like birds – are in a serious threatened!
Day 1. San Javier (7 Dec)
We started our journey from Santa Marta, we drove about 3.5 h on a bumpy road passing by the first slopes of the SNSM to reach the town of San Pedro de la Sierra and finally the village of San Javier, which is located 32 km away from the main road at 1500 masl on the slopes of the SNSM, this village is unreal for everyone but a Colombian…is right on a ridge, there is only one street which cross the town and everything is along this street – houses, barber shops, Disco bars, etc -.
We met our local guide, William who knows the mountain very well, Rafael in charge of the mules and all the equipment and Yuly in charge of the food up in the mountain, they are all from the area and since many years have walk around there. After a lunch and rest, we did a short walk above the village and a very soft birding, but a couple of hours were enough to sight some of the good birds of the area: Streak-capped Spinetail, Coopery Emerald, White-lored Warbler, Santa Marta Tapaculo, Santa Marta Brush Finch, Golden Grosebeak, Rusty-breasted Antpitta, Black-hooded Thrush, Orange-billed Nightingale Thrush, Pale-eyed Thrush, Blue-naped Cholorophonia… 49 species in total, not bad for 2 hours and loaded with endemics. We went back to the hotel and talked about the next days adventure. We packed as light as possible and only the necessary, I would carry on my own equipment but other stuff on the mules.
Back pack: camera body, 2 lenses, headlamp, laser pointer, playbacks device, binoculars, speaker, book, waterproof poncho, water bottle and first aid kid.
Pack on the mule: extra pair of hiking boots, 3 t-shirts, 1 long sleeve shirt, compact down jacket, light pants, hat, 2 power banks, 2 extra batteries for the camera, AAA batteries for headlamp, 1 extra lamp, 1 extra laser, usb cables, 1 extra sd card, mini tripod, personal stuff. All into a 15 liter waterproof bag.
Day 2. Campo Base ( 8 Dec)
We leave the big luggage at the town, only ths necessary stuff were into small packs to go on the mules with the food and equipment (tents, sleeping bags..) we only carry on our cameras and binoculars. A 11 km walk with almost 1500 m in gain were waiting for us.
We started our walk at 6:30 am crossing the town and leaving the main road to hit the path on the mountain which starts with a steep climb. After a couple of km we reach the first patch of forest, we were not birding at all since there is a long walk ahead but with no effort we saw or heard: Santa Marta Blossomcrown, Santa Marta Antpitta, White-lored Warbler, Santa Marta Warbler, Golden- breasted Fruiteater, Golden – winged Warbler, Black-throated Tody Tyrant, Santa Marta Toucanet. Between the km 3 to 6 it was a bit openish – but Grey-lined and Short-tailed Hawk where soaring around – we kept walking and also making short stops to recovery, until we reach a Kogui settlement, passed it by and climb again, we had our lunch atop of this ridge with nice views into a patch of forest!
On this area a 2200 masl while we were walking we got records for: Santa Marta Brush Finch, Rusty-headed Spinetail, Santa Marta Antpitta, Hermit Wood Wren. Black-throated Tody Tyrant, Yellow-bellied Chat Tyrant, Slaty-backed Nightingale Thrush and a couple of Bat Falcon, once we cross the forest on a openish bushy  area we found a Santa Marta Bush Tyrant. Only 2 km to reach the base camp ahead of us, we descent to el Pascual creek and drink some fresh clear water and start the last climb of the day until reach a Arhuaco family's house, we talked a little bit with a lady who was weaving a shoulder bag and carry on her back a baby, I wanted to buy the shoulder bag but she told me that takes at least one month more to finish it! In between the farm house duties and the baby there is no time for weaving she explain to us in between her basic Spanish and my null uderstading of their language. 5 minutes later we reach the base camp, it was 3:30 pm, a bit tired after the walk but everything was setting up by our local partners –tents ready with our "luggage" inside -, Yuly and Rafael welcoming us with Agua de panela (hot beverage with water and brown sugar) to recovery and then a rest into our tents.
A dinner made at the fire cook an and incredible mountain scenery is the last postal in our minds of this day and last but not least, two Santa Marta Screech Owls singing at 6pm next to our camp. Mules are ready for next session, a 9km walk until reach the 3600 masl, the sacred lagoons area.
Day 3. The Sacred Lagoons (9 Dec)
6 am breakfast, Yuly gave us a hot coffee and also chocolate, scrambles, corn bread, mules loaded, ready to rock! we started to walk. Today is a shorter walk – in distance not in time! – starting at 2600masl and ending at 3600 masl, to warming up a 2 really steep kilometers in a single track that took us 3h!
On the distance an Andean Condor was soaring. After that we kept walking 1km more on the single track in the slopes of the mountains in that point in a small patch of forest we saw the Black-backed Thornbill working around a flowering bush, a very close view and also a spot to eat a kiwi and re-load energy. We walked a bit more and beside the road the calls of one of the mega targets: Santa Marta Wren, we spent few minutes to get some song record and also record shots! This wren moves fast around the bushes! But we saw it very well. Some minutes later we did our lunch stop on a flattish open area at 3600 masl, 1 Andean Condor appears and suddenly 2 more! All 3 flying together at the same time and very close to us! From the distance a Kogui family – 3 men with 3 mules – were coming, stop next to us, we cross few words I show them the Condor shots and they kept walking, we spent some minutes more enjoying the Andean Condor show and back on business again.
After lunch we walked for about 1km more to reach a clear stream of water where we drink some water and spent about 5 minutes to found the Atelopus Carrikeri (Carrikeri Harlequin Frog – endemic), rediscovery for the science since in 1994. The last portion of the trail was the last climb of the day on a ridge to finally get the sacred lagoons area, a magnificent scenery hidden deep in the mountains! As soon as we saw this landscape we forgot all the fatigue! Our tents were ready and cup of agua de panela and rum! To celebrate we made it. Near the camp a clear creek provide us with water, also I got a 15 seconds icy shower- ok, that was less than 15 -. We managed to climb to here, next day is the big day, the last endemic of the SNSM is waiting for us somewhere! A thousands stars night at the camp, a magic place.
Andean Condor, the SNSM and a Kogui family
Santa Marta Wren and Carriker Harlequin Frog
Day 5. Blue-bearded Helmetcrest (10 Dec).
It was a long night, at 4am the temperature dropped abruptly to minus something – that is cold if you're on a tent and most important if you live in the tropics – 6 am coffee and biscuits, we leave the camp on the way to the third lagoon, not too far, 25min of walk with steep but short climb, once we arrived was very cold and with heavy windy, not sunny at all! we wait around a good area… 1 hour… 2…3 breakfast arrived we ate breakfast by 9am and we saw 3 Andean Condor soaring not to far.. At 10am…nothing and we started to think about the huge effort we have done to be there and not a single sight of the hummingbird, after 10 I briefly saw it when it flew away from a bush, but with nothing else, we decided to walk on a path to the other side of the lagoon, 3 bushy areas looks good for the hummingbird, so we decided to set down on a rock, 2 minutes later Ronald spotted the first Helmetcrest flying and working around some flowering bushes it was far but we were sure it was the Helmetcrest, nothing else looks like this birds! so we decided to climb up a bit more to be closer to those bushes and bingo! 10 min later 2 females and a juvenile male were chasing up each other, we spend about 1.5h there we got excellent views and decent shots, a juvenile male finally was posing for us 3 meters away and the females stayed around working on the flowers, was a magical moment and all the effort we put for was worth it!
Also around the area we saw: Streak-thorated Bush Tyrant and Plumbeous Sierra Finch. went back to the first spot for lunch, on the way we saw Streak-backed Canastero, Plumbeous Sierra Finch and two more times the Blue-bearded-Helmetcrest. After lunch we spotted the Black-chested Buzzard Eagle, soaring near to us – this is a range extension record, few records of this bird at SNSM was only know from the Andes – We spent some time watching and delighting us with the landscape one more time before went back to the camp, is a stunningly beautiful area and we don't know if someday we would have the chance to come back, this blue and green lagoon, the dramatic rocky landscape with huge cliffs near the water is such an overwhelming place, no words can describe. It was a successful day and we enjoy one of the rarest, uncommon and unique hummingbird in the world, the last day's hard efforts work! Back on the camp, a 10 seconds shower on the creek – no repellent, no soap, no shampoo, nothing – we did not want to contaminate it and also 10 second is too short for a decent shower!
Blue-bearded Helmetcrest. Male , Juvenile and female
At the sacred lagoon waiting for the Blue-bearded Helmetcrest
Day 6. Epic Hike (11 Dec)
I learned something from the previews nights, I slept using: two pants, t-shirt, sweater and down jacket, socks and a hat, plus I use my emergency blanket as a first layer into my sleeping bag = I slept all night long! Before breakfast we saw a Black-backed Thornbill and Rufous-breasted Chat Tyrant. With no more targets birds around we decided to start our way back to the village of San Javier, it took us 2 days of walking to reach the top, we knew downhill is faster – but also knees breaker – so our main aim was to walk as much as we can but reach at least the base camp. Starting at 7am at 3600 masl, by 10am we reach the "amansa guapos" (Brave´s tame) a 1.5km very steep section that we finished by 11 ish and reach the camp #1 area (a total of 8km with 1000 meters loose in elevation) our legs and knees felt shaking so we had some rest, ate some snacks and talked with Cacilda and Arhuaco little girl  that we crossed near the camp.
After rest we decided to continue walking, the next camp stop is an abandoned school about 6km away, we keep descending to reach a creek, we washed our heads and re fill the bottles and started a climb – last climb of the trip – Ronald felt the effort and the sun! He had to get a mule-back riding to the top and then we continued on a single track section with some stop to ate snacks and drink a lot of water – also with salts and sugar to re hydration – we reach the abandoned school by 3pm, our legs and knees were shaking again, despite we walked slow – but on a good pace – descending on this technical single track is hard… Anyway we discussed our options and we wanted to reach the village, about 2 h / 5km more of walking. Again on the path, we crossed arhuacos and kogis on the way down, and getting close to the village a lot of farmers with their mules going back home – is sunday everyone goes to the town to do business and trade products and then go back to the mountains – the last km was awful, knees were killing us! – except William our local guide who seems to be on a holiday, fresh as a lettuce! – no matter what, we did it! All the way from the top to the village and we celebrated with a cold beer watching the Caribe from the mountains! It was a 19km on a muddy, rocky and technical single track with about 2600 meters loose in gain!
P.S we usually do this in 2 days!
We already miss the mountains views, the blue sacred lagoons, the peace and the cool birds of the Santa Marta mountains, the effort to reach the place works every single penny, it is such an amazing, enriching and beautiful experience to be up there with nothing else but nature and you.
Thanks to our local crew: William to be an incredible guide in the mountain as always, he knows very well the paths, timing and everything you need for approach this area, Rafael who ws taking care of the equipment on the mules and setting up our camps every day and Yuly who did an amazing job at the "kitchen" cooking for us nice meals in harsh conditions, they did an amazing job and made this trip possible for us.