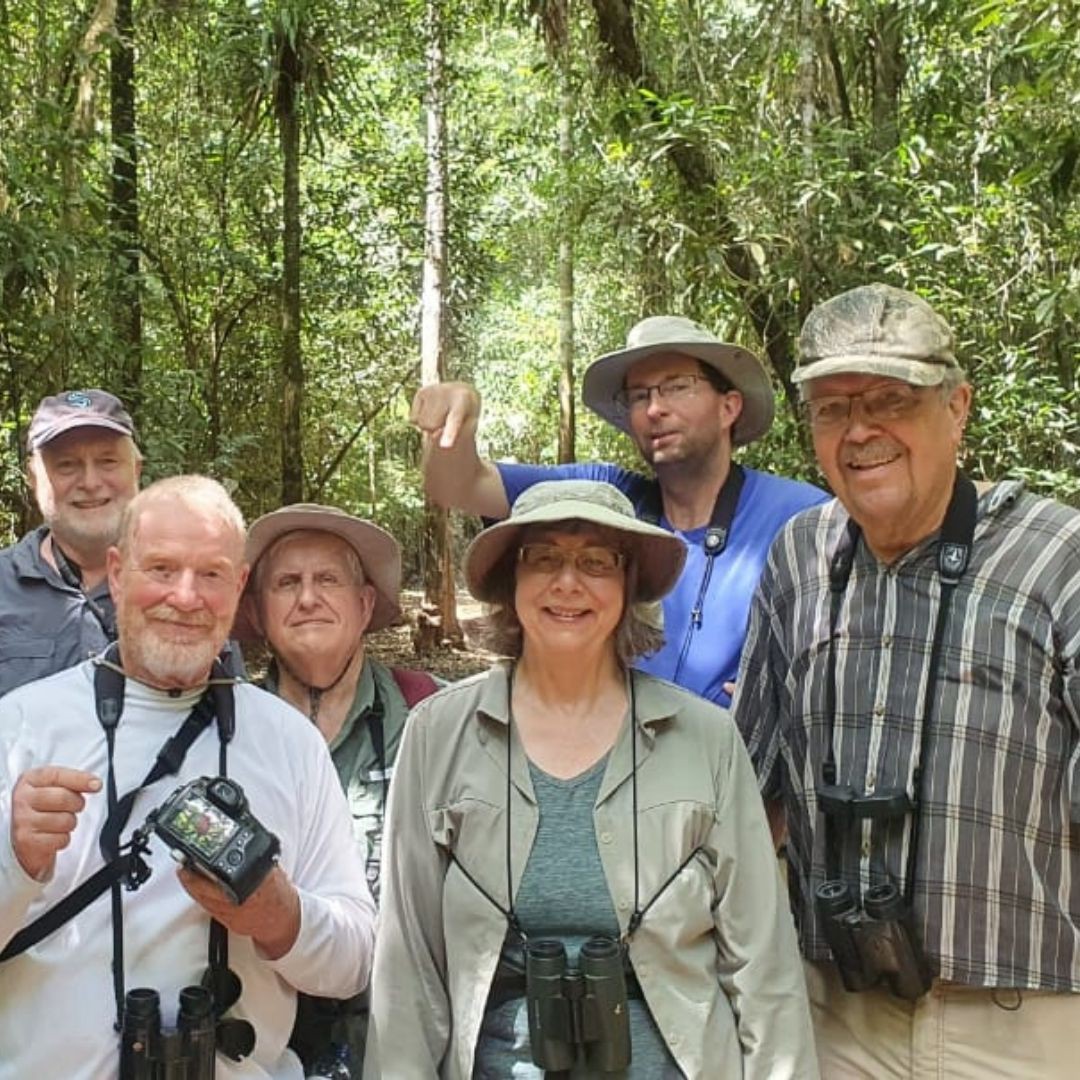 The Birding Adventure in Colombian Amazon & Llanos
This is a very special and fun birding trip! Over the course of 19 days, we observed 459 birds in one of the most special regions of Colombia! This tour was full of amazing animals and birds! Every day through the night we had to celebrate the day! It was great to guide our friends Paul Budde, Jerry Pruett, William Marengo, Richard Sandve and Esther Gesick.
SUMAPAZ NATIONAL PARK
Our journey began in Sumapaz Natural Park, which is one of the most high-mountain sites rich in genera and species of Colombian flora, and which has a large number of organisms, many endemics that the Park has an important diversity reserve. biological, ecological and genetic. In the Sumapaz Natural Park, there are representatives of two of the main ecosystems of the tropical mountains: the Paramo and the Andean forests.
In this INCREDIBLE ecosystem we can observe some birds; Green-bearded Helmetcrest, Sumapaz Wren, Glowing Puffleg, Black-chested Buzzard-eagle, Chestnut-winged Cinclodes, Andean Duck, Green-tailed Trainbearer, Grey-browed Brushfinch and Rufous-collared Sparrow and many others.
It was a really fun day with lots of amazing birds!
MITU
After starting this tour so well, we travel to Mitú, the capital of the department of Vaupés, located one hour and twenty minutes by plane from Bogotá, it is the ideal destination to dive into the depth of the jungle, where the birds, the nature and ancestral culture allow us to leave the everyday side of modern life.
Today was the most awaited day, perhaps one of the most important targets of the trip! We started our day after a delicious breakfast, going to the lek and breeding place, Guianan Cock-of-the-rock, today Colombia is the place if more records in this species in Ebird, with more than 320 registers.  The Guianan Cock-of-the-rock inhabits damp, highly humid forests. They primarily are found in forest areas near rocky outcrops, especially along rocky streams. They are also found at isolated rocky outcrops in sandy-belt forests. So everyone was really excited to photograph this species! And of course it turned out to be very good photos and good memories of that incredible day!
We birding in Pueblo Nuevo is a dream spot in Mitu for birdwatchers, it was a really good day for the group! We started our journey to birding and were able to observe the main targets in the region in particular White-plumed Antbird, Chestnut-crested Antbird, Common Scale-backed Antbird, White-cheeked Antbird, Black-headed Antbird! It was a very special day for the Antbird genus. And we saw anothers birds like Black-banded Woodcreeper, Blue-crowned Manakin, Cobalt-winged Parakeet, Amazonian Motmot, Mouse-colored Antshrike and many more!
In Mitú, we will be immersed in megadiverse and little-known Amazon rainforest, where there is an almost uninterrupted green mantle that will enable us to explore the forests associated with the Guyana Shield, white sand forests, varzea forests and the mainland. During this days here in Mitú, we saw; Fiery Topaz, Banded Antbird, Black-headed Antbird, Reddish-winged Bare-eye, Scaly-breasted Wren, Purple Honeycreeper, Paradise Tanager, White-crested Spadebill, Channel-billed Toucan, Tawny-tufted Toucanet and many more!
INIRÍDA
The municipality of Inírida is located in the Estrella Fluvial de Inírida, a place where three great rivers converge: the Guaviare river, the Atabapo river, and the Inírida river, which flows to the great Orinoco river. A land of innumerable indigenous communities such as Curripaco, Puinave, Piapoco and many others that make this experience much more particular! The area is especially important for Manakin Nature Tours Staff. In 2020 Manakin NT acquired around 200 hectares of an area to establish an environmental reserve! A super beautiful project that involves the entire indigenous community for the conservation of the species! We will soon share more about our first project "Building the Biological Scientific Research Station".
For Manakin NT it is always important to promote communities for sustainable tourism, since we started operating in Inírida, we have identified the Sabanitas community as an excellent spot for birds and cultural exchange!  Sabanitas is an indigenous community with an average of 250 people living (60 families), they are indigenous people of the Curripaco ethnic group!
Today was an amazing day we got to see and photograph many birds in SABANITAS and the and one of the most special moments of the day was seeing the Capuchinbird that was very fast but was a very happy moment for all of us!  We saw more birds like White-crowned Manakin, Screaming Piha, Bare-necked Fruitcrow, Yellow-crowned Manakin, Cherrie's Antwren, Red-and-green Macaw, Orange-winged Parrot, Brown Jacamar, Yellow-headed Caracara, Black Caracara and many more.
After a long walk we return for lunch, the menu of the day! Pescado moqueado, a typical dish of the community, a fish (cooked by steam from a clay stove) what an incredible, delicious lunch!
Another amazing place to birding in Inírida is MATRACA TRAIL it's most important place to birding in Inírida, one of the great hotspots with more than 420 species in just one trail of about 5km! Matraca Trail is an unimaginable and unforgettable experience for birders!
Some of today's birds were; Dot-winged Antwren, Dusky Antbird, Orinoco Softtail, Strong-billed Woodcreeper, Wire-tailed Manakin, Amazonian Umbrellabird, Blackish-gray Antshrike,

Cream-colored Woodpecker

,

Yellow-tufted Woodpecker, Ivory-billed Aracari, Black-fronted Nunbird and many more.
Every day starts early here, we leave before 6 am from the hotel to Sendero EL PAUJÍL, an indigenous reserve, in less than 20 minutes on the boat we reach our observation point!
On our trail we started to search for birds, and of course, we were surprised by the fact that nature provides countless opportunities for birding and photographing birds such as Blue-throated Piping-Guan, Many-banded Aracari, White-flanked Antwren, Amazonian Streaked-Antwren, Helmeted Pygmy-Tyrant, Black-spotted Bare-eye, Plain-brown Woodcreeper, Scarlet Macaw, Capped Heron, Sunbittern and many more.
In our last day in Inírida was a day of birding and relax, we left the hotel a little later and headed to the CERROS DE MAVECURE, an average of 1:30h in a speedboat! The landscape on the Inírida River is impressive, when arriving at Cerros we can see the dimension, a magical place. The set consists of three hills: Pajarito, Mono and Mavicure (170, 480 and 712 meters high, respectively), a day to contemplate the nature of this magical place! And of course we took the opportunity to do some birding and increase our bird list for the trip, with some targets like Pompadour Cotinga, Barred Antshrike, Orinoco Piculet, Orange-breasted Falcon, Black-collared Swallow, Great-billed Hermit, Green-tailed Goldenthroat, Glittering-throated Emerald, White-necked Puffbird, King Vulture and many more.
And to end the day and the great experience in Inírida, the city hall prepared a cultural presentation of the indigenous community, it was very fun and joyful! A little bit of the spirit that was this fam trip!
COLOMBIAN LLANOS
The Colombian plains are part of the territory located on the east side of the Eastern Andes, north of the Amazonian basin (the Guaviare river being the natural limit) and its limit on the eastern extremity of Colombia is given by the Orinoco river in the south and the Arauca river in the north.
This region is known as: The Orinoquia or the Llanos and 4 departments of Colombia are part of these plains: Arauca, Casanare, Meta and Vichada. It encompasses 18% of the national territory with an extension of 285.437 km2.
Its elevation above sea level ranges between 50-300 m.a.s.l. and it has low fertility soils. On the south of the Meta River we can find well-drained pains, with some protruding rocks that belong to the shield of Guyana. On the north of the Meta River we can mainly find floodable plains, extensions of savannas that flood during winter seasons. On the border of the Andean mountain range we can find the foothills of the plains and the formation of the Serrania de la Macarena is found on the southwest. Such formation is particular for sharing elements from the Orinoquia, the Amazons and the Andes. In general, the dominant ecosystems are inter-tropical savannas and riparian forests.
We visited the spectacular RANCHO CAMANÃ where it is a small civil society nature reserve, where owner Martha Lopez and Nathalia Otero y Elvis, they make this place a paradise for birdwatchers. The days that we stay here we saw; Speckled Chachalaca, Whistling Heron, Lettered Aracari, Violaceous Jay, Turquoise Tanager, Black-billed Thrush, Collared Forest-Falcon, Solitary Black Cacique, Burnished-buff Tanager, Rufous-fronted Thornbird, Gilded Barbet, Silver-beaked Tanager, White-winged Becard, Black-crowned Tityra, Tropical Screech-Owl and many more.
And to finish our tour we visited The Hato La Aurora is a natural reservation, with 16.000 Hectareas of territory, managed by a private foundation which goal is to promote the preservation of the environment through the observation of the natural wildlife of the place. The infrastructure of the Ecolodge Juan Solito tries to be in accordance with nature, maintaining a rustic structure, still providing a nice comfort for visitors. This place is amazing to birding and wildlife, was really amazing days here, we saw many birds like; Horned Screamer, Blue-winged Teal, Double-striped Thick-knee, Pied Lapwing with more 280 Wood Stork, Rufescent Tiger-Heron, Scarlet Ibis, White-tailed Hawk, Black-crowned Night-Heron, Hoatzin, Pale-eyed Pygmy-Tyrant, Southern Beardless-Tyrannulet, Roseate Spoonbill, Burrowing Owl, White-fringed Antwren, Blue-and-white Swallow and many more.
About this trip
This was the best tour I have ever been on!
Daniel's skills were excellent. No other guide I have had looks to the welfare and well-being of the clients like Daniel. He ensures that everyone has seen the bird. He is to be especially commended for the attention he gave to Dick Sandve. Dick is slower than most and had physical problems during the trip. Daniel paid special attention to Dick (1) to make sure he saw the birds, (2) set up visits for a back massage and a doctors visit in Bogota and (3) provided Dick with extra effort and accommodations during the trip. Most guides I have been with would not do these things. I'm convinced that Dick would have left he trip early and returned home without Daniel's assistance.
Also, Daniel's persistence and determination in finding difficult and high priority birds was outstanding: Capuchinbird, Tawny-tufted Toucanet, Black-spotted Bare-Eye, Ringed Antpipit, Banded Antbird, Spotted Puffbird, Pompadour Cotinga were all some of the birds we saw thanks to his efforts.
Also, there was flawless coordination of all the logistics, transportation, drivers, restaurants, guides and local communities. Everything was on time and efficient. With so many potential "failure points" in this trip, I am impressed how smoothly everything went.
Arranging the "cultural" presentations at Fuentes del Guania and Juan Solito Lodge were welcome and prized additions to the trip.
We also appreciated having plenty of snacks and liquids in hand. Plus, no one has ever purchased beer for us before. Wow!!
I've been on many guided tours over the decades and I cannot think of any other trip that compares to this one.
Bravo!
William Marengo