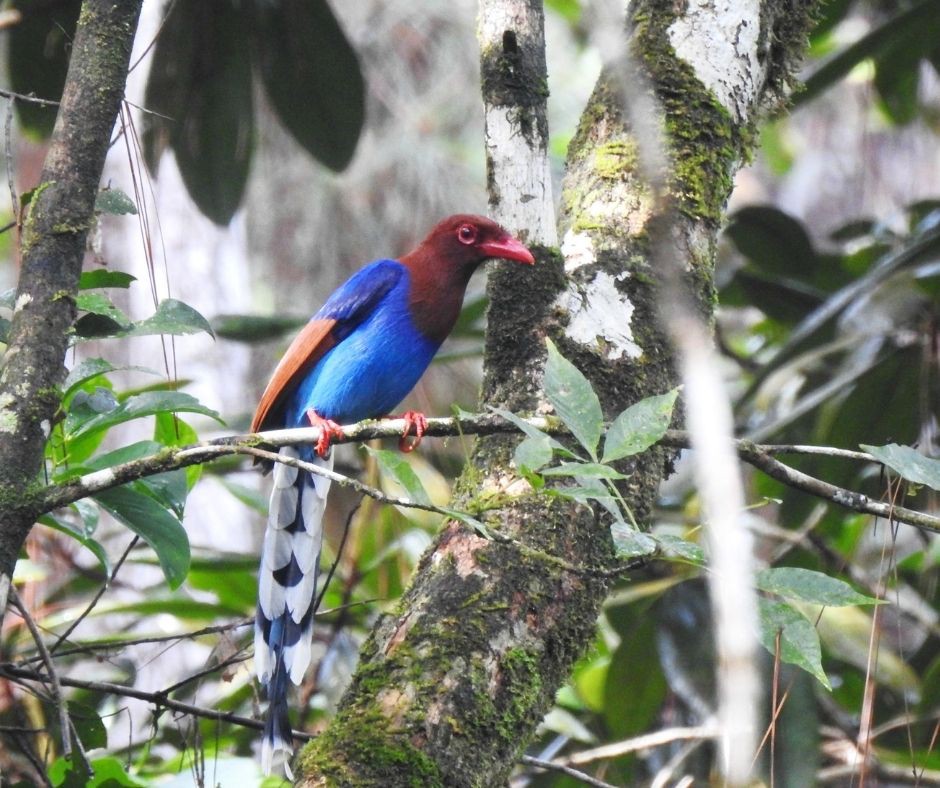 Sri Lanka – a country to discover
Sri Lanka's wildlife is highly diverse and has one of the highest rates of biological endemism. Despite its small size, Sri Lanka boasts one of the highest rates of biological endemism in the world, be it plants (23%) or animals (16%), it is ranked among the top five biodiversity hotspots in the world. Out of the ninety one species of mammals found in Sri Lanka, Asian elephants, Sloth bears, leopards, Sambar deer, Wild Buffaloes and Blue Whales attract the most attention from wildlife enthusiasts. However, the rarest mammals in Sri Lanka are the Red slender Loris, the Toque Macaque and the Purple-faced Langur, which according to IUCN clarifications are in danger of extinction due to habitat loss.
To learn more about this incredible destination, we are going to talk to Thilanka and Sanka, of  AVES NATURE TRAILS, which specializes in providing personalized excursions in Sri Lanka. Ok, are you ready to go discover this beautiful country?


What is the diversity of birds in Sri Lanka?
Sri Lanka is home to 459 confirmed bird species according to the latest check list as of May 2020. 242 bird species breed and reside permanently in the island and the migratory bird species count reads as 202*. Vagrant and Pelagic bird species fill out the rest of the count. Top highlight in Sri lankan avifauna is its rich endemism which is currently at 30 endemic species and 68 endemic subspecies. Sri Lankan birds consist of  22 orders, 82 families and 255 genres. Though a small island, Sri Lanka attracts birds from different parts of the world, including North America, Europe, Western & Eastern  parts of Russia, Australia and Africa. The diverse climate zones (wet zone, dry zone, arid zone and intermediate zone) provide good natural habitats for different varieties of bird species. Country's elevation ranging from Seal Level to 2500m altitude also plays a vital role in providing diverse habitats to a variety of birds. Wet zone of Sri Lanka is the kingdom of bird endemism. In good weather, a birder can easily spot over 25 endemic species at 'Sinharaja Rain Forest' which is a UNESCO World Heritage due its rich biodiversity. Further, the country attracts a great variety of shorebirds to the North and South coasts during the winter season.
*Source: www.ceylonbirdclub.org
Sri Lankan bird statistics compared to other large biodiversity rich tropical islands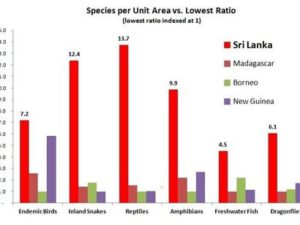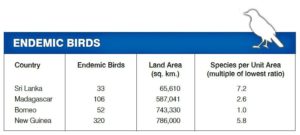 *Source: Why Sri Lanka is a Super Rich Wildlife by Gehan De Silva Wijeyeratne
What are some of the most amazing animals we can see?
Asian elephants – World's biggest elephant gathering location in Minneriya National park attracts over 250 elephants at once
Sri lankan leopards – Yala and Wilpattu National parks provide a great opportunity to spot and photograph Sri Lankan leopards due to the high density of leopards in these parks
Sloth bears – The subspecies melursus ursinus inornatus is endemic to Sri Lanka
Whales – Great chance to spot the world's largest animal, Blue Whale and many more marine life including sperm whales and dolphins
Turtles – Home to 5 out of 7 turtle species found in the world
Primates – Sri Lanka has the greatest diversity of primates in South Asia. Island has 30% of all primate forms of South Asia (13 of 43 subspecies)
Langurs – Endemic purple faced langur , common langur , gray langur , toque macaque
Sri lankan water buffalos
Sambar deer
Rusty spotted cat  – One of the smallest wild cats in the world
Golden jackal
Black naped hare
Civet
Indian crested porcupine
Mongoose
Indian pangolin
White spotted deer
Red slender loris
Wild boar
Grizzled giant squirrels – The national animal of Sri Lanka
Indian flying foxes
When is the best time to do birding and photograph wildlife in Sri Lanka?
Sri Lanka is one of the best locations for bird photography in the region. Great bird photography opportunities are created mainly due to its variety of natural habitats and the small size of the land. Winter migrants start arriving in September and spend the non-breeding holiday till the end of April next year. Climate is pleasant and dry after December. January to March provide the best overall opportunities for birds & wildlife spotting and photography. However throughout the year it is possible for endemic flora and fauna photography. It is recommended to bypass the two monsoon seasons of South Western Monsoon (May – September) and North Eastern Monsoon (December- February).
5 Reasons Why You Should Visit Sri Lanka!
Biodiversity Hotspot

– One of the best wildlife destinations in the world 

History and Culture

– Sri Lanka boasts of a rich culture which is influenced by ancient civilization dating back to 500 BC as well as Indian, European, Middle Eastern and East Asian cultures

Stunning Beaches/Ocean

– Sri Lanka being a tropical island, offers plenty of sandy, mangrove & jungle beaches. It is also a great place to watch Blue Whales, Turtles and Dolphins. Sri Lanka is also a popular destination for parasailing and windsurfing 

Sri Lankan Cuisine

– Sri Lankan cuisine is very unique and loved by visitors from all over the world. Native plants, some of the world's best spices such as cinnamon, cardamom, nutmeg and turmeric, a huge variety of seafood, tropical fruits and vegetables make up the diverse Sri Lanka cuisine. There is always world renowned Ceylon tea from the misty hill country, Sri Lankan king coconuts and plenty of tropical fruit juices to compliment the diverse cuisine.

People!

– Sri Lankans are known to be very hospitable and guests are always treated with a smile wherever they go.
Sri Lanka is an amazing destination for birders and photographers