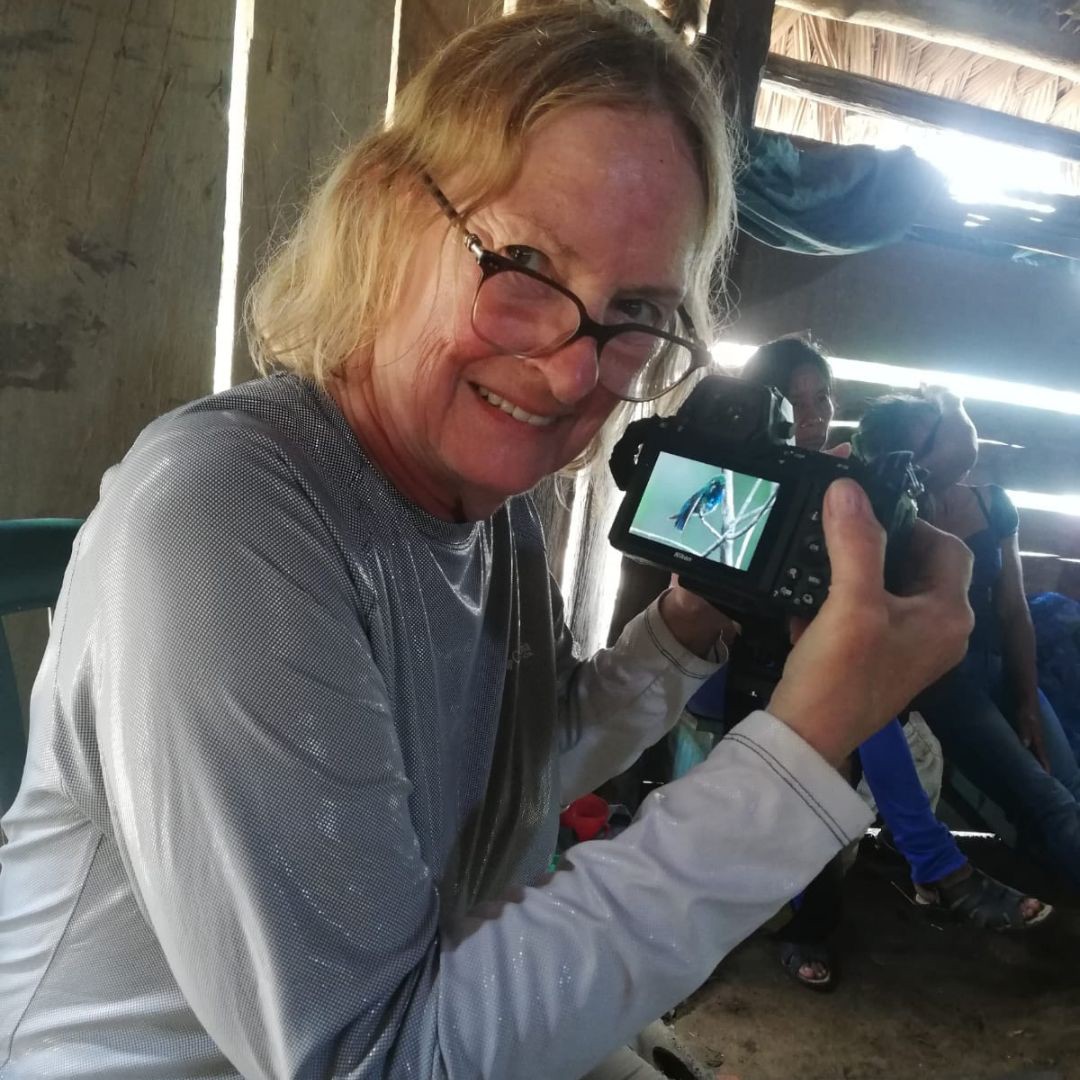 Expedition Chiribiquete Emerald with Carole Turek
This trip was very special, we arrived at the heart of the world to look for one of the rarest hummingbirds and with very few records less than 11 in Ebird, the Chiribiquete Emerald. Our great friend William Orellana from

Beaks

and Peaks

and our friend Carole Turek from Hummingbird Spot, she has a beautiful YouTube channel with over 6.740.640 views, where she shares about hummingbirds! But for Carole, among many species that are missing from her wishlist, is the Chiribiquete Emerald.
Chiribiquete Emerald was described 1996,  this endemic is easy to find in its very restricted range in the Serranía de Chiribiquete area of south eastern Colombia. It inhabits the flat mesas of open scrub and savannah in this zone. Unlike many hummingbirds, these emeralds do not defend feeding territories. In open areas, the Chribiquete Emerald primarily forages on the flowers of Decagonocarpus cornutus, but it also feeds on insects which it catches by sallying or by gleaning off of Bonnetia shrubs.
Recording this incredible bird is amazing an expedition, we left Bogotá on a private flight to San José de Guaviare on the first day, stopped for fuel and continued on to our final destination in Araracuaria, Caquetá, a journey through the Amazonian Jungle! Where the indigenous community received us.
We just landed at the small local airport of Araracuaria, we already started our walk to register and photograph Chiribiquete Esmeralda, and with just one hour we reached our main target of the expedition, since it had rained a few hours before, we managed to see it very active, it was a joy and a great surprise for William Orellana and Carole Turek, we did not imagine that we would do it so fast and still on the tarmac of the small airport.
On the other days we took the opportunity to observe birds around our accommodation and in the nearby indigenous communities where we were, we saw the some birds like; Paradise Jacamar, Spotted Tody-Flycatcher, Orange-cheeked Parrot, Blue-and-yellow Macaw and Maroon-tailed Parakeet, Scarlet Macaws, Orange-breasted Falcon, Cliff Flycatcher, Spectacle Owls, Yellow-bellied Dacnis and many more.
 It was a great experience to share these moments with the indigenous community Aduche. We were able to participate and see how the indigenous community is developing its practices in the elaboration of MAMBE, which is an powder that is obtained by roasting, grinding and toasting Amazonian coca leaves. Coca mambeo in the Amazon is a traditional way of consuming coca leaves and benefiting from its nutritional properties.
However, from an indigenous point of view, the objective of mambearing coca is not only to make use of the substance and its effects to take care of the body, it also has a social function.
From the act of mambear derives the word mambeadero that is used in Colombia to refer to a ritual space, by the general in an Amazonian maloca, to meet, exchange words and make decisions, while using mambe and ambil. This cultural exchange was very pleasant for everyone, learning more about the culture of the indigenous peoples in Amazonas!
We take advantage of this day to observe some birds in the river at Caquetá River.
The Caquetá River has a length of 2,280 km that is divided between Colombia and Brazil, it is the fourth most important river in the Amazon. The Caquetá River or Yapurá River in Brazil (called in Brazil), of which 1,200 km correspond to Colombia and the rest to Brazil. It was a very fun experience to observe some birds during our boat trip, being in the heart of the Amazon rivers It is always an unforgettable experience.
And to finish this great expedition in the heart of the Amazon and register the super rare and endemic, we returned to our best point of sighting of the species in those days, which was at the local airport, and we managed to register Chiribiquete Emerald again, it was a very special moment, that the Chiribiquete Emerald, landed in the branch, about two meters away from Carole and for her it was a great emotion to be able to photograph and film this beautiful species! They were very special days for everyone involved in this great expedition, for our friends William Orellana and Carole Turek our thanks for trusting in our Manakin Nature Tours services, for our guide Elvis Quintero for getting to know this entire region and Iván Macías who made contact with the indigenous communities that supported this great birding tour in the heart of the Amazon!
Part I
Part II
About this Trip
Back from Araracuara Colombia. This magical place is located in the Chibiriquete National Park which holds beautiful nature with endless rivers, numbers of macaws flying over you and other unbelievable birds and breathtaking landscapes. The ancient culture around this area is fascinating and the people are wonderful. Special thanks to Manakin Nature Tours for taking us to this pristine place.