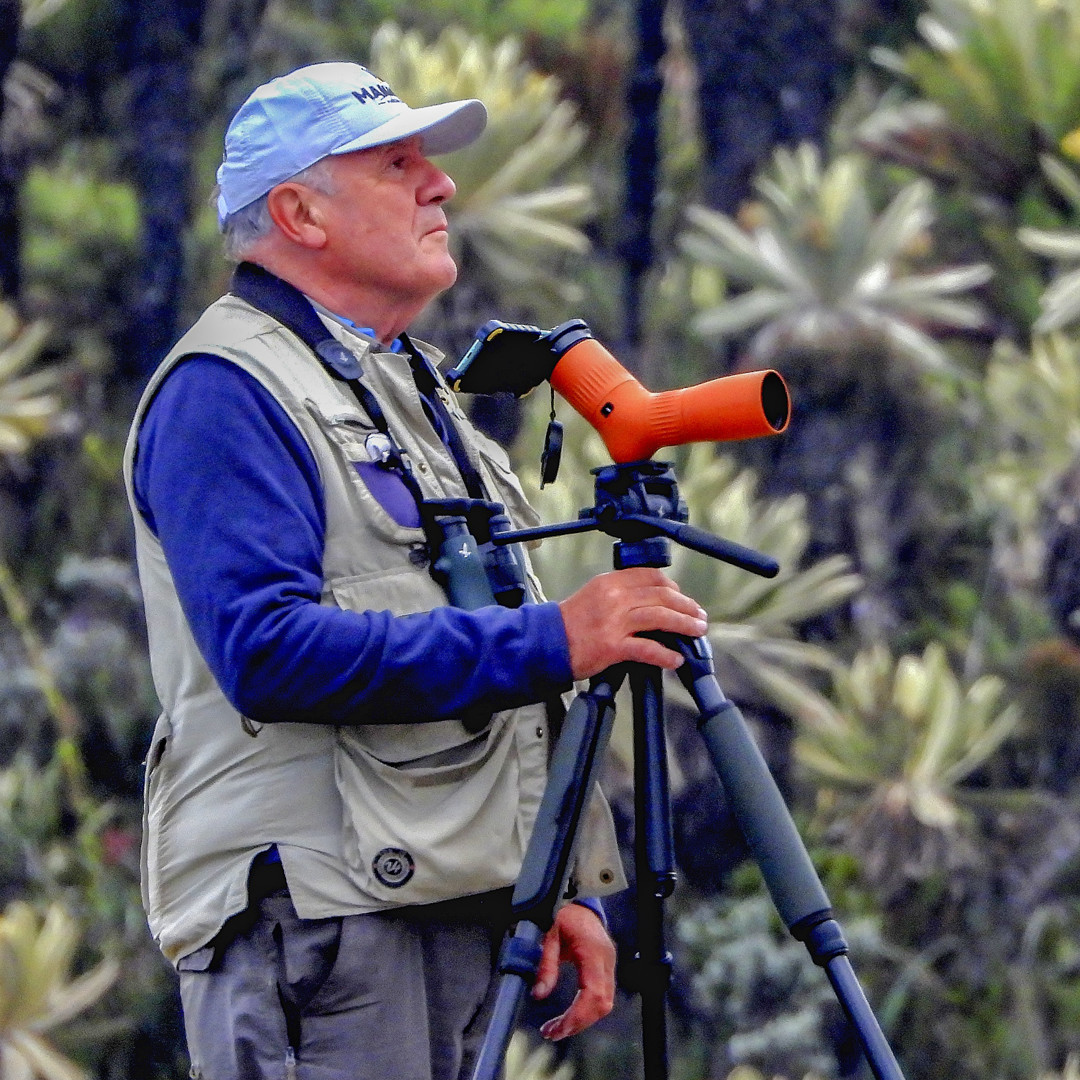 At The South of Colombia: Birding, Conservation and the New Swarovski ATC Spotting Scope
In many senses, Colombia is diverse or megadiverse, that makes hard to choose where to go on a trip, especially if Swarovski Optik and Procolombia (government tourism entity) call you with a proposal like: "hey! Let's do a trip in Colombia to test the new Swarovski scope!" … oh man!
ProColombia and operators like Manakin have been working on promoting a sustainable tourism that can allow communities to improve their income and preserve their local ecosystems.
Colombia reflects its complex and unique topography, geography, and geology in a wide range of different ecosystems. Due to this variety, bird speciation has occurred throughout the territory. In the south of Colombia, the Andes are an orographic complex and constitute a single mountainous massif (The Colombian Massif), which further splits and rising into the three Andean branches or "cordilleras" (Western, Central, and Eastern).
The landscapes of the Southern Colombian Andes are dominated by High-Mountain ecosystems including the amazing Chiles, Cumbal, and Azufral volcanoes, La Cocha lagoon, and the high Sibundoy valley. To the east of the Sibundoy valley, the Andes descend abruptly towards the Amazon following "El Trampolin" route, a road full of dizzying biodiversity that zigzags in the high Andean forest to find the ecosystems of the Amazonian foot lands where´s in effect the entrance to the Amazon Rainforest.
The patches of primary forests, the combination of landscapes, and the confluence of ecosystems here, lead to incredible biodiversity, especially of birds. We will cross virgin forests with rugged topography, explore the Amazonian foothills and the Andean-Amazonian transition while contemplating the beautiful landscapes of the Andean valleys in the Colombian Massif (Above 3000 masl). this is not only extremely good for birding, also give us a chance to test the new spotting scope under a variety of situations: open field lagoons and grasslands at 3000 masl, Paramo ecosystem at 3400 masl, high Andean and montane forest on the way down to the amazon between 1000 – 2800 masl and finally the humid Amazon forest at 300 masl. Walking or from a boat ride, what else we can ask for?
On the other hand, when a birder thinks about where to bird in Colombia, straight away has the idea of the typical central-Andean region (Bogotá, Medellin, Cali, Pereira and Manizales) or the northern Colombia birding trail (Santa Marta and around), but in the way to promote new areas, new projects, local guides, local birding groups and help to stablish the connections between them and the birding world, we choose the south of Colombia and we visited as many local projects as possible during our trip and use the services of as many local birders and guides also.
The full trip includes also the Pacific foothills, unfortunately we didn't visit that area this time, but you can check the full trip here.
Our Local guides:
Cristian Flores Pai: birding Guide for Nariño areas and around, co-founder of FELCA NGO and owner of Ñambi natural reserve.
Edison Rosero and Hernan Alvarez: birding guides for Putumayo areas and around, both with excellent knowledge of birds and nature, members of Alas Putumayo and Putumayo Biodiverso, both project deeply involved in environmental education and conservation efforts.
Diego Rocha: birding guide for Puerto Asis area and around, member of Playa Rica community association, that seeks to promote conservation and communitarian based tourism.
Luis Urueña: CEO and founder of Manakin Nature tours, Birding guide.
Alejo Pinto: Chief in operations for Manakin Nature tours, birding guide.
Day 1. Pasto and La Cocha lagoon
Early start for a 1h flight towards south to the city of Pasto. Located at the top of the Colombian massif at 2800 masl, this city is strategy located, to the west the pacific, to the east the amazon. After arrival we visit la Obreja for breakfast, this coffee store, has the best rated coffee of Colombia so that is a way to kick off a trip! After breakfast short transfer to a path locally known as Tescual Hills for warming up: Tufted Tit-Tyrant, Carunculated Caracara and Yellow-backed Oriole were the best birds there, then we drove for an hour to La Cocha lagoon.
Before lunch we had an introduction of the latest Swarovski Optik spotting scope (all the impressions and conclusions of the scope at the end), the new ATC model has being manufactured having in mind many aspects from the field but also from out the field, don't miss our conclusions of this top quality equipment at the end!
Afternoon for a boat ride around La Cocha lagoon! Despite the windy weather which is common in August, we had a good time on the boats. Impressive views of the Andean Gull, Yellow-billed Pintail, Lesser Scaup, Slate-colored Coot, Grassland Yellow-Finch, Black-crowned Night Heron and others.
Day 2. Paramo de Bordoncillo, searching for a rare Cotinga!
After a breakfast at the Chalet next to the lagoon we headed off to the Bordoncillo Paramo, located not far from our position and at 3400 masl. We were preparing for a chilly morning! During our walk we spotted some good birds: Rainbow-bearded Thornbill, Masked Flowerpiercer, Glossy Flowerpiercer, Grass Wren, Golden-breasted Puffleg and Purple-backed Thornbill. suddenly a mix flock appears in the distance, rush hour! First views of the very rare Chestnut-bellied Cotinga and Masked Mountain-Tanager, we were lucky enough the flock started to moving closer to our positions and eventually we had great views of every single bird, beside the Cotinga and the Tanager we also saw: Golden-crowned Tanager, Black-backed Bush-Tanager, Lacrimose Mountain Tanager and the flowerpiercers!
At the afternoon we decide to visit a rural area near the hotel, our main target: Grey-breasted Mountain-Toucan, we saw at least six of them as soon as we leave the car! Also Mountain Cacique. To end the day we went back to the paramo for the last chances of high elevations birds, we added: Brown-backed Chat-Tyrant, spectaculars views and photos of the Golden-crowned Tanager, Lacrimose Mountain Tanager and Pale-naped Brush-Finch.
Day 3 – 4. Exploring "El trampolin" road.
Driving towards east, we started to cross the Colombian Andean massif, as you can imagine, there is no place for flat areas into the Andes and this is not the exception. The paved road eventually disappears, turn into a gravel windy road with breathtaking views of the mountains and unique and complex topography. Stops along the way for birding during the two days produce a lot of good species, especially when the mix flock appears loaded with tanager, mountain tanager, flowerpiercers and finches, so here a short list with the besties: Orange-eared Tanager, Golden-eared Tanager, Turqouise Tanager, White-rimmed Brush-Finch, Hooded Mountain Tanager, Blue-winged Mountain Tanager, Deep-blue Flowerpiercer, Green-backed Hillstar, Andean Cock of the Rock, Flame-faced Tanager, Blue-browed Tanager, Golden Tanager, Red-headed Barbet and more!
Despite the short time this road was incredible and by zigzagging, quickly dropping us to the Amazon foothills! Late afternoon we visit a communitarian indigenous woman association ASOMI for a short immerse in their world and customs, a purification before go into their house with a speech about their way of life and project was a nice way to end the day.
Day 5. Communitarian based program of Playa Rica, Amazon forest.
Today´s program started with a transfer to Puerto Asis, a small city located on the bank of the Putumayo river, a tributary of the Amazon river. A short boat ride gave us some good birds like: Swallow-winged Puffbird, Black Caracara, Ringed Kingfisher and others. Once we reach the other bank of the river we met our local guide. Diego and the people involve into the project, they were so kind and welcome us with a smiling face. During the morning walking on the community path we enjoyed really good Amazonian birds like: Cream-colored Woodpecker, Long-billed Woodcreeper, Black-fronted Nunbird, Greater Yellow-headed Vulture, Orange-fronted Plushcrown and Dusky-headed Parrot were some of the goodies of the morning!
After an incredible Catfish lunch at Playa Rica community project ASOPAAP, we headed off to El Escondite reserve, another local project managed by Hernan and his family, there, a Cattle Ranching was converted into a reserve, stopped to cutting down the forest many years ago and planting new trees. Now this patch of forest is home for good birds and mammals! Once we arrived two different species of monkeys were like crazy jumping around: Squirrel Monkey and Saddle-back Tamarin. After monkeys show we went for some birds: Purple-throated Fruitcrow, Peruvian Warbling Antbird, Plain-brown Woodcreeper, Green-backed Trogon and others.
Last dinner together at the field, we enjoyed an incredible local restaurant: Amazonico, which offers us a degustation of many of the local cuisine dishes, juices and dessert!
Day 6. Last morning in the field!
Heavy rain during the night followed by a soft rain in the morning, welcome to the amazon foothills! Anyway we enjoy a couple of hours in the field, watching birds in a near rural area. Turquoise tanager, Masked Tanager, Chestnut-eared Aracari, Thrush like Wren a flock of Swallow-tailed Kites and the beautiful songs of seedeaters was the perfect way to finish our experience in the field!
Introduction
Swarovski Optik is always seeking to make your life simpler at the field, that means not only offer a top quality product but also a product that makes you feel comfortable when the conditions are less favorable. Last year this happens when they release the last binoculars model NL Pure, a revolutionary ergonomic, big field of view and a real bright image. The 32mm diameter are not only light but a real capable product, probably the best ones that I have tried – as a bird guide I´ve have the opportunity to use in the field some excellent models from other companies. Now with this new ATC Spotting Scope they are in the hunt of the same aim: make your life simpler at the field with no losing the best quality in optics out there. Also we have to remember that during many years Swarovski being aware of the environmental impact that a company could have, they have been working on reduce bad effects during their production and going beyond that trying to turn the bad effects into good ones by supporting conservation, including a reserve at the south of Colombia: Swarovski-mirabilis, which the main aim is to protect the Colorful Puffleg (Eriocnemis mirabilis), but other newly reserves on the neotropics. That vision is the same that we have in Manakin Nature Tours and that's why we felt very honored to be the host of this field test, now our impressions.
First impressions after 5 full days in the field
Extremely light and portable was the very first impression of this scope, then I realized that Swarovski has taken in mind simple details to make your life easier at the field: small, the front cap fits perfect inside the ocular protector (so you won't lose it), comes with an adaptor for hand using, you can hold it in your hand and keep moving the focus dial with no problem, a strap to bring in on your shoulder and adaptor for different shoes tripod screws. Light scope means light tripod, so forget about heavy duty tripod (save weight), small size, fit in any kind of backpack.
Before the trip we had the opportunity for a quick introduction of the equipment in the classic Swarovski optik green color once in the field during the official introduction speech was a great surprise to found the scope in the new shine orange color – love it or hate it but gives you the feeling of having a unique equipment.
We quickly move to the field for a short test. For a 56 mm diameter, optics quality and brightness stands over, I was a bit worried about the diameter and light incomes, but this was not a problem at all. during the walk I used on the tripod and because of the light weight was pretty easy to handling, so impressed after this first quick test.
We tested the ATC during five days and under completely different conditions: From the chilly paramo at 3400 masl to the Amazon humid forest at 200 masl. For the trip I brought with me a medium size tripod – not the heavy duty! – and I have to say: it was more than enough for the scope, so for now forget about bring big heavy tripods. Zoom dial and focus dial moves smooth and it was easy to use the equipment without the tripod, just as a power monocular that you can bring on your shoulder. Using the zoom from 17-40x, once I went all the way to 40x the image was still bright and clear as on 17x.  Not aberration at the edge of the field view, you lose a bit of lightness during this process but the image is still as clear as at 17x, which definitely is not the average with other spotting scopes. I focused on very distance birds but also on a very close one at 3.5 meters of distance with no trouble.
Contrast and colors fidelity are just amazing.
Doesn't come with fine focus dial, but I did not feel any disadvantage with this.
You cannot change the viewing angle by moving the scope from side to side (turning the body), on the previous ATS you have a tripod ring. This could be a disadvantage if a group of persons with big differences in height are using the spotting scope at the same time.
The VPA digiscoping adaptor for the cellphone is a good advantage, in the past years was available only for iPhone models, excluding the non-iPhone users, but this time the adaptor works very well with other brands like: Samsung and Huawei, with impressive results.
Numbers madness home test
People who know me, I am a sportman and I am always seeking to measure everything when I am riding my bike or simply hiking, this time is not the exception, also once at home I have the chance to test this spotting scope side by side with my previous 82mm (not Swarovski) so let start with the numbers.
Due to the weight of the big 82mm spotting scope I have forced to use the heavy duty carbon fiber fluid head tripod with this one, that means a total weight of: 9.7 pounds / 4.4 kg.
With the ATC, heavy duty tripod is simply too much, a medium aluminum fluid head tripod with 11 pounds / 5kg as load capacity is enough, this combo: 6.3 pounds / 2.8 kg
I also use the ATC with a very light weight tripod suitable for 6.6 pounds/ 3kg as load capacity, despite works well, the light weight of the tripod legs structure makes it unstable and it shakes so easy, I would use it on my own but maybe not with birding groups, this combo: 4.8 pounds/ 2.1 kg
I will strongly recommend to use a medium weight tripod, give you enough stability, especially if you want to use it with digiscoping purposes.
Comparing side by side my previous 82mm 20-60x spotting scope vs the Swarovski ATC, watching birds from my window or simply focus on objects in the distance during the day and at the sunset for low light conditions, impress me. I did not notice differences in lightness at lower zoom, despite the 82mm vs 56 mm. using the scopes at 40x the Swarovski ATC did not show aberrations at the edge while the other one the edge was darker and the general image darker also.
We did not use the equipment in very open areas like wetlands, beaches or open grasslands-pastures, so a test in this conditions must be conducted. My guess is that in this kind of open areas maybe birders would prefer more powerful equipment (65 -82-90 mm) with 60 or 70x, but for jungle, forest purpose this equipment works perfect.
A long term test is the next step, in the last few years sometimes rubber has peeled off of the binoculars, this has happened with previous binoculars versions – not yet with last NL Pure after about 6 months of use – and I hope don't happen with the scope, the time will answer this question.
We are feeling very honored and proud chosen by Swarovski Optik for this new equipment release. Our committed with the high quality in our operations in the field is a must, so from now we will also include top quality optics equipment for our guides, for that reason at this moment we are the only Colombian company and the first one worldwide with Swarovski ATC spotting scopes for our full time guides!
Next stop with our new ATC, Pantanal – Brazil!
Conclusions
Pros: lightweight, small size, portable, stands over optics equipment in light and low light conditions. Perfect for forest birding, exceed my expectations in neotropical habitats. One of the best choice for medium and long distances walking birding/expeditions.
Cons: long term test will give us a better idea of this, but I would say this is not the best option if you would use it at open areas like: beaches, big wetlands, huge open grasslands etc. I would like to have a tripod from Swarovski Optik, designed for the ATC instead of be randomly searching for a suitable good option.