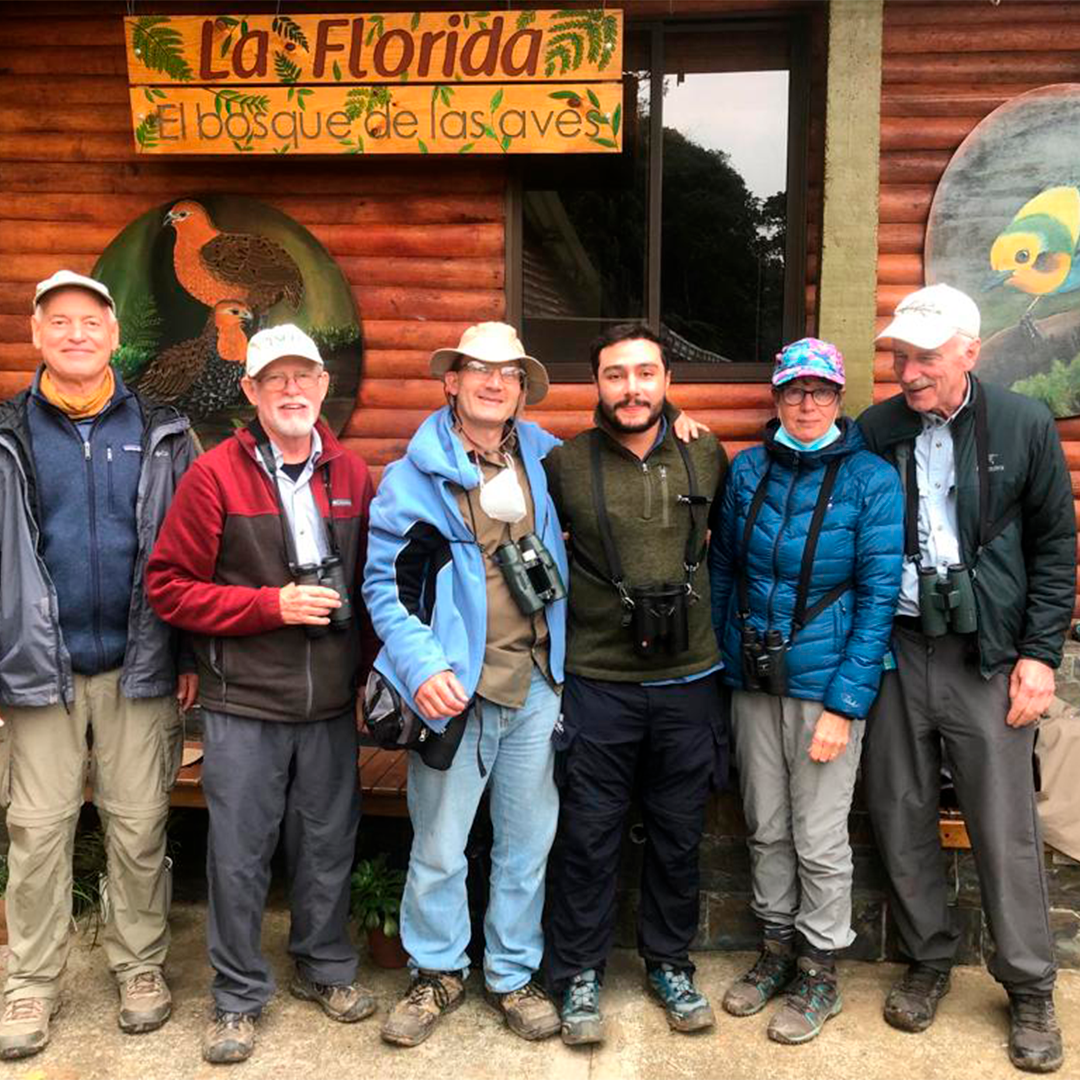 15-days adventure in the best birding sites at Colombia
A paradise for birders, Colombia has the highest bird species count of any country in the world, with well over 1900 species. The diverse topography includes three Andean Cordilleras, two inter-Andean valleys, the Amazon and Orinoco Rivers, the Pacific and Caribbean Coasts, and the rich Chocó biogeographical region, which all add up to one of the most complicated topographies in South America!
On this trip, we will return to the Andes where we are sure to find many endemic birds, as well as some familiar species from other Andean countries. Our trip will include the Bosque Guajira, Valley of the Magdalena River, stunning Los Nevados National Park, the Río Blanco cloud forest reserve, Otún Quimbaya Sanctuary, Montezuna Rainforest, Doña Dora and many others amazing places to birding!
During 15 days we visit the best places to birding in Colombia, and we record 509 species, thanks Dennis Bozzay, Scott Marshall, Harry Scarth, Caroly Scarth and Hector Gomez the Tour Leader!  It's was a great adventure!
Day 1 – Hummingbirds Day
Our journey began at 5:00 am where we arrived at Bosque Guajira, where our journey began with very good species, in Bosque Guajira, it is one of the reserves that remain in the borders zone of the Chingaza National Natural Park, it is a place that It has high Andean forest. There is presence of spectacled bears and good species of this ecosystem. And we started with a lot of good species like; Black-billed Mountain-Toucan, Speckle-faced Parrot, Brown-breasted Parakeet, Muisca Antpitta, Pale-bellied Tapaculo, Cinnamon Flycatcher, White-throated Tyrannulet, White-banded Tyrannulet, Slaty-backed Chat-Tyrant, Golden-fronted Redstart, Scarlet-bellied Mountain Tanager, Blue-backed Conebill, White-sided Flowerpiercer, Bluish Flowerpiercer, Masked Flowerpiercer and many more!
After lunch, we continue to Observatorio de Colibríes, a nice place to photograph many important species of hummingbirds! In that incredible place we managed to photograph excellent spices such as; Amethyst-throated Sunangel, Black-tailed Trainbearer, Green-tailed Trainbearer, Tyrian Metaltail, Glowing Puffleg, Coppery-bellied Puffleg, Blue-throated Starfrontlet, Sword-billed Hummingbird, Great Sapphirewing, White-bellied Woodstar, Silvery-throated Spinetail, Blue-throated Starfrontlet and Sparkling Violetear.
Day 2 – Cundinamarca Antpitta
Today our day has a great goal, you can watch and photograph Cundinamarca Antpitta! One of the important targets of the group!
The Cundinamarca Antpitta was described little more than a decade ago and is known from only a few locations on the east slope of the East Andes in Colombia, all of them reasonably close to the country's capital, Bogotá. Given its small range and the degree of deforestation this region has suffered, the conservation status of Cundinamarca Antpitta originally was evaluated as Vulnerable, but continued threats to habitat and apparently declining populations have led its threat status to be revised to Endangered.
It was a great joy for everyone to be able to photograph this species! One of the great lifers expected of this trip! Of course, after a long time observing Antpitta, we walked along some trails and observed other species such as; Southern Emerald-Toucanet, more two species of Antpitta Chestnut-crowned Antpitta and Slate-crowned Antpitta, Green-and-black Fruiteater, Slaty Brushfinch and many more!
Day 3 – Parque la Florida and Jardín Encantado
Today we started birding in Parque la Florida, one of the most outstanding parks in the west of Bogotá, with 267 hectares of land, with a very good diversity of urban birds (355 registered species), and we were able to observe some of them such as; Andean Duck, American Coot, Bare-faced Ibis, Neotropic Cormorant, Blue-winged Teal and the two important site targets like Bogotá Rail and Spot-flanked Gallinule.
After to birding a short time in Parque la Florida, we arrived at the Jardin Encantado. This a very special place, it is a house with a garden full of feeders. The owner is called Leonor Pardo, she is a great friend of ours. It is a magical place, which should be a must-stop for all birders and nature photographers! Around 27 different hummingbird species have visited her garden (with 10-15 seen regularly) Here the experience with hummingbirds is incredible, it is meters from some of the most beautiful species in the world, such as White-vented Plumeleteer, the endemic Indigo-capped Hummingbird, Gorgeted Woodstar, White-bellied Woodstar, White-bellied Woodstar, Black-throated Mango, Andean Emerald, Sparkling Violetear and many more.
And after we went at Laguna Tabacal, a municipal park near Bogota. On the western slope of the eastern mountain range, a municipal park of 41 hectares, which includes a lagoon and an area of ​​forest, is an excellent hotspot with more than 440 species recorded on the spot! This day we saw Spectacled Parrotlet, Olivaceous Piculet, Band-backed Wren, Orange-chinned Parakeet, Gray Seedeater, Bar-crested Antshrike, Pied-billed Grebe, and the main target for us in this place the Short-tailed emerald. After here, we travel to Manizales to continue our birding tour!
Day 4 – 5 – Reserva Natural Cañon Del Río Claro          
This incredible natural reserve is located about 3 hours away from the city of Medellin, in the middle basin on the Valley of the Magdalena River and next to the wonderful Claro River. The geology of the place is dominated by limestone and on top is a tropical rainforest, creating a spectacular scenario with a vast biodiversity and a high degree of endemism compared to other places in the country. At the same time, not only it is home to endemic bird species from the region, but also to amphibious, reptiles, butterflies, insects and others. This is a Paradise to birding and wildlife, today we saw a lot of birds like: Magdalena Antbird, Chestnut-backed Antbird, Bicolored Antbird, White-tailed Trogon, Rufous Motmot, Broad-billed Motmot, White-whiskered Puffbird, Yellow-throated Toucan, White-bibbed Manakin, Striolated Manakin, Purple-throated Fruitcrow, Antioquia Bristle-Tyrant, Plain-colored Tanager, Golden-hooded Tanager, Crimson-backed Tanager, Tawny-crested Tanager, White-shouldered Tanager, Gray-headed Tanager.
Day 6 – Nevados National Natural Park
The majestic Los Nevados National Natural Park is located in Colombia's coffee-growing region, in the northern volcanic complex formed by Nevado del Ruiz (with its La Olleta and La Piraña craters), Nevado de Santa Isabel, Nevado del Tolima, and the paramillos of Cisne, Santa Rosa and Quindío. It was created to contribute to the conservation of ecosystems that are important worldwide such as three of the glaciers left in the country (Nevado del Ruiz, Nevado de Santa Isabel and Nevado del Tolima), páramo ecosystems, high Andean wetlands and Andean and high Andean forests. The flora includes beautiful native plants known as frailejones (Espeletia), but the scenery would not be complete without volcanic peaks, lakes, and glaciers.
This place is certainly unique in the world, watching birds here is one of the greatest ornithological experiences we will ever have! In addition to a beautiful landscape, we found imported targets like; Red-crested Cotinga, Buffy Helmetcrest, Noble Snipe, Andean Tit-Spinetail, Many-striped Canastero, White-chinned Thistletail, Tawny Antpitta, Andean Teal, Andean Duck, Brown-backed Chat-Tyrant, Purple-backed Thornbill, Rainbow-bearded Thornbill, Andean Pygmy-Owl, Paramo Tapaculo, Pale-naped Brushfinch and many mores amazing birds!
High in the Nevados del Ruiz, the hotel at the Termales del Ruiz has a lovely little garden with lots of hummingbirds. We stopped here to see the some birds in the feeders, this ins amazing place to take photos, the hummingbirds to stay very close for us! The some targets in this spot was; Viridian Metaltail, Golden-breasted Puffleg, Shining Sunbeam, Buff-winged Starfrontlet, Great Sapphirewing, Lacrimose Mountain Tanager, Scarlet-bellied Mountain Tanager, Glossy Flowerpiercer.
Day 7 – Rio Blanco Reserve
The Rio Blanco Reserve is one of the most diverse areas in the world. The reserve encompasses 4,932 hectares or 12,187 acres,  is home to nearly 400 species of birds. The reserve actually supplies 35% of the drinking water for the whole department of Caldas, of which the nearby city of Manizales is the capital. Because of this, the reserve is managed by a water company called Aguas de Manizales and not the Colombian government.
The main attraction of this reserve are the feeders of Grallarias (Antpittas) and hummingbirds, this place is one of the most famous in the world to see antpittas. The reserve has a good quality accommodation which also fits perfectly for the observation of owls. Rio Blanco is one of the most popular bird watching reserves in the country, it is not uncommon for it to be one of the most studied reserves also by birdwatchers.
And in this amazing place today we saw a lot important targets like; Chestnut-naped Antpitta, Bicolored Antpitta, Brown-banded Antpitta (we got ours mains targets here), Collared Inca, Fawn-breasted Brilliant, Purple-backed Thornbill, Speckled Hummingbird, Southern Emerald-Toucanet, Golden-plumed Parakeet (only heard), Green-and-black Fruiteater, Cinnamon Flycatcher, Gray-breasted Wood-Wren, Golden-faced Tyrannulet, Blackish Tapaculo.
Day 8 – Tinamú Lodge
Tinamú Birding is located in Caldas at 18Km from Manizales, submerged in the Coffee Cultural Landscape and in a tropical rain forest of 11 Ha. between 1,200 and 1,300 meters above sea level. Home to more than 260 species of birds, mammals, reptiles, butterflies and a wide variety of plants and trees, a place that since 2014 offers a high-level service in birdwatching resting in comfortable rooms with a beautiful decoration alluding to birds, enjoying the aroma of the coffee, typical Colombian gastronomy. In this place we saw many import ants targets like; Common Potoo, White-necked Jacobin, Green Hermit, Moustached Puffbird, Grayish Piculet, Acorn Woodpecker, Red-crowned Woodpecker, Smoky-brown Woodpecker, Spectacled Parrotlet, Blue-headed Parrot (heard), Parker's Antbird, Jet Antbird, Scaled Antpitta, Golden-collared Manakin, Scale-crested Pygmy-Tyrant, Southern Beardless-Tyrannulet, Rusty-margined Flycatcher, Chivi Vireo, Brown-capped Vireo, Summer Tanager, Scarlet Tanager, Scrub Tanager, Blue-necked Tanager, Green Honeycreeper.
Day 9 – Otún Quimbaya Reserve
A beautiful morning above Pereira, birding at the Otun river basin área. Otún Quimbaya Reserve is a national protected area in the headwaters of the Otún River in the Central Andes of Colombia.  The reserve covers more than 1200 acres between 5,741 and 7,382 feet in elevation extending into the cloud forest. This is an incredible Andean forest that made possible many more important targets like; Cauca Guan, Sickle-winged Guan, Collared Trogon, Western Emerald, Long-tailed Sylph, White-throated Daggerbill, Stiles's Tapaculo, Strong-billed Woodcreeper, Rusty-winged Barbtail, Spotted Barbtail, Montane Foliage-gleaner, Hooded Antpitta, Red-ruffed Fruitcrow, Moustached Antpitta, Orange-bellied Euphonia, Blue-winged Mountain Tanager, Fawn-breasted Tanager, Golden-naped Tanager, Beryl-spangled Tanager, Metallic-green Tanager.
Day 9 – 12 – Montezuna Rainflorest
Montezuma Rainforest Ecolodge is a farm located on the western slope of the western mountain range, in the Department of Risaralda, on the border with Chocó, in Colombia. There we found the Tatamá National Natural Park. It is home to over 550 species of birds, 450 species of orchids and 700 species of butterflies. The biodiversity across other taxa is equally impressive. Many Colombian endemic and near-endemic species are found here. This region is definitely incredible for bird watching. In this incredible site we observed more than 130 birds, many of them endemic and important targets for our group! Some of the birds were; Tourmaline Sunangel, Empress Brilliant, Collared Inca, Buff-tailed Coronet, Velvet-purple Coronet, Rufous-gaped Hillstar, Streak-headed Antbird, Chami Antpitta, Yellow-breasted Antpitta, Ocellated Tapaculo, Nariño Tapaculo, Green-and-black Fruiteater, Barred Fruiteater, Chestnut-breasted Chlorophonia, Tricolored Brushfinch, Gold-ringed Tanager, Hooded Mountain Tanager, Grass-green Tanager, Black-chinned Mountain Tanager, Glistening-green Tanager, Tanager Finch, Buffy Tuftedcheek, Uniform Treehunter, Dusky Chlorospingus, Golden-fronted Redstart, White-sided Flowerpiercer, Indigo Flowerpiercer, Bluish Flowerpiercer, Chestnut-bellied Flowerpiercer, Munchique Wood-Wren
Dia 13 – Doña Dora
The place known as the "comedores bañadora o el descanso bañadores", a place that belongs to the Londoño family, Doña Dora, her always had a business at the the road old that goes from Cali to Buenaventura. Through the Anchicayá river canyon.
Initially, Doña Dora sold lunches and "empanadas" and things for travelers. And for a few years he started putting a couple of feeders for hummingbirds and then other species of birds began to arrive in the garden of her house, until, her finally began to improve and improve, and thus her began to improve the conditions of the facilities to put more dining rooms more species arrived, and in addition to this there is a ficus that every time it fructifies attracts many species and this has made the place very famous for bird watchers and much more that is like the gateway to the Anchicayá river canyon one of the most special places in Colombia for bird watching.
Since it has an altitude gradient that goes from almost 1400 to sea level in Buenaventura. With the presence of biogeographic chocó specialties in Colombia. And this amazing place we saw; Toucan Barbet, Red-headed Barbet, White-whiskered Hermit, Rufous-gaped Hillstar, Purple-bibbed Whitetip, Empress Brilliant, Red-faced Spinetail, Sooty-headed Wren, Thick-billed Euphonia, Orange-bellied Euphonia, Black-headed Brushfinch, Tricolored Brushfinch, Scarlet-rumped Cacique, White-lined Tanager, Crested Ant-Tanager, Golden-hooded Tanager, Silver-throated Tanager.
Dia 14 – La Florida
La Florida is one of my favourite birding places. There is great bird variety, including a family of the Chestnut Wood Quail, Multicolored Tanager, variety of other tanagers, Crimson-rumped toucanet, Red-headed barbet, Green Jay, variety of hummingbirds, among others.
There are hides that let you get really close to very beautiful and well thought perches with very nice backgrounds that make for beautiful photos. Today we saw 52 species in this spot, like; Chestnut Wood-Quail, Crimson-rumped Toucanet, Scaled Antpitta, Multicolored Tanager, Saffron-crowned Tanager, Rufous-crested Tanager, Streaked Xenops, Andean Motmot and many more birds! We finish our tour with a great. day!
BIRDS ON THIS TRIP BY OUR CUSTOMERS
Cundinamarca Antpitta
Chestnut-breasted Chlorophonia
Multicolored Tanager
Toucan Barbet
Velvet-purple Coronet
SET DEPARTURE
COLOMBIAN ANDES 01 – 15 July 2022
LAST SPACES REMAIN

A magical birding adventure in the Colombian mountains of the Eastern, Central and Western Andes that includes the incredible geographic region of Choco in the middle and lower lands of the Montezuma Reserve.
Enjoying incredible bird groups such as hummingbirds, Antpittas, Tapaculos, Tanagers and Fruiteaters and more than 450 species that can be seen on this route, we will visit unbelievable hummingbird feeders and the famous antpitta feeders of Rio Blanco.
Would like to receive more information? Write to us or click on the link below and let's birding!